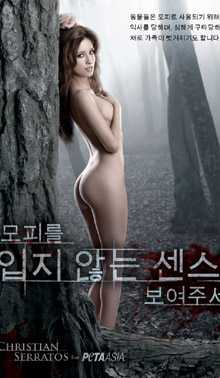 "New Moon" Star Christian Serratos brings new blood to PETA campaign against fur.

Call it twilight for the fur industry. Celebrities are lining up to strip down for PETA's iconic "Rather Go Naked Than Wear Fur" ads, and this season, the animal rights organization has enlisted New Moon star Christian Serratos to bring new blood to the campaign.Set in a dark, misty forest, the ad depicts sexy Serratos—who returns as Angela in the latest installment of the Twlight series—baring all beside a message about how animals are violently killed for their fur.
Serratos, who at 19 is the youngest celebrity to pose nude for PETA's iconic anti-fur campaign, also sat down for an exclusive interview in which she discussed her dedication to helping animals. She doesn't just avoid wearing their skins—she also refuses to eat them. The vegetarian star explained, "I've always been opposed to slaughtering, eating, wearing carcass[es]."
Serratos joins a growing list of celebrities—including Charlize Theron, Eva Mendes, Karina Smirnoff, and Roselyn Sanchez—who have starred in anti-fur ad campaigns.
For more information and to view the ad, please visit PETAAsiaPacific.com. Contact:
Jason Baker
JasonB@PETAAsiaPacific.com
Ashley Fruno
AshleyF@PETAAsiaPacific.com