Asia-Pacific
Yukio Hatoyama: 100 Days, East Asia and U.S.
By Abhishek Joshi
Associate Editor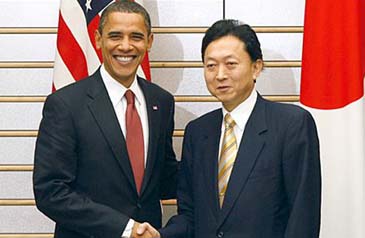 Japanese Prime Minister Yukio Hatoyama (right) shakes hands with US President Barack Obama.
Yukio Hatoyama won the elections on Aug. 30, 2009 and ascended to the chair of Prime Minister on Sept. 16, 2009. With him ascended the change in the Japanese foreign policy or so we think. A liberal government in Tokyo has raised hopes in China and South Korea for the formation of East Asian community on the lines of EU. The idea was floated by none other than Prime Minister Hatoyama. The month of October saw a trilateral summit in Beijing which laid a foundation to expand regional cooperation as envisaged by Hatoyama in his UN address. A momentous occasion, Japanese Prime Minister's rhetoric has given a hope in Seoul and Beijing that relations can indeed get better with Tokyo and that Tokyo is audacious to 'accept' the past. Will a grand Free Trade Agreement (FTA) between Japan, China and South Korea serve as a prelude to the formation of East Asian community? Will the East Asian community ever be 'made'? As one ruminates over the history, skepticism creeps in. China and South Korea share a unique hate relationship with Japan. The atrocities committed by Japan during the Second World War are not forgotten and very well fill the pages of history text books in China and South Korea, and why not? The present day Chinese and South Koreans should know how their ancestors were treated. Has Japan ever apologized for the heinous crimes committed by the then-Japan? This has always been a moot point. A search will enlist many not-so-direct apologies by numerous Japanese Prime Ministers time and again. Indeed, history is distorted. The answer lies in whether the present day history textbooks of Japan exposit the gory details of the atrocities committed by the then-Japan? Can Prime Minister Hatoyama's momentous line "The new Japanese government is one which has the courage to look at history squarely" do wonders or was it just a political rhetoric to melt the hearts of Beijing and Seoul? It is astounding that the call for an East Asian community came from Tokyo first and not from Beijing. Why Japan wants to align with its nearest rival China? Yukio Hataoyama's article in VOICE, a Japanese journal, wherein he expressed his displeasure with modern-day globalism and US-led capitalism, and vouched for closer relation in Asia sent ripples and raised concerns about US-Japan alliance. Also, Yukio Hatoyama's manifesto stressed on stopping the refueling of American warships in Indian Ocean and most importantly the Futenma question – relocating Futenma. But off late Prime Minister Hatoyama has been going mild on his pre-elections rhetoric. The damage control was evidently visible when he issued the statement "If you read the entire essay, you will understand that it is definitely not expressing anti-Americanism ideas". On the refueling issue the Parliamentary Secretary for Defense Nagashima Akihisa created ripples when he argued that refueling will continue after a mandate from Diet, the Japanese parliament. The Prime Minister is also softening on the issue of Futenma. American Ambassador John Roos's hint that Washington will not renegotiate has sunk into the mind of Prime Minister, and now the Prime Minister feels that relocating the air station outside of Okinawa is extremely difficult. The Prime Minister felt solving the relocation issue will be a milestone of his administration. No doubt. What Prime Minister didn't realize was that it takes two to tango. Obama administration's unequivocal stance has been aptly put forth by Defense Secy. Robert Gates, who in a joint press conference said "Our view is clear. The Futenma relocation facility is the lynchpin of the realignment roadmap. Without the Futenma realignment, the Futenma facility, there will be no relocation to Guam. And without relocation to Gaum, there will be no consolidation of forces and the return of land in Okinawa. Our view is this may not be perfect alternative for anyone, but it is the best alternative for everyone, and it is in time to move on." The secretary further added "we have investigated all of the alternatives in great detail and believe that they are both politically untenable and operationally unworkable." What do Japanese feel about Prime Minister's wish to resuscitate 'friendly' ties with Beijing and Seoul? Will they also accept a change in Tokyo's foreign policy towards Washington? Word on the street is that Democratic Party of Japan (DPJ) won because public was tired of the Liberal Democratic Party (LDP). This election was not as much a vote for DPJ as it was for a vote against LDP. Japan expects DPJ to bring about a much needed change in the economy. Prime Minister's "from concrete to people" concept of budgeting and "economy for human beings" has gelled with the people. The Prime Minister should concentrate on them and we hope he is successful. The issue of foreign policy with US and 'looking squarely into history', any gaffe here and there you go Mr. Prime Minister, you have just invigorated the conservatives. The Prime Minister's first address to Diet on Oct. 26, 2009 stressed on 'major cleanup' and 'livelihoods first'. Soon after Prime Minister's address LDP leader Sadakazu Tanigaki's statement "I got the impression that the atmosphere in parliament was similar to the Hitler Youth agreeing to Hitler's speech" reeks of desperation in LDP camp. They have no new ideas, they lost their face in the recent general elections and such statements will only relegate them among the Japanese public. The Prime Minister should make sure that he does not tread a wrong path and does not hand issues to LDP on a silver platter. The Japanese public expects an overhaul of too strong bureaucracy, it expects budgeting to shift from 'concrete to people' and it expects an 'economy for human beings' and it surely does not expect an error in judgment by Prime Minister Hatoyama to haunt his government. Two months have passed since the hope of an East Asian community was put forth. Prime Minister Hatoyama is keeping mum. The Prime Minister has been condemned by many think-tanks for his handling of the issues with the US. Many are afraid that Tokyo may become overly dependent on Beijing. Prime Minister Hatoyama, much like President Obama, generated a lot of hope when he occupied the august office. There is no doubt that after over 100 days in office, the confidence in DPJ-led government is slowly dropping. Various polls indicate that the government's approval rating is dipping down the 50% mark. Prime Minister has not been able to do much to resuscitate the economy. Much to the annoyance of the Prime Minister, Ozawa Ichiro is figured to be the most influential person in the government. The performance of the Prime Minister is raising the doubts about his leadership skills. First hundred days may not necessarily decide the fate of the government. However, it is important that the Prime Minister straighten up his acts before the public lose confidence in him.

Related Articles
Crimea Crisis
Left Moves to Far-Left, Right Moves to ...
Sarkozy's Financial Transaction Tax, ...
NRI's Dandi 2.0
Blame the Pitches, Mate!!
"S. Korea Can Learn from Australian Experience ...
Midterm -- Democrats' Curse for Obama's 2012?
Yet Another Apology, Eh?
Liberal Democrats Should Support Conservatives
Is it the End of European Dream?
Can Park Stall Chung and Lee's Sejong City?
What Effect Will Dalai Lama Have on Chimerica?
"President Should Not Confuse People for ...
"Pakistan Also Hub to Middle East, Central ...
Model Six-Party Talks
Pakistani Envoy Talks with Local Journalists
Whom to Blame: Law or Men?
A Different Korea Sparkling
Is Corruption Cool and Acceptable?
Who Else Has the Right to Vote?
Indian Embassy Celebrates the Republic Day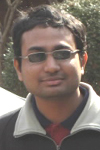 Mr. Abhishek Joshi serves as associate editor of The Seoul Times. He graduated from the School of Electrical Engineering of Seoul National University. He was also a member of SNU Quill, first English magazine from Seoul National University, as a writer.