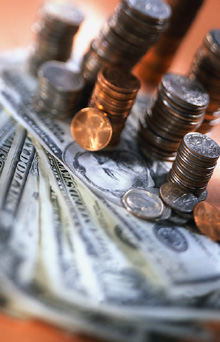 Fortunes Made, Fortunes Missed

It was a year in1960s. That year was the frost in Mexico and flood in Spain, which wiped out all the "bird-feed" produce on the plains, in these two countries which were the top bird-feed producers in the world. A business friend of my father gave a tip to my father. Turkey, where we lived, was also a prime country known to export bird-feed. The tip was, to buy with all one's money, bird-feed, as the prices of bird-feed would jump enormously in Turkey.These two men bought bird-feed with all their money, hired storages for them. Indeed the prices jumped 5-6 times after a few months. They made a very good profit.
I had a chance to make big money when I was about to graduate from the University of Toronto, School of Architecture in 1974. I had 1000 Canadian dollars savings – a big amount for a student then. One kebab sandwich cost 1 dollar and a hamburger 50 cents.
A class friend of mine, Antti, a Finnish Canadian, gave me the tips to buy the shares of Quebec Sturgeon, which sold for 8 cents then. This was a gold mine looking for gold. "The shares will soon jump" he said "They found gold and are collecting the shares from the market, quietly" he added. I didn't trust his words and didn't buy the shares. After a month, shares jumped to 16 cents. "Buy now" he said, "they will jump more". "Or lend me some, I can buy some shares!" I neither bought any shares, nor gave him any money. Next week shares jumped to 50 cents, the following week to 1 Dollar. After a month, to 16 Dollars. If I had bought, with my thousand dollars the shares of Quebec Sturgeon then, after two months, I would have 200,000 Dollars! What a nice capital it would have been, for a new graduating architect.
God says in the Koran, "Don't accuse God for he does not give. He gives. You don't know how to take!"
It was around 1985. Bored with the social life in Stockholm, I gave a small ad in paper to find a girlfriend. I listed the languages I spoke and could imitate. I don't know if it were the long list of them or the humour in the ad, or my age, but the ad seemed to catch the attention of two very attractive girls. One lived in Stockholm, a Russian girl, on a street named "Jungfrudansen" (the street I lived on was "Jungfrugatan" ); and the other girl lived in the U.S.A. in Hamden, Connecticut (the suburb I lived in Stockholm was "Handen"). What a similarity I thought! I wondered if these two girls knew one another. Well, I wrote back to both of them. I had no chance to meet the girl in the U.S.A., but I met the Russian girl who lived in Stockholm.
She was a beauty. She told me she was secretary to a U.S.S.R diplomat and when her duty took her to Stockholm, she jumped to the west and sought asylum and remain in Sweden. To win her heart, I felt, one had to be very rich. As poor as I was, my only hope was to give her some lucrative money-making ideas and attract her to cooperate with me to make money and establish a friendship with her that way.
Easier said than done, I gave her four excellent money making ideas. And after that meeting, she disappeared. Her phone never answered, the letters I wrote to her came back, when I went and knocked on her door, no one opened. But, the money-making ideas I gave her were applied one by one. The first idea was opening an exhibition in the Stockholm "Kulturhuset", a painting exhibition under the title "Young Leningrad Painters". Having studied theatre at the Leningrad Academy of Arts, she knew a lot of young painters there. About nine months after I gave her that idea, I saw such an exhibition took place in the Stockholm "Kulturhuset". No invitations to me, to the originator of the idea!!! A cultivated person would not have broken her contacts with me and after opening such and exhibition would have invited me to it and given me at least a painting as a present.
The next year the exhibition was repeated under the same title. It must have been profitable…
No invitations, no presents to me again.
The second idea was to produce Russian pirogs – a delicacy- in Stockholm and sell them under the name "Gorby's Pirogs" as Mr. Gorbatchow was a very popular man and his name could make the pirogs very popular too, besides their being very tasty. Of course, it would be advisable to ask Mr. Gorbatschow his permission to use his name. Well, after about a year, I saw "Gorby's Pirogs" in the frozen foods department of the major food stores. If I knew, this girl was not trustable; I would have never told her that idea!
After two years, I started to see, "Gorby's Vodka" ads in the U.S. press. Another idea I had given her. "Gorby's Vodka" changed its name to "Vodka Gorbatchow" after a time.
And after three years of my telling her, came on the market, my fourth idea: "Gorby's Mode" - a new fashion of blue gins. First orders: $ 50.000 wrote the papers.
Not a box of pirogs, a carton of vodkas, a pair of blue gins to me.
Well recently I heard Mr. Gorbatschow patented his name and even his nick name "Gorby" and sued all these counterparts and is taking, I believe, compensation from them. Well, "Fortunes lost, Fortunes missed" is the name of this game. I have other ideas, and the traitor has missed them as well.
The full story of this and other twenty nine unbelievable miracles which I experienced in my life in Turkey, England, Denmark, Sweden, Finland, U.S.A. and Canada, small and big, are in my book "SMALL MIRACLES" by Askin Ozcan - ISBN 1598001000 (Outskirts Press)
available on 200 internet bookshops and via 25.000 bookstores, by giving its ISBN
The full story is in my book "STOCKHOLM STORIES" – ISBN 1425771629 (Xlibris)
alongside other adventures and splendid stories. Available at 200 internet bookshops and 25.000 bookstores by giving its ISBN.
www.xlibris.com/STOCKHOLMSTORIES/.html
http://www.outskirtspress.com/smallmiracles
His web-page : www.xlibris.com/AskinOzcan.html