| | |
| --- | --- |
| | Eskimo childrens ride an all-terrain vehicle in Gambell, Alaska, which is on St. Lawrence Island. |
GAMBELL, Alaska — When it became clear that the elders in this isolated Eskimo village on St. Lawrence Island in the Bering Sea approved of the marriage, Clifford Apatiki's relatives did what was required of them: They bought him his bride.That meant, according to a fast-fading custom here among the Siberian Yupiks, a small but sturdy native Alaskan tribe that has inhabited this treeless and brutally windy island since about A.D. 500, that Mr. Apatiki's family would spend at least a year coming up with the payment. They called on their relatives, here in Gambell, over in Savoonga, the other Yupik village on this island 38 miles from the Chukchi peninsula in Russia, and across Alaska, to send them things — sealskins, rifles, bread, a toaster, a house full of gifts.When the bride's family accepted the offerings, Mr. Apatiki, a skilled ivory carver and polar bear hunter, did what was required of him: he went to work for her family as a kind of indentured servant for a year, hunting seal, whale and polar bear, and doing chores. The marriage between Mr. Apatiki, 30, and the former Jennifer Campbell, 29, who was a bookkeeper for the village tribal council, was formalized five years ago, when traditional marriages such as theirs were still the norm here. But now the couple worry whether their children will follow suit because even in five years this and other centuries-old traditions in this village of 700 have been slipping away, as one of the most remote villages on earth finally contends with the modern world.
Almost every house has a satellite dish now, and the first cellular telephone tower was built, near the one-room trailer that serves as the police station, a few years ago.
Alan S. Weiner for NYT
"I'm sure people will continue to do it for a while," Mrs. Apatiki said one evening in the living room of her one-story home in the village. "If the tradition isn't in effect with some families, they are whispered about. They will say about a girl, 'She was not bought.' "Still, it is of great concern to the elders in Gambell that this marriage tradition is disappearing in the face of whirlwind change here over the last decade. Life has shifted so much in Gambell, where satellite television, rising rates of alcoholism and a growing rejection by the younger generation of the Yupik language and customs have begun to chip away at tradition and at a hunting-and-gathering subsistence lifestyle, that it is as if the world here is playing on videotape stuck on fast-forward. And fewer couples are getting married in the traditional way, despite pleas from their parents and grandparents in this whaling community. The rising tension between the old ways and the new ones, between older generations and younger ones, is playing out in native villages across this state, where 16 percent of the population is native Alaskan, comprising 11 distinct cultures and speaking 20 different languages. The Internet, much more regular airline travel and other modern advances are connecting even the most remote Alaskan villages to mainstream society.
| | |
| --- | --- |
| | A structure made out of whale bone in Gambell |
"Gambell, it has changed quite a bit now," said Winfred James, 82, one of the village's most knowledgeable elders, one recent evening in his living room, where he was watching a CNN interview with Senator John Kerry and his wife. "Westernization is coming in." Mr. James said he and other elders were deeply concerned about losing the marriage customs, "but it probably will change with the next generation.""We try to teach them to do that, you know," he added. "So they can know each other, so they can stick together."Village residents say that more and more young couples are simply living together and not pursuing the traditional marriage customs or that men are working for the families of their fiancées for much shorter periods, if at all. "They work for maybe a month, and then I guess they forget," said Christopher Koonooka, 26, who teaches at the village school in a bilingual program. Mr. Koonooka said he saw many of his peers rejecting the old traditions.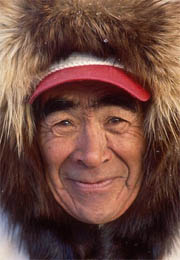 The Siberian Yupiks inhabit Gambell and Savoonga, another village of 700 people about 50 miles from here, and parts of the Siberian Chukchi Peninsula, where about 900 Siberian Yupiks live. Gambell was named after a Presbyterian missionary, Vene Gambell, who came to St. Lawrence Island in the late 1800's. He was followed by other missionaries, whose Western-sounding surnames made their way into the lineage of the Yupiks.The first working telephones were installed here in the 1970's, and television was not readily available until about a decade ago; running water became available to about half of the homes here about five years ago. Before satellite television, Gambell residents watched the news at least two weeks late on videotapes flown in with other supplies from Nome, the closest city on the Alaska mainland, 200 miles away and reachable only by small plane. Almost every house has a satellite dish, and the first cellular telephone tower was built, near the one-room trailer that serves as the police station, a few years ago. The people here generally welcome much of the technology even as the village elders and others say television is a particularly disturbing force.For example, Global Positioning Systems now provide great assistance to hunters who could might otherwise get terribly lost in the rough Bering Sea, especially because some of the old knowledge about how to find the whales, seals and walrus has been lost.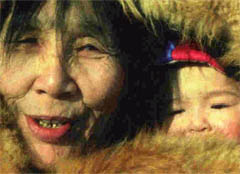 And the Internet has not only allowed greater access to information, but ivory carvers, who would otherwise have to wait for the occasional tourist or birder, use it to advertise and sell their wares. (Only the hardiest birders make the trek out here from Nome, and tourists arrive only once in a while, on cruise ships that sometimes stop on the shores of Gambell.)"Technology has had a big impact, in good ways and bad ways," said Mattox Metcalf, high school program art coordinator for the Alaska Native Heritage Center in Anchorage and a Siberian Yupik who was born in Gambell. "Some of my relatives have said they are competing hard with what's on T.V.""The younger people are seeing stuff on T.V., and they are slowly realizing that what they do is different from what other people do in the U.S.," said Mr. Metcalf, 24, who travels here frequently to visit relatives. "And they want to be like them. The older people are trying to fight for their minds and fight for their attention. It is kind of at a stalemate right now."Carol Zane Jolles, an anthropologist at the University of Washington who has studied the people of St. Lawrence Island and recently published a book about her research, said she had seen radical changes here, even since she first visited in the late 1980's. Returning in the last few years, Dr. Jolles was struck, she said, by how children were speaking English first with each other, rather than Siberian Yupik, the main language of their parents, and that she saw major shifts in the marriage customs and in family structure.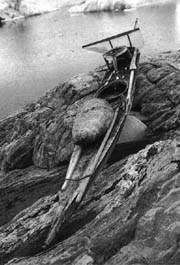 Eskimo's traditional kayak
In a society still structured around clans, the recent construction of modern houses has shifted the emphasis from the extended family to the nuclear family, she said. The newer homes, pre-fabricated and shipped here, replaced the small driftwood and walrus-hide houses that still stand in the older part of the village, where dozens of people live and there is no running water."Everyone now has access to the way the rest of the world lives," Dr. Jolles said. "They are American citizens and they have the same interests and values."She added, "They are watching how other people live on television, the modern movies, and there is a great impact on young people."As much as things have changed in Gambell, there are some constants, and on a recent summer afternoon, life, on the surface anyway, was unfolding much as it has for hundreds of years. Split walrus skins, used to cover and waterproof the hunting boats, were stretched across wooden planks, drying out under the sun. Some of the women were picking greens up on the mountain, preparing to soak them in tall buckets of mountain spring water and store them for the winter. In the winter, the rocky mountain is bare, except for gravestones and above-ground coffins in the village cemetery and piles of snow. There are greens and berries to be harvested here in the summer and sea fruits wash up on the beach in the fall, but no fruits or vegetables can be found in the winter.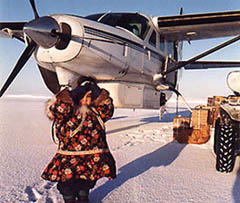 Other women were picking through the cache of meat carved from a 40-foot bowhead whale caught last April, contemplating dinner. The meat is kept in hand-made freezers dug out in the still frosty tundra, on a foggy landscape scattered with giant whalebones, prized trophies laid across the black gravel. Later that night, the women sliced up the whale blubber and served it on a large tray, along with bits of smoked seal and walrus flippers, a delicacy, at a party for a couple celebrating their 17th wedding anniversary.The men, meanwhile, including Kenneth James, 24, the grandson of Winfred James and an up-and-coming whale, walrus and reindeer hunter, were checking their nets for salmon and trout, zooming back and forth between their one-story wooden houses and the beach on all-terrain vehicles that, in the summer, replace snowmobiles as the only mode of transportation in this roadless village. Others were buffing and polishing their intricate walrus ivory carvings.Kenneth James, perhaps one of the last to abide by the marriage tradition, will soon begin working for his girlfriend's family, once his grandfather gathers an acceptable amount of goods for them.He was stoic about his duty."I will be going to work soon," Mr. James said late one evening, as the sun, which does not set here in the summer until 2 a.m., was still lighting up the village. He was eager to hop on his all-terrain vehicle and check his salmon nets. "It's what I will do," he said.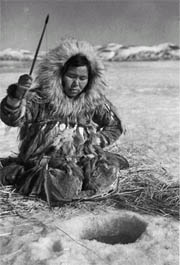 This evidence that some young people are still keeping the marriage tradition makes many elders happy. Perhaps the Gambell resident most concerned about what the village is facing these days is Edmond Apassingok, 41, president of the Indian Reorganization Act Council, which, along with the Gambell City Council, governs the village. Mr. Apassingok, a whale hunter who caught a 50-foot whale last January (the meat is shared among all the residents and catching a whale is cause for a huge, emotional celebration) is deeply concerned about the rising temperatures in Alaska, he said. The climatic change, the annual mean temperature has risen in Alaska 5.4 degrees over the last 30 years, has shortened the season for whale hunting because the ice that provides the right conditions for the whales has begun to melt earlier in the spring. But Mr. Apassingok has other worries, as well."Every generation is losing something," he said.
The above article is from The New York Times.