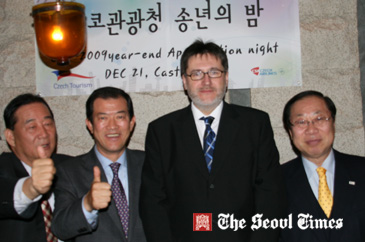 Chairman Choi Soo-Myung (right) of the Korea-Czech Friendship Association poses with Czech Amb. Jaroslav Olsa Jr. (to his left) and other guests.
Chairman Choi Soo-Myung of the Korea-Czech Friendship Association and his spouse Mrs. Park Yeun-Joo hosted a year-end party on Dec. 21, 2009 at "Castle Praha"Czech restaurant in Seoul's Itaewon.Chairman Choi holds the title of Korea representative of Czech Tourism. Choi also serves general sales agent of Czech Airlines in Korea.Chairman Choi has invited 34 guests mainly from the travel and aviation industry in the nation. A dozen of local journalists were also invited to the year-end gathering.From the Embassy of the Czech Republic in Seoul came its Ambassador Jaroslav Olsa Jr.Amb. Olsa delivered a speech in front of the gathering, saying that there are many more beautiful places other than Prague.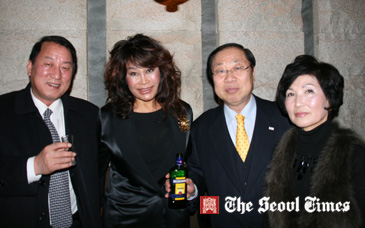 Chairman Choi Soo-Myung (2nd from right) of the Korea-Czech Friendship Association poses with his wfie Mrs. Park Yeun-Joo (right) and Director Masako Cho of The Seoul Times. At left is local police officer Han Jin-Kook.
The Czech envoy wished health and good luck for all the participants at the closing of his short speech.Chairman Choi on his part stressed the need for more love of the Central European country among the local Korean travel experts."The year 2009 has been a difficult year for all of us."said Chairman Choi " Yet No less Koreans visited the Czech Republic this year in spite of the world-wide economic crisis."Within the year 2009 as well Chairman Choi hosted or took part in a number of tourism events or arts exhibitions for promoting the Czech Republic among the local Korean people.Chairman Choi also hosted a reception on Oct. 30, 2009 in Seoul in celebration of the opening of the first Czech Information Center in South Korea.For details or inquiries please call 776-9837.