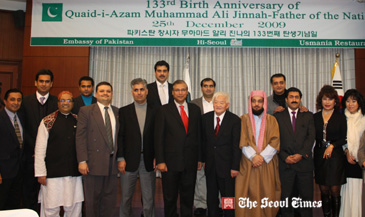 Pakistani Ambassador to Seoul Murad Ali (8th from left) poses with guests at event held on Dec. 25, 2009 on the occasion of 133rd birth anniversary of Pakistani national founder.
On the occasion of the 133rd anniversary of Pakistani national founder Quaid-i-Azam Muhammad Ali Jinnah's birth, Pakistani Ambassador to Seoul Murad Ali hosted a dinner reception at Hamilton Hotel in Seoul's Itaewon on Dec. 25, 2009.
From the Pakistani student of KAIST (Korea Advanced Institute of Science and Technology) to the military officers in Daejeon, nearly from all walks of life and their Korean friends as well as Pakistani diplomats were invited to the 133rd anniversary of the great leader.The Pakistani gathering attracted some 200 guests including Myongji University's President Byong-Jin You and media personalities.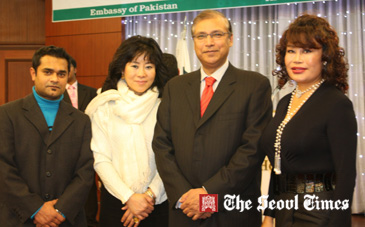 Pakistani Enovy Murad Ali (2nd from right) poses with Director Masako Cho of The Seoul Times and President Sophie Park of a Japanese restaurant at Himilton Hotel in Seoul's Itaewon.
The great leader Jinnah's work is loved by Pakistani due to the historical background of that time. In the 1900's, the discrimination and discontent between Hindu and Muslims in India headed to its peak.The distinctive leader Jinnah finally decided to lead his Muslims to build an independent nation of Pakistan in 1940.Even though the great leader ruled Pakistan only for over a year, his freedom-seeking mind and persuasive leadership is still in the hearts of many Pakistani.
"We are very grateful and pleased that many people have come to the anniversary to celebrate the birth of our great leader," said the Pakistani envoy in a speech delivered to
his gathering.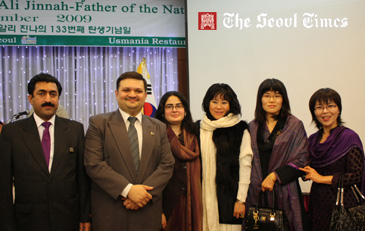 Commercial Counsellor Fuad Hashim Rabbani (2nd from left) of Pakistani Embassy in Seoul poses with his wife Hira Fuad and with other guests. At left is President Ha Min-Soo of Pakistani Business Association in Korea.
He hoped for the better relationships throughout the mutual understanding between Koreans and Pakistanis.The following is the full text of his speech.
Ladies and gentlemen!
As we pay tributes to quaid-e_azam Mohammad ali Jinnah on his birthday anniversary, we must bear in mind that there can be no greater tribute to him than to express our determination to work tirelessly in building an egalitarian society free from discrimination, persecution and oppression.
The guiding principles of unity faith and discipline are as relevancy today as they were 62 years ago when we got our fatherland. The passage of time can neither diminish in our minds his preeminent qualities of integrity, courage and conviction, nor lessen our profound sense of gratitude to him for leading to victory the march for a separate Muslim homeland. I would like to request all of you are adhering to the guiding principles of the founder of the Pakistan for achieving the goals of progress and prosperity.
Distinguished guests!
As you are aware, the first Islamic month muharram has begun and we remember the sacrifices of hazrat imam Husain and his colleagues in Karbala. Imam Husain confronted with unprecedented and unparalled courage the forces of oppression and brutality. He made an eternal sacrifice for the protection and defense of humanity and high Islamic values. We pay respect to all the martyrs of Karbala who sacrificed their lives.
I hope our Endeavour to introduce and familiarize the national leaders of Pakistan to the Korean society will bring two peoples closer to each other. Last month we celebrated iqbal day to commemorate the birth anniversary of Pakistan's poet philosopher de sir allama Muhammad iqbal. I have sincere hopes that we will continue to celebrate such occasions in future as well.
Such celebrations and participation of Korean guests are surely contributing to the already flourishing multicultural society in Korea. By 2020 49% of the populations will be of mixed ethnic background. The Korean civil society in general and government and policy influentials in particular are playing a great role in promoting cultural harmony. Print and multimedia role has been indispensable in raising mass awareness about diverse cultures making their impact on the overall society.
Before concluding I would like to think again all guests who participated and made the event successful especial our Korean friends who took time out to attend today's function despite this busy time of the year. My special thanks to the should metropolitan government for extending their fruitful cooperation for hosting the emcee and promoting the friendship and cooperation between the communities of two friendly countries.
Living nations always remember their departed leaders with reverence and affection, especially those who played a vital role in creating their country. Muhammad ali Jinnah founder of Pakistan is one of them. We know him as quaid-e-azam which means great leader.Today we are gathered here to mark the 133rd birth anniversary of our leader. My sincere felicitations to all fellow Pakistani brothers and sisters. Our Korean friends are also joining this occasion to pay tributes to the father of the nation and also innumerable martyrs who made huge sacrifices and laid down their lives for the creation of homeland. Today's significance is also well known around the globe. Christian of the world celebrate the birth of Jesus Christ as what Muslims call essa masih rooh allah merry Christmas to all.
The Muslims of the subcontinent steadfastly and wholeheartedly worked with quad – e – azam in the struggle for independence something unmatched in the history of the world. They spared no sacrifice to make Pakistan a reality. Quiad envisaged Pakistan to be a country where social justice and economic opportunities for all would prevail. He also believed in peace and prosperity amongst all nations of the world.
For details or inquiries contac the Pakistani Embassy in Seoul at 796-8252.