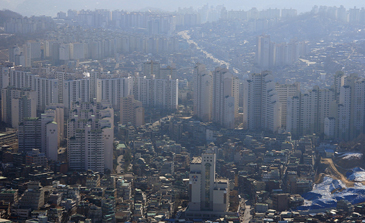 Seoul, capital of South Korea
Seoul has recently been ranked third most hated cities by a popular tour guide book, BBC website reported on Jan. 5, 2010.BBC said that Lonely Planet listed Seoul as third worst city based on the opinions of travelers. The world's most hated city turned out to be Detroit of America for its "crime, pollution, and crumbling infrastructure." The second place went to Accra of Ghana for being "ugly, chaotic, and sprawling."They are on list of world's nine most hated cities published by Lonely Planet's website.Lonely Planet publishes the word's most popular and most influential tour guide. Its website receives some 3 million visitors around the world.The six other world's most hated cities are Los Angeles (USA)—4th, Wolverhampton (UK) –5th, San Salvador (El Salvador)—6th, Chennai (India)—7th, Arusha (Tanzania)—8th, and Chetumal (Mexico)—9th.Lonely Planet cited "appallingly repetitive sprawl of freeways," Soviet-style concrete apartment buildings," and "horrible air pollution" as the reasons of the capital of South Korea being rated as one of least liveable cities on Earth.Lonely quoted some travelers as describing Seoul as the "city of no heart or spirit to it" or as the city "so oppressively bland that the populace is driven to alcoholism."Meanwhile, Seoul Metropolitan Government angrily reacted to the BBC report, a vernacular daily Kyunghyang Shinmun reported.It reported that the Seoul government would not recognize the result of Lonely Planet findings.It quoted its official as saying "Anholt-GMI, the national brand research organization, ranked Seoul as 33rd place in 2008, 11 notches up from 2006 when Seoul was listed 44th on the chart of Anholt-GMI City Brands Index."
The official said the Seoul Metropolitan Government "would react officially" to the result of the Lonely Planet's findings.Experts pointed out that these findings were terrible when the Seoul Metropolitan Government spends millions of dollars on improving the brand image of Seoul.
Your Nine Most Hated Cities
1. Detroit, USA – Crime, pollution and crumbling infrastructure don't appeal to you.2. Accra, Ghana – Ugly, chaotic, sprawling and completely indifferent to its waterfront location.3. Seoul, South Korea – According to one comment, 'It's an appallingly repetitive sprawl of freeways and Soviet-style concrete apartment buildings, horribly polluted, with no heart or spirit to it. So oppressively bland that the populace is driven to alcoholism.'4. Los Angeles, USA – A highly contentious pick, placed here because of its 'uncontrolled sprawl, pollution, appalling traffic and ugly freeways.'5. Wolverhampton, England – So bad that we don't even have it on this site! Check out post 35 on this thread.6. San Salvador, El Salvador – Widely acknowledged as the grubbiest of the Central American capitals.7. Chennai, India – We describe it as lacking Mumbai's prosperity, Delhi's history or Bengaluru's buzz. Even the movie stars are 'not that hot.' You think we're being generous.8. Arusha, Tanzania – A gateway to natural wonder that has more than its share of rust. Get out as quickly as you can.9. Chetumal, Mexico – Combining the worst of mass tourism and outlying decay, Chetumal just doesn't charm you.