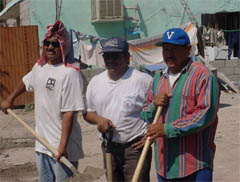 Illegal workers from Mexico
The Nebraska executive at a big car dealership knew he was breaking the law when he hired Ana, an undocumented worker from Mexico. Yet, he explained his illegal action by saying it was similar to going five miles over the speed limit. No big deal.With an estimated 10 million undocumented workers in the U.S., you have to wonder if crossing the border to work should be considered illegal since it no longer reflects reality nor good policy.George W. Bush suggested this much in January of 2004 with his immigration reform plan. In the president's proposal, employers would be matched with workers who would be given temporary work visas. The proposal would establish a guest worker program and open the way for some sort of amnesty for those who have been in the country without papers. In essence, his plan would legalize the illegal.Democratic presidential candidate John Kerry stated that he's against giving undocumented workers the legal right to drive in the U.S. Yet, he would also change the law to allow workers to come to the U.S. legally.Both major parties seem to be heading in the direction of changing the immigration laws and legalizing undocumented workers already in the U.S.Yet, neither party can afford to alienate the majority of Americans who seem to be stuck on the illegal deed of crossing the border. Having done an illegal act, these people deserve nothing except deportation, according to a significant majority of Americans.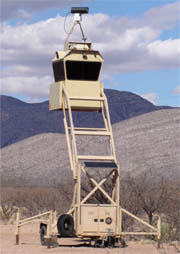 Sky Watch Frontier tower for watching undocumented workers
The negative feelings against undocumented workers are never aimed at the companies doing the hiring. In fact, if laws preventing undocumented workers from being hired were enforced, illegal immigration would disappear very quickly. For instance, soon after 9/11 the apprehension of illegal crossings at the Mexico-US border went down significantly. With an American economy in the doldrums and no jobs available, people stayed home. It's better to be unemployed in your country than in a foreign land.The US government spends billions trying unsuccessfully to stop people from crossing the border, but very little is done in terms of enforcing laws preventing companies from hiring undocumented workers.Once in a while you hear of the US Border Patrol conducting raids in Latino communities as it happened not too long ago in Southern California. These raids never occur during harvest time in the agriculture industry. That would be disastrous for the economy. One such raid, however, did occur several years ago in Georgia during the harvest of sweet Vidalia onions.The screams heard were not about "la migra" from the undocumented workers. Those who screamed were the owners who contacted their elected official representatives in Washington. The raids during harvests stopped and you won't hear about them. The message is clear. We don't want illegal immigrants, but at the same time we want their work.The North American Free Trade Agreement (NAFTA), which took effect in 1994, eased the movement of products among the U.S., Mexico, and Canada by eliminating tariffs. The law was designed to stimulate trade among the three countries and eventually improve corporations' bottom lines.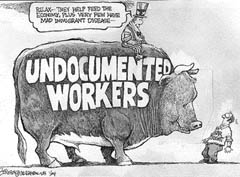 Courtesy Benson
Laws to ease the movement of people across borders so they can sell their services are much more difficult to enact. You can't dispose of people as you can easily do with merchandise. Another significant reason why immigration reform is difficult is because undocumented workers, unlike corporations, have no lobbyists in the capitals of the three NAFTA countries to make their case.Immigration reform to allow people crossing the border legally will eventually happen. It will require educating the American public about the contributions undocumented workers make. It will also require enlightening Americans that knowing who comes into our country is in our best interest. It will make us all more secure since those wishing to hide in our midst with the intention of doing harm to us will find it more difficult. New laws, however, will never end illegal immigration completely. Poverty will always push people to move in search of economic opportunities even if it means risking lives. It's happening all over the world. In the case of the U.S. and Mexico, illegal immigration will stop when the wage gaps between the two countries are significantly reduced. People will then stay home as Canadians and Americans are already doing.