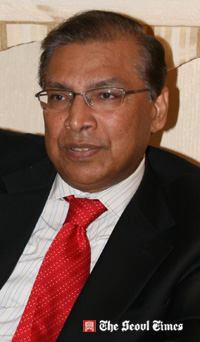 Pakistani Amb. Murad Ali
Mr. Murad Ali, the ambassador of Pakistan to Republic of Korea, spoke recently with The Seoul Times in an exclusive interview. The Pakistani envoy covered myriad questions ranging from trade between Pakistan and South Korea, to unification of Korean Peninsula, and to the terrorism plaguing many nations alike. The ambassador made an interesting observation over the potential of Pakistan stating that Pakistan is not only a large market of 170 million people but also a hub to Middle East, Central Asia and Europe.On the issue of drone attacks by the United States, the ambassador expressed displeasure stating that such an act by the US is not only counterproductive but also a violation of Pakistan's sovereignty. He not only discussed the Pakistan's resolve to eliminate terrorists from Pakistani soil but also shed light on the "A.Q. Khan case" and the repercussions the case may have had on the relationship between Pakistan and South Korea. Below is the complete text of the interview:
Q1: Mr. Ambassador, can you walk us through your life? Tell us something about your family.
A1:
Born in the central part of Pakistan, I was educated in Sialkot, the birth place of Allama Sir Dr. Muhammad Iqbal, the poet philosopher, who gave the idea of Pakistan. I did my Masters in Political Science as well as Defence and Strategic Studies. I joined Foreign Service of Pakistan in 1980 and served in several Pakistan Missions abroad including London and Los Angeles and this is my second term in Seoul. I was here from 1988-1991 as First Secretary. I am married with three children.
Q2: What made you venture into foreign services? There is a belief that administrative services are respected and tenured. Had that anything to do with your choice of profession?
A2:
No service is respected per se. One can serve the country and people in various capacities and in specialized areas. Foreign Service gives you an opportunity to work abroad as well. I therefore had the privilege of working amongst various cultures and environments. This has definitely added to my experience and I am proud to be part of a very professional cadre of Pakistan's Foreign Service. While I am enjoying my stay in South Korea, I also cherish my years spent in the Middle East and the Continents of North America and Europe.
Q3: What cultural differences do you observe between Pakistan and Korea?
A3:
Asian culture is about the same with slight variations due to language and topography. We have common values of family and respect for our elders. There is great community cohesion in both cultures. The manifestation in Korea was through the New Community Movement (Saemaul Ondong) whereby the Korean society graduated from lack of basic services to one the most advanced communities comparable internationally. In Pakistan we have seen the community coming forward for help to the victims of 2005 earthquake. The people of Pakistan extended help to their fellow countrymen in all possible ways to mitigate their sufferings. In short both our cultures have progressed on the common feelings of mutual help.
Q4: You were here during 1988-1991. How much has Korea changed culturally, politically and economically since your last tenure?
A4:
Spending three years, earlier in 1988-1991, was a wonderful experience. Since early 90's, Korea has made tremendous progress. This progress and prosperity is unprecedented and in stark contrast from the abject poverty seen in 1950s and 1960s when its per capita was less than $100. President Park Chung-Hee, architect of modern industrialized Korea, laid the solid industrial foundation of Korea. I am happy to associate our country with the Korean economic development as the architects of development consulted Pakistan's Five Year Plans as model of rapid development. Now South Korea is an OECD country with per capita income of over US$ 20,000. I specially admire the part played by the Saemaul Ondong Movement in bringing cultural and economic revolution in the country. The progress and prosperity achieved during a short span of time is a model to be followed by other countries especially the developing nations. Politically, during 1980's the society was passing through transition. The country is now an established democracy. So is ours in Pakistan. After the successive military governments, the last one from 1999-2008, there is democratic government led by President Asif Ali Zardari and Prime Minister Syed Yousaf Raza Gillani.
Q5: Hallyu or Korean wave has been pervading like wildfire. Has Pakistan been swept by Hallyu? Sir, do you watch Korean dramas, movies and listen to K-Pop?
A5:
In recent years, South Korea is seriously pursuing cultural diplomacy, making culture a major player in Korean policies. That means that South Korea does not merely promote Korean culture as such within and outside the country but also regards culture as a means to further its diplomatic objectives. The Culture Ministry and other related departments cooperate with Diplomatic Missions and immigrants on regular basis to promote Korean culture. The Korean wave Hallyu reflects the surge in popularity of South Korean culture in the American, African and European Continents and especially amongst the Asian countries. The Korean TV dramas such as Autumn Fairy Tale, Winter Sonata and Dae Jang Geum are popular around the Globe. These have helped Korea promote a softer image and a Korean brand to the outside world. We are making efforts to introduce our cultures to each other through such dramas. I am sure our people in Pakistan will enjoy K-Pop like 2PM, B-Boys and Rain.
Q6: How is cultural exchange going between Pakistan and Korea? What are some of the initiatives undertaken by your Embassy and the Republic of Korea's Embassy in Pakistan to ensure cultural exchange?
A6:
Pakistan and Korea have cultural linkages spanning more than one and half Millennium. In the fourth century, Reverend Maranantha came to Korea during Baekje period and introduced Buddhism to Korea and beyond. In the 8th century Reverend Hayecho famous South Korean Monk came to Pakistan and left a Travelogue. There is therefore a long and solid history of cultural exchanges. I may mention that the Ambassador level relations between Pakistan and South Korea were established in November 1983. Last year was therefore the Silver Jubilee year of the establishment of diplomatic relations. A 14 member delegation of Korean artists visited Pakistan in April 2008 in the context of Silver Jubilee celebrations. While the Silver Jubilee of diplomatic relations was celebrated in South Korea, a number of celebratory programmes have since been held in major cities of Korea in an effort to enhance people to people contacts and understanding. Various cultural organizations are also active in organizing social functions including cultural performances all over the country. Especially commendable is the role played by the Korean Islamic Welfare Foundation, Daegu and Pakistani community in the cities of Siheung and Incheon and Guru. Korea-Pakistan Friendship Association plays active role in organizing such functions. The Mission very recently organized a function in November to celebrate 133rd Birth Anniversary of Dr. Sir Allama Muhammad Iqbal. The academic programme organized in Seoul was aimed at introducing Pakistani national heroes to the Korean society. As other Missions do, we also regularly participates in charity and trade fairs. Notable amongst these are SIWA, Seoul Hi Festival, Red Cross, Seoul Gift Show, Incheon Global Fair and Festival 2009 etc. Participation in trade fair is commercial in nature as well as cultural in its outlook.
Q7: The trade between Pakistan and Korea has touched around US$ 1.6 billion. Any areas that you personally feel should be explored by Korean companies in Pakistan? What all does Korea imports from Pakistan? Where does the technology transfer between Korea and Pakistan fit into this trade? How much percentage of this trade is technology transfer?
A7:
Pakistan's trade with Korea has grown significantly from the level of US$ 300 million in 1990's to around US$ 1.5 billion (our exports to Korea being US$ 631 million and imports from Korea being US$ 839 million) in 2008, an increase of 26% over the previous year. Our major exports are raw materials like naphtha, unrefined copper, indentured ethyl alcohol, cotton yarn and fabric, leather products, surgical goods, frozen fish and crustaceans etc. Korean exports to Pakistan include munitions of war and parts, flat rolled products of iron, polymers of propylene and other olefins, synthetic fibers nitrogenous compounds, vaccines for human medicine, telephone sets (mobile hand sets), organic colouring matter and parts/accessories of motor vehicles etc. Pakistan offers not only a promising market of 170 million people but is also a hub for accessing markets like the Middle East, Central Asia and further ahead, Europe. Key areas for investment and collaboration/ technology transfer include infrastructure/ construction, energy, mining and development of natural resources, information technology and wireless communication, agriculture and fisheries and relocation of machinery (especially textiles).Hyundai Motor Company had signed the contract for technical cooperation with Daewan Farooq Motors Limited in 1999, which has an automobile manufacturing / assembly facility near Karachi. Hyundai Information Technology, a subsidiary of Hyundai group undertook the computerization project of the State Bank of Pakistan worth US$ 25 million. They have also undertaken some projects of developing ERP systems in the private sector in Pakistan. Korea has been exporting system software like Automatic Weather System (AWS) to Pakistan. Korea also has exported mobile solutions and provided Web Services Integration service. The level of technology transfer is however far below the achievable potential. There is a lot of scope, for instance, for Korean telecommunication technology like WiBro and broadcasting technology like DMB. There is also scope of relocating spinning, weaving and embroidery machines from Korea due to cheaper labour and other inputs in Pakistan. Another area where there is great scope is technology transfer in processing and packaging of food, especially fisheries items in Pakistan in joint venture with Korean companies. Dairy development and processing, value addition of our natural stones like rubies and emeralds and the marble/granite sectors are also promising areas.
Q8: One reads a lot about bombings in Pakistan. In the past few weeks Tehrik-e-Taliban has created a havoc. Why is it happening? Do these events demonstrate a weak leadership in Pakistan? We rarely saw such incidents when President Musharraf was at the helm of affairs but under Prime Minister Gillani and President Zardari the attacks have been frequent.
A8:
Acts of terrorism are distinct by their surprise. These have nothing to do with weak or strong leadership in any country. What is happening in certain areas of Pakistan has its genesis in the late 70's intervention in Afghanistan. After the withdrawal of foreign forces, a void was created which was filled by warlords and later Taliban. The challenges of extremism and terrorism in Pakistan stem primarily from the adverse fall out of the decades long conflict and instability in our neighbourhood. In order to address the problem of terrorism and extremism on our side of Pakistan-Afghanistan border, we have evolved a three pronged strategy: to restore peace in the areas through political dialogue and socio-economic measures, while retaining the option to use force, whenever required. When political dialogue did not work in the areas of Swat and Malakand, the Government launched a security operation (Operation Rah-e-Nijat) against Taliban in that area and now in South Waziristan. The terrorists in retaliation have made a number of attacks which you have mentioned in your question. However, the Government with help of people remains determined to carry on this operation until all the terrorists are eliminated from the Pakistani soil. Let me mention that Pakistan has deployed about 150,000 Pakistani troops/security personnel on its border with Afghanistan and has set up 1000 border posts to interdict al-Qaida/Taliban members. We have apprehended more than 700 al-Qaida operatives and affiliates including some of its top leaders like Abu Zubaydah, Ramzi bin Al-Shibh, Khalid Shaikh Mohammad and Abu Farraj Al Libbi. Unfortunately, a large number of our own security personnel have also been martyred and injured in these operations. This all shows our resolve to eliminate the scourge of terrorism from the area and we hope that countries in the region will help us to achieve this objective.
Q9: How has South Korea reacted to Pakistan's nuclear expert Mr. A.Q Khan's confession of nuclear proliferation to North Korea? Is there an air of unease between Pakistan and Republic of Korea?
A9:
The issue has been blown out of proportion in an effort to malign Pakistan and divert attention from proliferation networks elsewhere in the world. So called 'A.Q Khan Issue' has helped many quarters orchestrate a campaign to shift focus from somewhere else. On numerous occasions the IAEA has pointed out that the world wide nuclear black market networks involved entities and individuals from more than two dozen countries. I would like to mention that Pakistan took swift action against A.Q Khan, shutdown the network, investigated the matter and shared information with the IAEA and other concerned countries. The IAEA on several occasions has appreciated Pakistan's cooperation. Furthermore, Pakistan has taken a forceful and effective action against the individuals found involved in the proliferation activity in the past and has put in place iron-clad institutional safeguards. Let me also assure that Pakistan's nuclear assets are very safe and are under institutionalized and multilayered command and control system. There is no air of unease between Pakistan and Korea. We have friendly relations and we coordinate our policies on issues of importance to the two countries.
Q10: Sir, your views on the drone attacks in certain parts of Pakistan near Afghanistan's border by the United States?
A10:
The drone attacks are violation of Pakistan's sovereignty, are counterproductive and need to be stopped. We have put across our serious concerns on such strikes. Concerns in this regard have been conveyed at the highest level that these drone attacks are damaging rather than helping the overall strategy to counter terrorism.
Q11: You might be aware of the term 3D work (dirty, dangerous and difficult work) in Korea. There are many Pakistani labors doing such chores. The word on the street is that the condition of 3D workers is very bad. The employers exploit such workers. Is Pakistani Embassy aware of any such mistreatments of its citizens? Has Pakistani Embassy done anything to improve their condition? And if there are complaints then how does Pakistani Embassy respond to such complaints?
A11:
There is a large expatriate Pakistani community of over 10,000 spread over Korea contributing to the progress and prosperity of the host country and helping in enhancing mutual understanding between the two countries. Our workers are being employed in the manufacturing sector. Ministry of Labour and their respective Korean employers are extending facilities as per contract agreement and their rights are fully protected under the existing Korean labour laws. We have not received any serious complaints. I may add further that generally Pakistani nationals have the difficulty of language in the beginning of their arrival in Korea. A few of them have complaints about the food. However they overcome this difficulty quickly and are very happy to live and work in Korea. We are also in constant touch with our community and with the concerned Korean authorities in order to address any complaints that arise in the course of the performance of duties by our work force.
Q12: How does Pakistan view the unification of two Koreas? What role, you think, Pakistan can play in the unification process?
A12:
Pakistan has consistently supported a peaceful reunification of the Korean Peninsula. Pakistan supports the Joint communiqué of July 1972 between the two Koreas which calls for reunification through peaceful negotiations without any foreign interference. Pakistan also welcomed South-North Basic Agreement and Joint Declaration for De-nuclearization of the Korean Peninsula signed in 1992. Pakistan will also support any future initiatives which seek peaceful reunification in accordance with the wishes of the people of the Korean Peninsula.