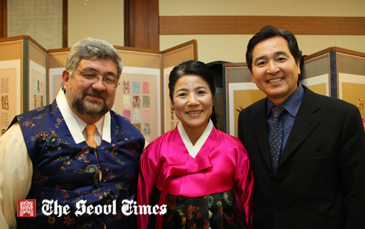 Paraguayan FM Hector Lacognata (left) poses with Ms. Lee Eun-Jeong (center), Lawmaker Shim Jae-Chul at Samcheonggak Banquet House dinner in Seoul on Jan. 21, 2010.
Paraguayan Foreign Minister Hector Lacognata wished to have a better diplomatic ties with South Korea at the exclusive interview with The Seoul Times in Seoul on Jan. 21, 2010."It has been over 48 years since South Korea and Paraguay started its diplomatic relationships." he said "and I am looking forward to having beneficial outcome throughout the unity of both nations." The interview was held prior to the dinner reception hosted at Samcheonggak banquet house in Seoul's Samchong-dong by Ms. Lee Eun-Jeong, president of KAYA (Korean American Youth Association).A total of 25 ambassadors from Central and South American countries were invited to the traditional Korean style reception.A local lawmaker Shim Jae-Chul of the ruling Grand National Party (GNP) was also invited. The Paraguay's foreign minister arrived in Seoul from Tokyo on Jan. 20, 2010 for an official three-day visit at the invitation of the South Korean government.He made a courtesy call on South Korean Prime Minister Cheong Un-Chan before he held the official talks with South Korean Foreign Minister Yu Myung-Hwan.Mr. Lacognata met with his South Korean counterpart Yu Myung-Hwan at Yu's office in Seoul on Jan. 21, 2010.Prior to their meeting they exchanged a national soccer shirt in a press conference.Mr. Lacognata attended the 4th Forum for East Asia-Latin America Cooperation (FEALAC) held in Tokyo on Jan. 16-17, 2010 before he came to Seoul.Even though official diplomatic ties between South Korea and the South American country were signed in 1973 the unofficial ties between South Korean and the South American country goes back to 1965.On April 22, 1965 ten families of 75 people boarded a Dutch-registered ship to head for the Paraguayan capital of Asuncion.
The farming immigrants successfully settled in its capital and such other areas as Ciudad del Este, Encarnación, Pedro Juan Caballero, and Coronel Oviedo.The number of South Korean immigrants to Paraguay multiplied, because its immigration policy is relatively much relaxed to South Koreans.Some South Korean immigrants used Paraguay to go to America.The number of South Koreans who originally immigrated to Paraguay was estimated at 150,000.
Currently, some 6,000 South Koreans are living in Paraguay.They are involved in food sales, accessories sales, manufacturing and sales of clothing, and sales of electronic goods and foot wear.Some 30 percent of all the eggs are produced by South Koreans in Paraguay.Mr. Hector Lacognata, who was born on Sept. 6, 1962, was appointed as Paraguayan foreign minister on April 29, 2009 by its President Fernando Lugo.He replaced Alejandro Hamed Franco who resigned a month earlier.Lacognata is a legislator from the Common Market of the South (Mercosur) and a deputy from the Beloved Homeland Party.