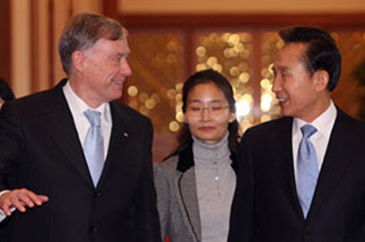 German President Horst Kohler (left) talks with South Korean President Lee Myung-Bak at Cheongwadae in Seoul on Feb. 8, 2010 proir to thier summit meeting.
"Never give up the possibility of reunification (of Korea)," advised the German President Horst Kohler in a recent meeting with South Korean President Lee Myung-Bak in Seoul "You should keep in mind that reunification can come quicker than you think"The summit meeting between the German and Korean leaders was held at the president Blue House or Cheongwadae in Seoul on Feb. 8, 2010. During the summit held over luncheon on the day the German leader stressed that making detailed plans and through preparations for reunification are crucial.The German leader discussed with Lee ways of boosting mutual ties particularly in area of economic relations.The two national leaders also discussed how to cooperate each other on the issue of the free trade agreement (FTA) between South Korea and the European Union.Other economic cooperation issues in such fields as
renewable energy and green technologies were also discussed during the summit.It was known later that President Lee asked for Germany's support for the G20 meeting slated for November in Seoul.During the meeting the German leader praised South Korea for the opportunity to host G20 summit."South Korea has proved that it has the enough capability, as its host nation, to lead the G20 summit," the German leader was quoted as saying.German President Horst Kohler visited South Korea from Feb. 7 to Feb. 10, 2010 at the invitation of Seoul government.During his three-nights and four-day state visit
President Kohler also met with other local political and business leaders.He also visited the South Korean National Assembly for meeting with its Speaker Kim Hyong-O and with other lawmakers.The German leader, who arrived in Seoul from Delhi, India on Feb. 7, 2010, departed from Seoul for Germany on Feb. 10, 2010.
For details or inquiries please contact the German Embassy in Seoul at 748-4114.