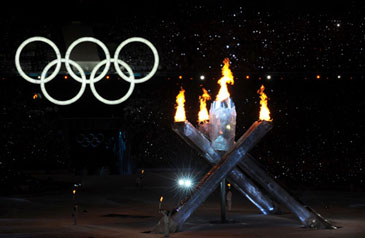 The opening ceremony of the Vancouver Olympics gets underway on Feb.12.
The opening ceremony of the Vancouver Olympics got underway on Feb.12 but it was overshadowed by the death of a Georgian luger, who was killed in a horrific training accident just hours before the start of the 21st Winter Games.The International Olympic Committee is investigating how the course, originally designed for speeds of 137km/h, allowed athletes to set world records of more than 153 km/h."The track is too fast," said Joseph Fendt, president of the World Luge Federation, told London's Daily Telegraph.
"We had planned it to be a maximum of 137 km/h but it is about 20km/h faster. We think this is a planning mistake."In training this week, Manuel Pfister set a speed record when he hit 154km/h. That topped the 153.98km/h record set at the same course last year.So far, there will be no shortage of complaints from coaches and athletes who will say that the problem is the track itself, which boasts the fastest in the world, and among its most difficult.After nearly losing control on Thursday, Australia's Hannah Campbell-Pegg said the track was risking her life.
"I think they are pushing it a little too much. To what extent are we just little lemmings that they just throw down a track and we're crash-test dummies? I mean, this is our lives," said Campbell-Pegg.There were plenty of complains at last February's bobsleigh and skeleton World Cup test events in Whistler.Maya Pederson, the Swiss star who won skeleton gold in Turin, said the track was unbelievably quick."It's a very difficult track you really have to be a good driver. It's one of the fastest tracks. I've never slid that fast,"she said after her final run."Some tracks you don't have to work that hard. Here you have to work, work, work. And until the finish, you don't really feel the speed."In an interview with NBC, American luger Tony Benshoof said: "when I first got on this track, I thought that somebody was going to kill themselves.""I don't know what we are going to do, this is very heavy," said Josef Benz, a Swiss bobsledder who competed in two Winter Olympics, and won one gold.There are only 17 sliding tracks in the entire world. The vision for Whistler was to create one that complimented the three existing ones in North America, not as technical as Lake Placid, but more challenging and faster than Calgary and Salt Lake.The design firm commissioned to build the Whistler Sliding Center vowed to create the "most challenging" course ever made.The course features several dangerous segments, including an imposing 152-meter drop, which extended upon the originally planned149 meters.It's the longest in the world and equivalent to 48 stories. The 1,450-meter course has 16 turns, with the last one a sharp U turn.Bob Storey, the former Canadian bobsledder who now heads the International Bobsleigh and Skeleton Federation (FIBT), defended the track.In an interview with Maclean's, he spoke at length about his confidence in the course — one that was designed to the specifications of the FIBT and the International Luge Federation, and built with their active participation."It's a good challenging track for everybody. It's safe, but tough," he said last February. "If you make a little mistake you can get through, but if you make a big one, you're going to pay for it."IOC officials had reportedly told the planners of the 2014 Sochi Winter Games, the speeds at Whistler were unacceptable.(Agencies)