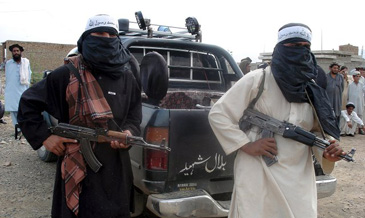 Masked Taliban terrorists.
South Korean immigration officials have been warned against members of the Taliban and other international terrorist groups who intend to pass through South Korean airports on fake passport. The move came after a news report that a Pakistani man who claims to be a member of the Taliban has been arrested for passing through South Korea 17 times on a fake passport.His arrest has raised concerns about holes in South Korea's immigration control system, as the country prepares to host a summit of the Group of 20 major economies in November.The 31-year-old man, who claims to be a member of the militant group, traveled on a passport belonging to another Pakistani individual when he first entered the country in August 2003, the Seoul Metropolitan Police Agency said. The man later rentered South Korea multiple times, pretending to be the religious leader of a local mosque in Korea. He last entered South Korea in July 2008 for the 17th time, according to the police. "He entered Korea with his own passport in 2001 and stayed through June 2003. He confessed that he was asked by Taliban leaders to collect information about the U.S. military bases in Korea," Yonhap News quoted an office with the Seoul police as having said.
Police are currently investigating whether the man succeeded in passing on information about Korea to the Taliban.