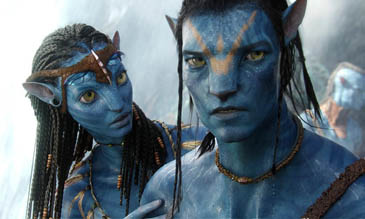 A scene of "Avatar" directed by James Cameron
There are only two real races in this year's Oscars. That among the Best Pictures and that among the Best Actresses.
There may be 10 films vying for the coveted trophy. But the actual fight for the Best Picture will probably be among five movies: "Avatar," "The Hurt Locker," "Inglorious Basterds," "Precious" and "Up in the Air".
Veteran Oscar watchers aver that the Academy of Motion Picture Arts and Sciences does not usually give a film the Best Picture trophy without giving it one for its director as well. A split like this has happened only 21 times in the Academy's 81 years. All said and done, it makes little sense to me that the Best Picture has not been helmed ably enough for it to deserve the Best Direction prize as well. I have never understood this concept of division.
So, it is James Cameron ("Avatar"), Kathryn Bigelow ("The Hurt Locker"), Quentin Tarantino ("Inglorious Basterds"), Lee Daniels ("Precious") and Jason Reitman ("Up in the Air") whose movies will most likely be the actual contenders for the Best Picture Oscar.
There are other guesses for this Award. Often, the top honour goes to a film that has been nominated across several categories, most importantly acting and screenplay or editing or both, apart from directing. Four movies, "The Hurt Locker," "Inglorious Basterds," "Precious," and "Up in the Air", have qualified here this time. All of them have won Acting and Screenplay nods. Except for "Up in the Air", the rest have also been nominated for Editing. "Avatar" has managed one for Editing, though not for Screenplay or Acting.However in 1998, Cameron's "Titanic" sailed away with the Best Picture statuette without getting a nod for Screenplay in the first place. "Slumdog Millionaire" (2009) and "Lord of the Rings: The Return of the King" (2004) were adjudged Best Pictures in the past decade sans Acting nominations.
Ultimately, it is hard to tell what the 5777 Academy voters will put their rings on. Will it be on the technically superb "Avatar" or the marvellous historic Jewish fantasy called "Inglorious Basterds" or the recession driven "Up in the Air" or the Iraqi nightmare captured in "The Hurt Locker"? We would never know for sure till March 7, when the envelopes would be opened.
The Best Actress Oscar is probably confined to two contenders, Meryl Streep in "Julie & Julia" and Sandra Bullock in "The Blind Side".
If I were to make a choice, it will certainly be Streep, whose performance in "Julie & Julia" (where she essays a chef) is brilliant. But then she has always been a fine artist. Some call her "the world greatest living actress", and she has won no Oscar since 1982, when "Sophie's Choice" got her the trophy. Earlier in 1979, she clinched her first in "Kramer vs Kramer". Nominated for an Oscar on no less than 16 occasions, Streep could lose out to Bullock, though for the wrong reasons.
Bullock is interesting in a low-key role as Leigh Anne Tuohy in "The Blind Side", a story that actually happened. A happy wife and mother of two lovely kids, she gives a home and new life to a battered 18-year-old black boy and turns him into a football star. Bullock looks real and compassionate, qualities that may bowl over the Academy of Motion Picture Arts and Sciences.
Most pertinent, this may be Bullock's last chance to win the Oscar, and the Academy members may just about cast the sympathy vote for her.
But, then, who is to say.In early 2000, Jack Nicholson and Daniel Day-Lewis were considered the hot acting favourites for "About Schmidt" and "Gangs of New York". In walked Adrian Brody in "The Pianist", that narrated the Nazi atrocities on artists, and won the Oscar. Day-Lewis and Nicholson were left wondering what went wrong. Nicholson is undoubtedly a fantastic actor, and Brody could hardly come anywhere close to him.
Perhaps, it was the film itself, "The Pianist", which did the trick. A powerful and moneyed Jewish lobby in America still nurses its World War II hurt and humiliation, and the Academy cannot easily detach itself from this. "About Schmidt" is the personal story of a man's search for meaning in his life. There is little drama or disaster in this, and that great cinematic curve is missing.
So, if Bullock and Streep — like Day-Lewis and Nicholson – were to vote each other out, reports talk of Carey Mulligan (in a coming-of-age love story, "Education" with Johnny Depp) delivering the "I love you mama, papa and the World" speech on March 7.
However, Mulligan is just 24 and Bullock 46. Mulligan may get many more chances to win an Oscar, Bullock may not have that many. The Academy is known to look at all these before casting its vote.
Well, at Los Angeles talent counts, but other considerations could colour the outcome.
Gautaman Bhaskaran has been writing on the Oscars for many years.