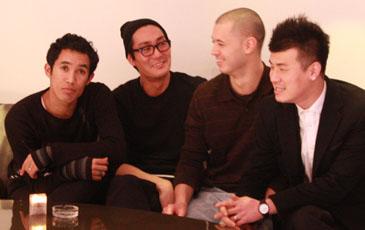 Members of H20 Entainment
The group was originally created by Oliver and Hoya, who currently work at various popular and upcoming venues around Seoul. H2O is striving to set the trend when it comes to chic parties and events by adding a personal element to the partying experience.If you are longing for a new music experience in Seoul which consists of funky, deep or Latin house music as well as disco, the organizers insist an H2O party is the place to be. The specific music genre and exquisite venue setup claimed to be like no other in Korea.
Oliver and Hoya are the brains behind their "Check-in" parties (with their first series of events called the "Hotel Staff Party"). The goal of these events were to bring people from all over the hospitality industry together under one roof and in this way create a "hospitality community" in Seoul, one which is unique to anywhere else in the world. Hoteliers, wine distributors/suppliers and individuals within the hospitality industry therefore get to have an opportunity to mingle and expand their social network. Over time "Check-in" parties have expanded to become much more, now it is a place for ALL individuals to dance, socialize and just have fun.
"Check-in parties" will be held at least four times a year at various upmarket venues around Seoul. The previous events were held at JALHOUSE in Apgujeong and Club Function in Itaewon, Seoul.
DJ Jinwook will be working with H2O, thus he will be the headline DJ for every "Check-in" event. He has supported acts like Louie Vega and Dimitri from Paris, and has played at major clubs and lounges around Seoul, clubs such as Woo Bar, Answer, Soulsome and Ark Lounge.
For "off the wall" soulful, disco, Latin or funky house, check out the next "Check-in" party. The next event will be held on the 25th of February 2010 at Club Funtion in Itaewon. The evenings DJ's are Jinwook, Mister Rea and Kim-G. Entrance fee to this event will be W20 000 which includes one free drink.For more information visit the organizers home page at club.cyworld.com/h2oentertainment or join their Facebook group h2o entertainment.