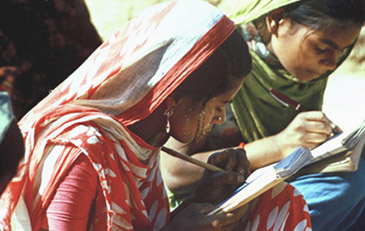 Int'l Mother Language Day observed in Bangladesh
DHAKA (Bangladesh) — The Central Shaheed Minar was flooded with flowers as thousands of barefoot people, wearing black badges and holding bouquets thronged there on Feb. 21, 2010 to pay homage to the brave sons of the soil who laid down their lives in 1952 for mother tongue Bangla.
Amid tight security arrangements, President Zillur Rahman and Prime Minister Sheikh Hasina placed wreaths at the Central Shaheed Minar two minutes past midnight last night and stood in solemn silence for a few moments to pay respect to the martyrs.
Different organisations placed bouquets and wreaths, many went there with a single rose or a tuberose, toddlers holding their mothers' hands or riding on their fathers' shoulders.
Freedom fighters, language movement veterans, physically challenged people, youths, day labourers, workers, homeless people, academicians, intellectuals, politicians and foreigners walked in queues.
On this day in 1952, students and people from all strata of society took to the streets in Dhaka to protest the then Pakistan government's refusal to recognize Bangla as one of the state languages and imposition of Urdu as the only official language of Pakistan.
Salam, Barkat, Rafiq, Shafiur, Jabbar and a few other brave sons of the soil sacrificed their lives on this day to establish Bangla as one of the state languages of the then Pakistan.
The day has since been observed as the Language Martyrs' Day, which the UNESCO later declared as the International Mother Language Day.
The then Pakistan government was ultimately compelled to include an article in the country's constitution on February 29, 1956 that declared, "The state languages of Pakistan shall be Urdu and Bengali."
The Language Movement is indeed the most important turning point in the history of Bangalees as its spirit led to the independence of Bangladesh through a bloody nine-month war in 1971.
On November 17, 1999, the UNESCO declared February 21 as the International Mother Language Day. Countries across the globe have been observing the day since then to promote linguistic diversity and multilingual education and raise awareness of cultural traditions based on understanding, tolerance and dialogue.
With daybreak people kept flooding in leaving hardly any space for free movement at the Central Shaheed Minar, symbol of the spirit of not bowing down to repression.
Imbued with the spirit of patriotism, people from all walks of life demanded trial of war criminals and establishment of a corruption-free society.
The Central Shaheed Minar and its surrounding areas received a facelift on the occasion. Streets and their central reservations were decorated with festoons inscribed with Bangla letters and the national flag.
Prime Minister Sheikh Hasina, along with her cabinet
members, advisers, lawmakers and her sister Sheikh Rehana, also placed one more wreath on behalf of the ruling Awami League.
Flanked by party colleagues, BNP Chairperson and Leader of the Opposition Begum Khaleda Zia placed wreaths at the Central Shaheed Minar.
Jatiya Sangsad deputy speaker Shawkat Ali, chief whip Abdus Shahid, Dhaka city mayor Sadeque Hossain Khoka, chiefs of the three services, the attorney general, members of the diplomatic corps and representatives of the UN organizations, and Dhaka University Vice-Chancellor Professor AAMS Arefin Siddique placed wreaths amid a usual human sea on the leafy campus.
Cabinet members including Finance Minister Abul Maal Abdul Muhit, Agriculture Minister Begum Motia Chowdhury, Textiles and Jute Minister Abdul Latif Siddiqui, Law Minister Barrister Shafiq Ahmed, Planning Minister Air Vice Marshal (retd) AK Khandoker, LGRD Minister Syed Ashraful Islam, Information Minister Abul Kalam Azad, Industries Minister Dilip Barua, Foreign Minister Dr. Dipu Moni, Education Minister Nurul Islam Nahid, Health and Family Welfare Minister Dr. A.F.M Ruhul Huq, Primary and Mass Education Minister Dr. Md. Afsarul Amin, Advisers to the Prime Minister Prof Syed Modasser Ali, H T Imam, Dr. Mashiur Rahman.
Like in every year Amar Ekushey once again reminded the Bangalee nation of the supreme sacrifice made by the language martyrs in the historic struggle for upholding the dignity of the mother tongue Bangla, reasserting the spirit of not bowing down before any repression.
The national flag was hoisted at half- mast at offices of different government, non-government, autonomous and private organisations and at private residences across the country.
Over 8,500 security personnel drawn from police, Rapid Action Different government and non- government, socio-cultural and political organisations organised elaborate programmes to mark the day. State-run Bangladesh Television (BTV), Bangladesh Betar, and private TV channels aired special programmes.
BTV telecast the wreath laying ceremony live from the Shaheed Minar. Newspapers published supplements highlighting the significance of the day.
Many people including political leaders and cultural activists went to the Azimpur graveyard also to pay homage to the martyrs.
Laying of wreaths continued until Sunday afternoon since a minute past midnight.
After paying their tribute at the Shaheed Minar many of the people went to the ongoing month-long Amar Ekushey Book Fair in hundreds on the Bangla Academy premises.