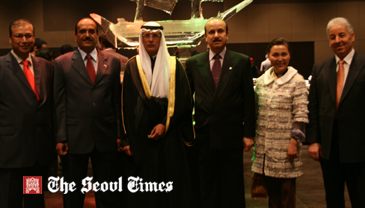 Kuwait Ambassador to Seoul Muteb Al Mutoteh (3rd from left) poses for camera with his guests at its National Day reception held on Feb. 25, 2010 at Shilla Hotel in Seoul.
Kuwaiti Ambassador to Seoul Muteb Al Mutoteh hosted a reception on Feb. 25, 2010 at Shilla Hotel in Seoul to celebrate its 49th National Day and the 19th anniversary of liberation of the state of Kuwait.Nearly 500 eminent guests from all walks of life were invited to the reception. Among the guests were scores of top foreign envoys accredited to Seoul.From the South Korean government came Vice Defence Minister Jang Su-Man.South Korea and Kuwait have had long-standing and truly fraternal relations since the formal diplomatic establishment on June 11, 1972.Earlier in 1972, South Korea opened a trade representative in Kuwait.It was on July 17, 1979 that South Korean opened its embassy in Kuwait. Kuwait established its embassy in Seoul on Oct. 5, 1992.
An aviation agreement was signed between Kuwait and South Korea in 1981.In 1983, a series of agreements were signed to promote trade and sports exchanges.In 1987 the two nations agreed to promote information technology.In 1991 at the time of Gulf War, South Korea sent medical and transportation delegations contributing to the reconstruction of the Middle East country.Kuwait has not established diplomatic ties with North Korea. But North Korea has its trade representative in Kuwait
according to an agreement on trade with North Korea.In 1970s Kuwait served as a huge market for South Korean construction companies. The oil-rich nation attracted scores of construction corporations and other related businesses from South Korea.In 1991 South Korea imported 294 million US dollars worth of goods including oil from Kuwait. In the year South Korea stopped short of exporting 1.3 million US dollars worth of goods to Kuwait.As of now, such South Korean business giants as Hyundai Construction, SK Construction, Daelim Engineering, and Samsung Construction are operating in Kuwait.South Korea suffers from serious trade imbalance with Kuwait.In 2007 Kuwait exported to South Korea 10 billion US dollars worth of mostly oil whereas South Korea exported to Kuwait 1.3 billion US dollars worth of goods including automobiles and electronic goods.