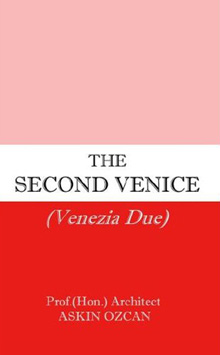 "The Second Venice" by Askin Ozcan
The list of popular books, though varying from country to country a little, seems more or less like this: criminal novels, sex books, puzzle books, cook-books, childrens' books, self-help books, travel guides, memoirs of the famous people, romantic novels, and the classics. Where have the poetry, the humor, short stories, autobiographies gone? Market seems to dictate the publishing business as it does in all other industries- not the quality. Publishers seem to choose "average" quality literature to ensure "optimum" sales. This is the present of capitalism to our world.
Even the most known literary prizes seem to follow the market. More and more true critics complain about their choices. We seem to be embedded in the "average" values of the market and advertising. Off-set publishers which print their books and store them and try to sell afterwards, are very careful with their choices. They have lost about 40 percent of their business to the P.O.D. or digital publishers who sell only on-line. They must make sure, they don't loose money by not obeying the rules of the market. They take one manuscript out of 2,000 and often via literary agents. This results in selecting the "average" quality books, to sell an "optimum" amount.
The P.O.D. publishers or digital publishers, as they are referred to, who are new to our world and have marked a tremendous success by their modern technology, in the past fifteen years or so, work differently than the classic off-set publishers. They take about 20 percent of the manuscripts offered to them, print sufficient quantity books, to go round some 200 on-line internet bookshops and as they are sold, print swiftly, more and complete the stocks. This way, they avoid "printing and stocking" the books which is a very costly phase in the classic publishing. Books do not get out of print and there is no risk with unsold books. These P.O.D. publishers do not place their published books on the shelves of the classic bookstores as they do not sell on credit. If you want to buy their books, you must browse in the internet bookshops. But, if you give the ISBN of any chosen book to a bookstore, they can order it for you and deliver to you, in very short time.
Also with the major newspapers and TV s, a similar problem is experienced. Their "books" division are assaulted by millions of books, of which they are able to review only a few thousands. Amongst the rest, truly good literature finds no chance to come to the attention of the reviewers and thus never appear on the market.Askin Ozcan, feels he is such an unfortunate author. His "Wisdom in Smile" published by Xlibris and "The Second Venice" published by Outskirts Press, have caught the attention of many reviewers in the web- press in many countries, and in despite of very positive reviews, they are struggling to win the attention of the humor-loving readers. "The Second Venice" has become No.1, a few years ago in Italy Magazine, (U.K.) , among the top rated books, surpassing Juvenal's "Satires" and "Wisdom in Smile" has caught the attention of Prakash Books in India, a leading publisher and book distributor, together with Ozcan's "Small Miracles" (Outskirts Press) and will be out in the market in India this year. Ozcan's other books, "Stochholm Stories" (Xlibris) , a unique book of exciting memoirs, his "Lightning and a Bouquet of Roses" (Publish America) a poetry collection which won two first prizes and brought two invitations to the finals of international poetry contests, and his most recent novelette "The Mini-Submarine" (Xlibris) written for a film, are awaiting the attention of the publishers. There are 13,5 million books in English, on the market, in the U.K. and 10 million books in the U.S.A.