National
Video news
Bulgaria National Day Observed in Seoul
Amb. Kitipov Invites Hundreds for Reception at Hotel
By Matthew Love
Associate Editor & Writer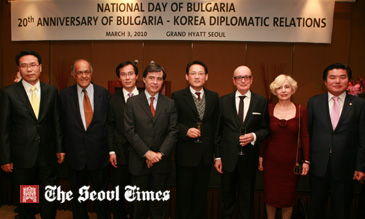 Bulgarian Ambassador to Seoul Kossio Kitipov (3rd from right) poses for camera with S. Korean Culture Minister Yu In-Chon (4th from right) at the Bulgarian National Liberation Day reception held in Seoul March 3, 2010. At far left is President Terry (Tae-Lae) Yim of PowerOn Industry.
Celebrations to mark the Bulgarian National Liberation Day got underway on Wednesday evening (March 3, 2010) at the Grand Hyatt Hotel in Seoul. A crowd of over three hundred guests filled the hotel's banquet hall, including most of the local dignitaries from the Seoul's diplomatic and business communities. Korean Minister for Culture, Sports and Tourism Yu In-Chon, was also in attendance alongside Bulgarian Ambassador to The Republic of Korea, Kossio Kitipov to deliver a congratulatory speech.The annual March 3rd anniversary is a highly significant date in the Bulgarian social calendar. It is a national public holiday in Bulgaria and commemorates the Bulgarian and Russian defeat over the Ottoman Empire during the Russo-Turkish War. On March the 3rd, 1878, The Treaty of San Stefano was signed ending almost 500 years of bitter struggles from an often harsh and brutal occupation by the Ottoman Turks and effectively re-established Bulgaria's independence. With nearly five centuries of enslavement and domination by their Turkish Ottoman neighbors, the spirit and identity of one of Europe's oldest countries had prevailed and began its restoration, as a liberated nation.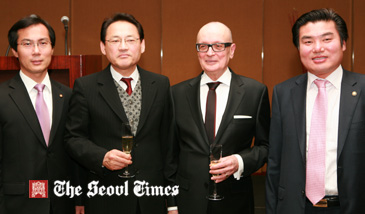 Bulgarian Ambassador to Seoul Kossio Kitipov (2nd fromleft) poses for camera with S. Korean Culture Minister Yu In-Chon (to his left), and with other guests.

In his speech, Ambassador Kitikov made an address to the parallel of the plight of his own countries past struggles to similar hardships endured by the Korean people, he didn't go into any detail, for most of the room, or any learned historian or sociologist to know that the references were to Korea's own sad and tragic suffering of years of Japanese occupation and like wise was also torn down the middle in the post-war years between differing political ideologies. He also highlighted the golden years of the two countries, sharing a similar time line and their overall contribution to humanity especially through literary traditions and the arts.

Bulgarian National Liberation Day from The Seoul Times.

March the 3rd Bulgarian celebrations in Seoul this year also had another reason for celebration. The occasion also coincides within a few days of The Republic of Bulgaria's 20th anniversary of diplomatic ties with the Republic of Korea. When relations began in 1990, Bulgaria was emerging from yet another difficult chapter in its history. With the demise of the Iron Curtain and the break up of the Soviet Union, Bulgaria like most Eastern European countries, found themselves pretty much alone and disenfranchised at the bottom of the European capitalist food chain. A country that had prospered under communism, in agriculture, ship building and tourism, was completely dropped on its head almost overnight. Bulgaria may have found itself suddenly free of totalitarianism, dictatorships and red tape bureaucracy but its troubles were far from over. The wave of optimism that fuelled the end of the Soviet Union has often been a difficult and indeed an uphill struggle to keep alive and no other country in Eastern Europe knows this more than Bulgaria. However, one could add that the resilience, bravery, patience and persistence that the March the 3rd Bulgarian National Day Commemorates perhaps typifies and embodies the true nature of the hearts and strength of the Bulgarian people. This personification did not escape the attention of the European Community and in 2007 Bulgaria was welcomed into the European Union (EU). Once again a new wave of hope of developing a growing but still widely impoverished nation swept through the country and things certainly seemed on the up again. Unfortunately, this was short lived, with widespread accusations of corruption, prompting a suspension of European funding for badly needed infrastructural development. This was move that was supported by most Bulgarian people and that these issues had to be ironed out for the good of the nation's long term future. The Bulgarian population wanted to see funds for Bulgaria for Bulgaria and not just simply to line the pockets of an elitist minority. The demand for change brought about a consorted effort throughout the country with many scandals and court cases for perpetrators of corruption.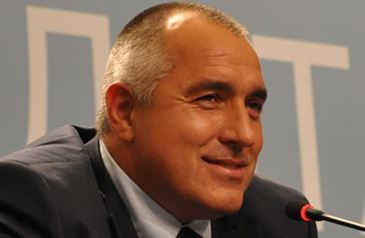 Bulgarian Prime Minister Boiko Borissov

In July 2009 The Bulgarian people voted with their feet and a new government was installed led by the newly elected Prime Minister Boiko Borissov, the former Mayor of the Bulgarian capital city Sofia. With his right of-centre politics, a radical shift from the former Socialist Party PM Sergei Stanishev, Prime Minister Borissov's GERB Party, promised the stiffest end of the law for those who abused public funds and positions. A promise he has made good on so far, restoring the faith and trust of his European partners, particularly in France and Germany. A large burly charismatic man, PM. Borrisov has become something of a working class hero in Bulgaria, who appears committed first and foremost to his people (in an ethnic and religiously diverse country of Bulgars, Turks and Roma populations) promising justice and equality for all. However, Boiko Borrisov knew that the winning hearts and minds was but only the first step. To truly secure his role as Bulgaria's most popular leader, it will have to be in the fields of business and commerce, health, social welfare and transport with a sound infrastructure of public services that would make the real difference to the lives of the people he represents. If anything and for the time being the tide of optimism is on high again on the strength of P.M Borrisov to restore Bulgaria to prosperity. A key link in the chain of Bulgarian success is not only a restoration of funds from Europe, but sustainable foreign trade and investment. This is not an area that the Bulgarian Prime Minister has overlooked. Ambassador Kitikov was quick in mentioning the past, jumping nearly 6 centuries in a few lines (understandly considering these were painful and tragic) and felt much more comfortable talking about recent present day events. One such event was the a visit by Bulgarian President Georgi Parvanov to Korea for a meeting with the Korean President Lee Myung-bak in October last year, the first time a Bulgarian Premier had visited Korea since 1995.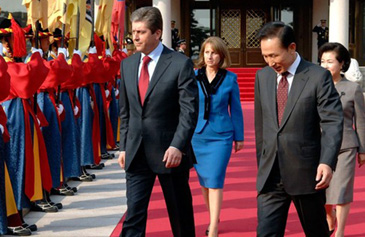 Bulgarian President Georgi Parvanov meets with President Lee Myung-Bak, during his state visit to Seoul in October last year.

Discussions between the two went exceedingly well, strengthening socio-cultural and economic ties between the two countries. Korea is said to have invested approximately 87 Million dollars in Bulgaria, with Bulgaria exporting somewhere around 47 million dollars in goods to Korea. If this wasn't enough, business analysts both in Korea and Bulgaria are speculating a ship-building deal between Korea and Bulgaria could also be somewhere in the pipeline from the Hyundai Heavy Industries Company, one of the worlds largest ship building companies of petroleum tankers and container ships. The ship building relationship between Korea and Bulgaria is not an entirely a new association either. Before the collapse of the Soviet Union, ship building in Bulgaria near the Black Sea coastal city of Varna was an extremely vibrant and busy industry. However, with the downfall of the Soviet Bloc, the inevitable reduction in orders sent the shipyards spiralling into decline. In Korea however it was a different story, at around this time, the ship-building industrial sector at Hyundai's Mepo Dockyard in Ulsan was increasing at an unprecedented rate. The success of the industry was also aided by some of Bulgaria's master ship builders, draughtsmen and engineers, from the Varna Shipyards. A deal with Hyundai and further investment from Korea's other global leading industry sectors would certainly help maintain Bulgaria and Mr Borrisov's vision and enthusiasm to elevate their countries European and global economic status further. One of Bulgaria's main key assets has always been the country itself, with its picturesque landscapes, golden sandy beaches along the crystal blue waters of the Black Sea Coast, mountain lakes and ski resorts coupled with a rich, deep and varied history that dates back to antiquity. In recent years the tourism sector has witnessed tremendous growth, with large property booms of hotels, resorts and apartment blocks around the main costal cities of Varna and Bourgas. Investors and holidaymakers alike, attracted by the long hot summer sun and one of the lowest property prices and cost of living in Europe, have transformed the coast into one of Europe's premier holiday destination. As property prices steadily increase with the capital city Sofia's growth and development, the indication is that Bulgaria is making good progress inroads, with more and more holiday makers and international investors heading further inland. This is hardly surprising as the country has enormous potential for capital gain from untapped resources in agriculture, eco-tourism, mineral mining and renewable energy sources. Bulgaria, like Korea shares a similar line of geographical latitude, with four very distinctive seasons. In addition, to all these outstanding attributes, more attractive to large scale foreign heavy industrial and corporate investors has to be Bulgaria's prime position as a central hub for manufacturing and distribution. Located between Europe and developing markets in the Middle East and Asia, Bulgaria is the main gateway to Europe through land and waterways, including the Danube River, the main Eastern artery that runs deep into Europe's heartland. A similar position Korea is vying for, as a central hub being the main peninsula in North East Asia between the Yellow Sea and Pacific Ocean.As Ambassador Kossio Kitikov finished his speech and invited his guest Culture Minister Mr. Yu In-chon, to speak, it was also a great relief to hear that it is not just purely political and economical exchanges that the two countries are engaging in and its not all just purely business or economics. Real ties of cultural friendship between the two nations of Bulgaria and Korea seem to be really strengthening, signing agreements in education and cultural event exchanges. Mr Yu listed many events that were well known to Koreans such as, The Sofia Arts and International Film Festival, and stressed the importance for the two countries to constantly look for ways to exchange cultural efforts. The minister also said that two of Korea's most honoured congressional men would also visit Bulgaria in the next few days. He also added, "I would ask them to help lay the foundation for viable cultural exchanges."The celebrations continued into the evening with a wide selection of foods and varieties of Bulgarian wine. Members of the reception party were also given the opportunity to taste authentic Bulgarian 'Rikia', which is distilled liquor often made with grapes or other fruits, in a process similar to Brandy. To accompany the refreshments a large video display played a film displaying the outstanding natural beauty of the Bulgarian landscape to tradition music, with narrative sections on places of historical and cultural interest. The warmth and friendly atmosphere at The Grand Hyatt March 3rd Bulgarian National Liberation Day, denoted the popularity, respect and welcomed position that the Bulgarian Embassy Mission and their business personnel hold in Seoul and throughout South Korea.

Short film that highlights the oustanding beauty of the Bulgarian countryside and cities.





Related Articles
Culture of Japan, Korea Compared by Stottish ...
Helping "Students Find Their Voices"
"A Night of The Blue Dolphins IV"
Park Jinoh's "Should've Kissed" to Open JIFF
39th Bangladesh Independence Marked in Seoul
Iranians Celebrate "Norouz" in Seoul
Korea to Lead Asia's Leisures Boat Industry
Pieroth Hosts Wine Cruise Charity
Providing Energy Solutions for 21st Century
A Whole Host of Winners at JIFF 2009
2009JIFF Kicks Off on April 30 for 9-Day Run
Cruise and Mingle with Music & Wine
Iranian New Year's Day Celebrated in Seoul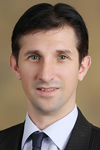 Matthew Love serves as an Associate Editor & Writer of The Seoul Times. He specializes in European film as well as other cultural and social areas. He earned his BA degree with honors in Media Production with English Literature at the University of Luton, England, and MA degree in International Cinema at the University of Bedfordshire. He is the director of Kool4katz.Tv based in Bulgaria.
---