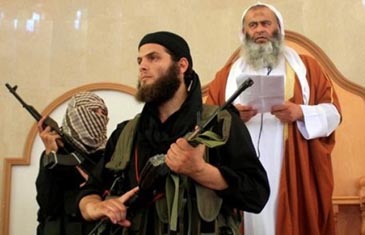 Islamic minitants
The former Yugoslavia was engulfed by many civil wars and during the mayhem and carnage it is clear that radical Islam built "a new bridge." This "new Islamic bridge" was built on foundations which had already been built in Bosnia. However, the 1990s enabled this potent force to enter other areas and to gain ground throughout the former Yugoslavia and this notably applies to Bosnia, Kosovo, and Macedonia.
Other areas of concern apply to Albania, Montenegro, and parts of Serbia (Sandzak). After all, if the Kosovo model is to go by then the situation looks grim in Bosnia, Macedonia, and Montenegro, because the Muslim population is rising much more quickly and the same applies to the Raska Oblast in Serbia.
At the same time, some Islamic organizations are intent on spreading radical Islam throughout the region and many charities and non-governmental agencies are behind this ongoing reality in the Balkans.
Chris Deliso, who is the author of The Coming Balkan Caliphate: the Threat of Radical Islam to Europe and the West, highlights the current threat to the Balkans. This book, and other authors and politicians who are raising this issue, should be listened to and of course each individual will have their own perspective on this issue but all will agree that this is a real problem and one that appears to be neglected.Of course the issues are complex and you will have different fusions and factors behind each region but for Orthodox Christians, moderate Muslims, and other non-Muslims, the ongoing Islamization is a cause of concern. At the same time nationalism on all sides will continue to divide different ethnic and religious groups and this will merely play into the hands of Islamists who desire to spread their influence.
Also, of major concern is the demographic time-bomb because it is abundantly clear that the Muslim population is growing much faster and if no unitary function exists to bind all ethnic groups and faiths; then past events in Bosnia and Kosovo will continue to haunt the future and in time the destruction of Christian churches and communities will continue, just like what is happening now in Kosovo.
Chris Deliso comments about the spread of radical Islam because he states that "…..the proliferation of foreign-funded fundamentalist groups has challenged the power and legitimacy of traditional Balkan Muslim communities in unprecedented and often violent ways. Well-funded groups like the Saudi-backed Wahabbis continue to exploit internal schisms within local communities, while the international administrations in Bosnia and Kosovo have actually strengthened the grip of local mafia groups–business partners of terrorists."
"Worst of all, the Western peacekeepers' chronic "don't rock the boat" mentality has allowed extremist groups to operate unchallenged. Nevertheless, regional demographic and cultural trends, coinciding with an increasingly hostile attitude in the larger Muslim world over Western military actions and perceived symbolic provocations, indicate that the lawless Balkans will become increasingly valuable as a strategic base for Islamic radicals over the next two decades. Utilizing the post-al-Qaeda tactics of a decentralized jihad carried out through small, independent cells ("leaderless resistance") while seeking to fundamentally and violently remold Muslim societies, such Balkan-based extremists pose a unique and tangible threat to Western security."
If we turn the clock back and focus on Alija Izetbegovic it is clear that he had stated that he believed in an Islamic state and he clearly welcomed radical Islamists into Bosnia. The former leader was instrumental in helping to spread radical Islam because in his book The Islamic Declaration it is clear that Izetbegovic desired an Islamic state and pictures show him smiling with radical Islamists who were bent on slitting the throats of Christians.Izetbegovic stated that "... Muslim nations will never accept anything that is explicitly against Islam, because Islam here is not merely a faith and the law, Islam has become love and compassion. He who rises against Islam will reap nothing but hate and resistance. ..."
Note how Izetbegovic states "Islam has become love and compassion" and then continues that "He who rises against Islam will reap nothing but hate and resistance……" and this is a clear sign that he was never interested in sharing power but on the contrary, he was warning others that you either accept Islamic power or you will face resistance and death.
Izetbegovic also stated that "... In perspective, there is but one way out in sight: creation and gathering of a new intelligence which thinks and feels along Islamic lines. This intelligence would then raise the flag of the Islamic order and together with the Muslim masses embark into action to implement this order. ..."
"... The upbringing of the nation, and especially the mass media - the press, TV and film - should be in the hands of people whose Islamic moral and intellectual authority is undisputed. ..."
Again it is clear by this statement that Izetbegovic was not interested in democracy because he desired to control the mass media and regulate society in accordance with Islam. Therefore, what hope for the Christian majority in Bosnia (may soon become a minority because of the Muslim higher birth rate) and for liberal Muslims or non-religious people?
In the next quote Izetbegovic sounds like Osama Bin Laden or the Muslim Brotherhood because he states that "... the Islamic movement should and must start taking over the power as soon as it is morally and numerically strong enough to not only overthrow the existing non-Islamic, but also to build up a new Islamic authority. ..."
"... In one of the thesis for an Islamic order today we have stated that it is a natural function of the Islamic order to gather all Muslims and Muslim communities throughout the world into one. Under present conditions, this desire means a struggle for creating a great Islamic federation from Morocco to Indonesia, from the tropical Africa to the Central Asia. ..."Therefore, it is clear that Izetbegovic desired an Islamic state and this Islamic state was not aimed at only Bosnia but according to him it applied to one pan-Islamic federation from "Morocco to Indonesia, from the tropical Africa to the Central Asia…."
Today many Islamic charities and organizations are intent on spreading the same philosophy in the Balkans and terror networks are operating under surveillance but they are still operating. The dream of Izetbegovic and his lack of concern for the various Christian communities and other minorities are clear for all to see and while he may have died it is obvious that other Islamists share the same vision.