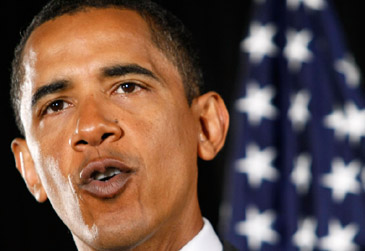 US President Barack Obama
US President Obama will visit Guam, Indonesia, and Australia from March 21 to 26, 2010. The visit is a vital step toward following through on his commitment to focus U.S. interests in the Asia-Pacific region. He is demonstrating that a modern-day president must be able to "walk and chew gum at the same time"—that is, balance domestic priorities, in this case passage of his health care reform package, and global relationships at the same time. No U.S. president in recent history has visited Southeast Asia apart from a regional summit. This trip breaks that mold and underlines a sophisticated understanding of the new global architecture in which relations with countries that were considered "middle powers" under the old G-7 structure are now important partners in the new G-20 framework. Both Australia and Indonesia are G-20 members.The president will visit Guam to meet U.S. military and their families and underline U.S. commitment to the Pacific Islands. He will then visit Indonesia, a country in which he spent several years of his youth and which he understands at a personal level unprecedented by former U.S. presidents. The Obama administration intends to transform the U.S.-Indonesia relationship on the same scale the Bush administration did with India. The vehicle for this historic new level of engagement is the Comprehensive Partnership, which will be unveiled during the visit. He will visit the capital Jakarta and the idyllic island of Bali. In addition to his bilateral meeting with President Susilio Bambang Yudhuyono of Indonesia, he will address a joint session of the Indonesian parliament, deliver a major speech at a venue still undetermined, meet business leaders for a roundtable, and consult with civil society leaders. In Australia, he and his friend Prime Minister Kevin Rudd will celebrate their close ties and the U.S.-Australian alliance by marking its 70th anniversary. Obama will address the parliament in Canberra, the capital, and visit Sydney, the hub of Australian commerce.
Because the trip was rescheduled from its original departure date of March 18, the first lady and the president's children will not accompany him for the visit.Q1: Why go to Indonesia?A1: Indonesia is the world's fourth-largest country, the third-largest democracy, home to the largest moderate Muslim population, by far the largest country in the Association of Southeast Asian Nations (ASEAN), and a charter member of the Asia-Pacific Economic Cooperation (APEC) forum. ASEAN and its 10 member countries with 620 million people and $1.4 trillion gross domestic product is America's fourth-largest overseas market and home to $153 billion in U.S. investment—3 times more than the United States has invested in China and nearly 10 times more than in India. APEC is a grouping of 21 nations and is considered the primary transpacific economic architecture that includes the United States and all of Asia's primary powers.Indonesia's recent history is dominated by the remarkable transformation of a huge nation from an authoritarian regime led by President Soeharto to a vibrant democracy in which each Indonesian of voting age is empowered to cast a direct vote for president, members of parliament, and regional leaders. Indonesia is also a member of the G-20 and a place where President Obama spent several of his childhood years. Getting the Indonesian relationship right is important to the United States for several reasons—including having an effective partner in Asian regional security and trade infrastructure, seeking alignment on transnational issues such as climate change, nonproliferation, and humanitarian assistance and disaster relief (HADR), mending ties with the world's Islamic population, and combating terrorism.The Obama administration sees a significant opportunity in transforming the U.S.-Indonesia relationship not least because Obama himself has a real feel for the country, the culture, and the people. He will likely speak Bahasa Indonesia, the national language, in his remarks after his meeting with President Yudhuyono, emphasizing this unprecedented familiarity of a U.S. president with the country. The primary "deliverable" for this trip will be the unveiling of the U.S.-Indonesia Comprehensive Partnership.Q2: What is the U.S.-Indonesia Comprehensive Partnership?A2: The Comprehensive Partnership (CP) is a framework designed to broaden and deepen bilateral ties between the third- and fourth-largest countries in the world. Implicit in the need for the Comprehensive Partnership is recognition the two countries have wide-ranging common interests that have not been properly aligned since Indonesia's transformation to become the world's third-largest democracy following India and the United States.For instance, military-to-military ties were virtually nonexistent until the Bush administration began to engage the Indonesian military after 9/11. Ties had been truncated by U.S. congressional concerns, most notably in the form of the Leahy Amendment, prohibiting various levels of engagement including training, joint exercises, and military sales due to concerns over human rights violations related to Aceh and East Timor. Additionally, U.S.-Indonesia trade and investment numbers are arguably underperforming their potential given the fact the two countries are the world's third and fourth largest.Like the Bush administration's outreach to India, the Obama administration believes it is particularly well positioned to modernize and transform its relationship with Indonesia. The CP is a framework to institutionalize this new and expanded level of engagement. It includes six baskets or areas for deepening cooperation: trade and investment; security and defense; education; health care; energy; and transnational issues (such as climate change, nonproliferation, and HADR).
Breaking down the components of the CP, the United States will find itself somewhat exposed on trade. Currently, the United States has a Trade and Investment Framework Agreement (TIFA) with Indonesia, as well as trade discussion at the TIFA level with ASEAN and consensual trade goals—the Bogor Goals—within APEC. But there is not a proactive current trade negotiation that involves Indonesia since it is not a member of the Trans-Pacific Partnership (TPP).On security and defense, the United States is reportedly making progress in very detailed talks with the Indonesian government and military focusing on the Kopassus, Indonesia's elite special forces unit that had been specifically identified in the Leahy Amendment for past human rights transgressions. The Obama administration will seek Indonesian support to comply with the letter of the law in Leahy and then strive to move ahead with normalizing military-to-military relations. This is an important goal for both countries because if the U.S.-Indonesia military-to-military relationship remains dysfunctional, cooperation on counterterrorism will be suboptimal and the principles for Asian regional security infrastructure outlined by Secretary of State Hillary Clinton will be undermined, as will legitimate and enduring U.S. leadership in the region.More detailed breakdowns of potential deliverables in energy, education, health care, and transnational issues is available from CSIS and will be covered in the joint statement issued by Presidents Obama and Yudhuyono after their meeting in Jakarta.Q3: What is the purpose of the visit to Australia?A3: The purpose of the visit to Australia is to emphasize U.S. commitment to its alliance with Australia. Australia is one of five U.S. allies in the Asia-Pacific region (the others are Japan, Korea, the Philippines, and Thailand). The two countries will celebrate 70 years of relations during the visit, and President Obama is likely to tell Australia that he is confident that the U.S. Senate will ratify the U.S.-Australia Treaty on Defense Trade Cooperation (http://www.fas.org/sgp/crs/natsec/RS22772.pdf).
President Obama enjoys a very close relationship with Prime Minister Kevin Rudd of Australia. Advisers of both leaders confirm they talk regularly and are aligned in their outlook on many issues, such as climate change and governance. There has been a fortuitous synchronicity of political leadership in the United States and Australia: President George W. Bush and Prime Minister John Howard, both conservatives, were close friends who shared a common vision on many issues; President Obama and Prime Minister Rudd, both relatively liberal compared to their predecessors, also share close ties.Both Rudd and Obama are facing pending elections, both are seeking to pass major health care reforms, and both want to provide global leadership on climate change and nonproliferation of nuclear weapons. The visit will include ample attention to these and other G-20 issues. Rudd will also seek Obama's support for his vision of Asian regional architecture, which notably includes both the United States and Australia, unlike the Asia-only concepts espoused by Prime Minister Yukio Hatoyama of Japan.Finally, Australia will give President Obama an opportunity to point to the Trans-Pacific Partnership (TPP) as a proactive trade initiative involving the United States. The TPP negotiations, which include eight countries—Australia, Brunei Darussalam, Chile, New Zealand, Peru, Singapore, the United States, and Vietnam—will take place from March 15 to 19 in Melbourne, a week before the president arrives in Australia.Q4: Wasn't this visit planned previously and postponed?A4: President Obama initially planned to deliver his speech to the Islamic world in Indonesia during his first year in office. That trip was postponed, and he delivered the speech at Al-Azhar at Cairo University in Egypt. (Full text of President Obama's Al-Azhar speech available at http://www.whitehouse.gov/the-press-office/remarks-president-cairo-university-6-04-09). This trip was originally planned to start on March 18 but was postponed for three days at the urging of congressional Democrats who argued the president needed to remain in the United States to help secure passage of the health care reform package.Secretary of State Clinton also had to postpone her earlier planned trip to Australia to conduct the U.S.-Australia Ministerial bilateral, a high-level annual consultation, due to the earthquakes that devastated Haiti as she made her way to the region.The Center For Strategic & International Studies (CSIS) short analysis series "Critical Questions" can be found below. Prepared by CSIS experts, Critical Questions are a quick and easy read designed to go to the heart of the matter on today's "of the moment" issues. For more information about Critical Questions or CSIS policy experts, please contact Andrew Schwartz, aschwartz@csis.org, (202) 775-3242
Ernest Bower is a senior adviser and director of the Southeast Asia Program at the Center for Strategic and International Studies in Washington, D.C.