Asia-Pacific
Obama's Indonesian Summit — What Is at Stake?
By John M. Gorrindo
Indonesian Correspondent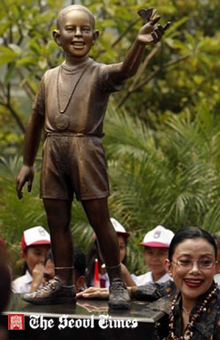 Obama Statue in Menteng, Jakarta
A new era of international relations between Indonesia and the United States might well arise from President Barack Obama's much touted visit for high level talks with President Susilo Bambang Yudhoyono (SBY) next week in Jakarta. Stagnation has characterized relations between the two countries for much of the past decade, and now that Indonesia's democracy and economy have both developed significantly, each party is eager to renew ties. Obama's visit has been much anticipated by most Indonesian people, and the sentimental aspect has colored most press coverage in Indonesia since Obama's election. That Obama had lived in Jakarta and attended school there for four years of his youth initially gave Indonesians great hope that closer ties between the two nations would naturally follow. Implicit in that would be the advantages Indonesia could potentially gain. The concrete nature of these hopes remained fuzzy and warm, though, and largely unarticulated by all official parties concerned as well as the news media. After the actual date of the American president's was fixed on the political calendar and the talk's agenda became more apparent, a substantive debate concerning the geo-political implications of Obama's visit finally began to surface in print both in Indonesia and the United States. The discussion reveals there to be much at stake for both countries, as well as both its presidents. Politically speaking, the two leaders currently suffer from sagging domestic support, and positive results from the talks couldn't but help their positions at home. One reason for that is that the two top agenda items- economics and terrorism- are primary concerns shared by citizens of both nations. Solid bilateral agreements in both policy areas are very much in each president's political interest. Longer term prospects for revived economic and security ties between Indonesia and the U.S. are of much greater consequence. As a new member of the G-20 club, Indonesia seeks to sustain its fast paced economic growth. To that end, Indonesia wooing foreign investment to help exploit its great wealth of natural resources continues to be a primary policy tool. Some predict President SBY will be seeking to broker access to gas and oil tracts in return for U.S. help in building oil refineries in Indonesia. The country is rich in oil, but has yet to put one oil refinery into operation. Indonesian is hungry to manufacture value added products directly from their own stock of natural resources as opposed to shipping the raw materials out of the country only to be forced to import manufactured goods as made from them. This trade imbalance has dogged Indonesia since its inception sixty-five years ago. Seeking out foreign investment that will result directly in enhanced infrastructure is high on SBY's agenda. The U.S. views these economic negotiations as critical, for if it can't succeed in brokering access to Indonesian gas, oil, aluminum, nickel, copper, and gold then the door will be left wide open for China's growing influence to corner Indonesia's natural resources. Obama must also help shore up long established U.S. mining interests in Indonesia such as U.S. based Freeport corporation to insure smooth operations into the future. The company's controversial gold and copper mine in West Papua, for example, exists on government contract, and given the company helps inspire West Papua instabilities the American government must help maintain continued good relations between Freeport and the Indonesian government (and military who serves as security for such mines) in order for the mine to continue turning significant profits. Regional strategies for both countries are very much at play here. There is considerable talk now in Indonesia about the how the impending age of Pax Sinica has already dawned and that Indonesia should turn away from a faltering America and fall into line with the emerging Chinese economic empire. Critics see this new realignment as part and parcel to a greater pro-Asia agenda that will be in direct competition with the West. That such a perception is taking root in Indonesia must alarm Washington and U.S. corporate interests. Most alarming is that the more extreme of these views amount to a Sophie's Choice for Indonesia. They boldly pronounce that Indonesia must choose between close ties with the U.S. or with China, and that allying with China is the strategic choice to be made. As for the other dominant issue, security, Indonesia has considerable bargaining chips as well. In light of its considerable success in deterring terrorism in South East Asia since 9-11, Indonesia will be negotiating from a position of strength as it requests revitalization of U.S. military aid. During the Clinton administration, such aid was sharply curtailed as the result of alleged atrocities committed by Indonesian security forces in East Timor, much of it as occurred after the United Nation's mandate for the tiny country's sovereignty. The so-called Leahy law passed in 1997 restricts the U.S. from aiding or training Indonesian armed forces in consequence to these human rights abuses. Indonesia's military is especially active in lobbying for the overturning of the Leahy law, as four top generals just paid a visit to Washington D.C. seeking special U.S. aid in equipping and training the elite Indonesian special operations force Kopassus. Kopassus is singled out for special attention in part due to its responsibility of seeking out and destroying terrorist organizations in Indonesia. Human rights remain a sticky wicket in this round of high level talks. As tied to Obama's visit, East Timor's president has timed another call for an official apology from the Indonesian government for its abuses during the quarter century of war it waged against East Timor independence. Many key leaders in the U.S. congress, too, are not keen on supporting Kopassus as those of its members accused of the decade old atrocities have yet to be prosecuted. There is strong support internationally to keep the Leahy law's provisions intact as Kopassus is still considered to harbor rogue abusers who are above the law. It is seen as a jack boot Gestapo by many, and a left over from the era of Suharto authoritarian oppression. So much of Indonesia's dark past has yet to be reconciled, and Kopassus is symbolic of it. Indonesia's bargaining position in security matters is strong, though. The country would argue it has already proved effective as contributing greatly to Washington's war on terror. In fact, Indonesia's record on capturing and killing terrorists may well be number one in the world over the past few years. To assure its continued success, Indonesia will argue that their future needs include the expansion of Kopassus' anti-terrorist capabilities in growing hotspots such as the Malakka Straits, through which half the world's mercantile shipping passes.The pressure on the Obama administration will be great to rescind aspects of the Leahy law as security threats are escalating in and around this Indo-Malaysian waterway. A major terrorist attack in the greater Singapore area could wreak global havoc on world trade. Singapore is the world's largest commercial port, and its effective shut down as resulting from terrorism would have devastating repercussions. The following is pure conjecture, but nonetheless interesting to contemplate: just how prepared is Indonesia to give license to U.S. military forces on Indonesian home turf and in its waterways? In return for military aid, Indonesia could conceivably allow for a greater direct role of U.S. forces in anti-terrorist efforts as is currently the case in the Philippines. Aside from terrorist penetration Indonesia's porous borders are difficult to patrol when it comes to human trafficking. Refugee groups on destination to Australia seeking asylum from countries such as Afghanistan stop over illegally in Indonesia as a transit point, often undetected. This has created friction between Indonesia and Australia. Indo-American military operations could include joint patrols of territorial waters while bolstering greater Indonesian ties with the U.S. military and various other American security operations. The closer ties would help Indonesia develop its relatively under-equipped, under-funded military, and the U.S. could conceivably be given a formal presence in South East Asia. Since the fall of Vietnam to the communists in 1975 and the subsequent evacuation of U.S. bases in the Philippines, the U.S. has enjoyed little significant presence in the entire region. In a park in Menteng Dalam, Jakarta- the neighborhood where Obama lived and attended school from the age of six to ten- a recently erected bronze statue of the president as a youth was moved due to protest and has now taken up residence at one of his old schools. Some in the local community didn't feel it appropriate to honor a foreign dignitary by prominent and permanent display when home grown heroes were more deserved of recognition. Due to Obama's strong support of escalating the war in Afghanistan, there also exists condemnation of both him and his policies as voice by many Muslims and some Muslim organizations. But the majority of Indonesia is more than willing to give Obama a warm welcome and continues to hope that the president's past ties to Indonesia will help usher in an historic shift of Indo-U.S. relations. Improved relations are something an overwhelming majority of Indonesians are hoping for. And pockets of dissent from the public sector won't deter the Indonesian government from pursuing a strong agenda it most likely feels has great chances for success. The results of the Obama-SBY summit which constitute the first serious talks between the two country's highest officials in almost a generation will not only lay the ground work for the next generation of bilateral agreements, but also reveal just how important China factors into the new equation of U.S.-Asian geo-politics as well as the making of Indonesia's own regional position vis-à-vis the world's two greatest economic powers.

Related Articles
A Worthy Role Model for the Arab World?
Travel Notes from Komodo Archipelago
My Prayers Are with the Good People of Both ...
The 24/7 News Cycle is Catching-Up with ...
Sex, Lies, and Videotape -- a Presage to ...
Indonesia's New Wayang Epic: A Parable of ...
Indonesia's Economic Priorities Give Short ...
Bank Century Scandal Tests Indonesia's ...
Virtual People"s Power Flexes Its Muscle in ...
Smoke and Mirrors Surrounding West Papua's ...
In Memoriam- President Gus Dur, 1940-2009
Maluku Music of Today & Yesterday
Playing into Colonial Hands
Perilous Path to Special Autonomy
Papuan Fault Lines: Part II: Nationalist Dreams
Fault Lines in Papua: Part I
On a Wing and a Prayer in Indonesia
Black Friday in Jakarta
Indonesia's Fear Factor Abroad
Human Behavior, by Extension History, Is ...
The Great Monoculture
Indonesia: The Whole World Is Watching
USA -- Violence Statistics & Statistical ...
Proposed Solution to America's Long Lost War ...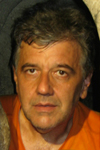 Mr. John M. Gorrindo, who serves as an Indonesian correspondent for The Seoul Times, is a native-born Californian. As holder of a MA degree in music composition from the University of California, he made Manado, North Sulawesi, Indonesia his home after serving as a volunteer English teacher there. He also a writes fictions and composes music. Some of his writings and music can be found at Fringing reefs and Vertical Walls: http://johngorrindo.blogspot.com