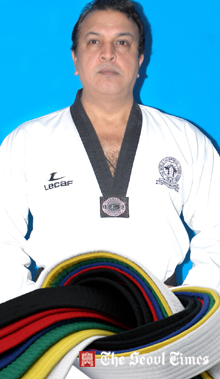 Grand Master Jimmy R. Jagtiani
Taekwondo Uniform (Dobok) consists of three pieces.
1) The Tunic
2) The Trousers
3) The Belt or Tti
Except the Belt, the Trouser and the Tunic are white. Therefore many people ask the same question, 'Why Taekwondo Dobok is white?' The strongest theory is that seven rainbow colours, in sharp rotation of the galaxies in the deep dark universe release the tinge of white glare which represents purity, sublimity and unblemished characteristics. Further, Taekwondo professor Master Yong Kyu Ahn said, 'White Colour of Dobok is the historical tradition of our ancestors', "preference of colourlessness" and he also added that, 'The Martial Art's artistic philosophy of Dobok in Taekwondo is in Doeui (moral principal) of maintaining Dobok clean and improving one's mind and body.' White colour may promote serenity it is also a colour that shows off every dirt and grime stain that it comes into contact with.
Also another theory is that Korea is the Baekeuiminjok (the white-clad Nation). The Taekwondo practitioners in the olden days preferred the colour white as symbol of holiness, purity, innocence and nobility.The white colour is the purity of consciousness and peace. The Koreans wearing white traditional suit, is exactly with essence of Taekwondo philosophy and this is the reason why Taekwondo uniform is white.