54th Tunisian National Independence Day, Lotte Hotel, Seoul. Friday, March 19, 2010.
Tunisian Ambassador to Seoul Mustapha Khammari hosted a reception at the Lotte Hotel in downtown Seoul, on the evening of March 19 (Friday), 2010 in order to celebrate his country's 54th anniversary of its independence.The Seoul occasion starts a long weekend of celebrations in Tunisia, with both its National Independence Day (officially March 20th) and Youth day (March 21st) observed as national holidays. For the Tunisian Embassy in Seoul and their counterparts at the Korean Embassy in the Tunisian capital city Tunis, there is also another reason for celebration, as in little over a week both countries will 41 years since the establishments of diplomatic ties. Scores of guests were in attendance, at the event from all walks of life and areas of society, including government ministers and officials, prominent business people from the trade, tourism and technology industries, along with foreign ambassadors and their envoys residing in Seoul.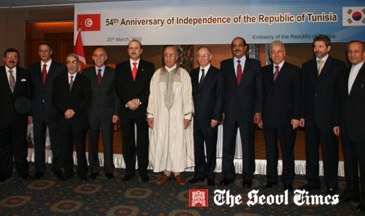 Tunisian Ambassador to Seoul Mustapha Khammari (center in white) poses with top foreign envoys at Lotte Hotel on March 19, 2010 on the occasion of its 54th National Independence Day.
Among them were top politicians and government officials of South Korea, including government official, Mr. Byung Kyu Kang, Vice Minister of Public Administration and Security. Mr Kang gave a congratulatory speech which hailed both the countries achievements over the years.Diplomatic ties between the Republic of Korea and Tunisian Republic were established on March 31, 1969 and have a longstanding tradition. Since then, relations between Tunisia and South Korea have undergone a significant development since the 60's. Political, economic, scientific, cultural and academic cooperation between the two nations have witnessed a significant development with the signing of numerous agreements and Joint Committees in these areas. Tunisia was also one of the first African and Arab Countries to establish diplomatic ties with South Korea. Positive political dialogue over the international issues of common interest exists also between the two countries.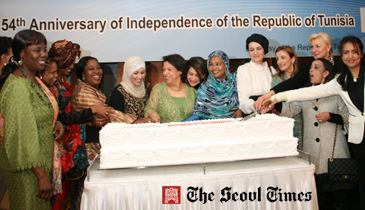 Mrs. Latifa Khammari (center in green), wife of Tunisian Ambassador to Seoul Mustapha Khammari, is cutting the cake at Lotte Hotel on March 19, 2010 on the occasion of its national day. Surrounding her are spouses of top foreign envoys.
Amb. Khammari emphasized in his speech the great progress that bilateral cooperation had developed and the importance of further collaboration. Amb Khammari stressed:
"Still there is room for more accomplishments towards strengthening this well established cooperation for the mutual interests of our two friendly peoples, and I am confident that the warm and friendly atmosphere that characterizes Tunisian-Korean relations are a good omen for the future of our bilateral ties."As the celebration continued in Seoul, heads of state all over the world congratulated Tunisian President Zine El Abidine Ben on his countries 54th anniversary of Independence Day ahead of the weekends celebration. Among the first of well wishers was US President Barack Obama, who stressed the long standing relationship between the US and Tunisia. The US has one of the oldest ties with Tunisia dating back 200 years. President Obama expressed his commitment to working together with President Ben Ali, to further reinforce and develop future relations.