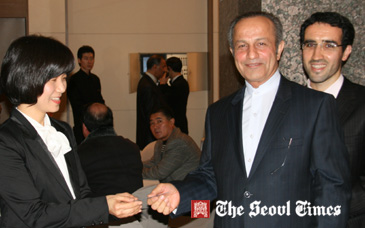 Iranian Ambassador to Seoul Mohammad Reza Bakhtiari (right)
A large gathering from the local Iranian community, officials and friends turned out at The Seoul Plaza Hotel, downtown Seoul, to celebrate the coming of "Norouz" (Iranian New Year) on Sunday, March 21st, hosted by Iranian Embassy in Seoul.Iranian Ambassador Mohammad Reza Bakhtiari gave a warm reception in his address speech to the crowds in both Iranian (Farsi) and English languages. For foreign guests Amb. Bakharti gave a brief introduction to give a better understanding of what the occasion means and some of the traditions and customs associated with Nowruz..Amb. Bakharti explained: "As you may know, Nowruz means 'New Day' in Farsi language, it marks the first day of spring and the begining of the new year in the Iranian calendar. Therefore, Iranian New Year always begins with the rebirth of nature."Traditionally the exact moment of spring, Iranians take that as the beginning of the year. Norouz is Iran's biggest celebration of the year. Translated in English as the "New Day," Nowruz is distinctively Iranian and dates back more than 3,000 years, tracing its customs and rituals back to ancient Persian traditions and the religion of Zoroastrian before the advent of Islam in 7th century A.D. It is also the oldest recorded New Year festivity in the world. The Iranian calendar or "Solar Hejri" is the longest chronological record in human history. Norouz begins each year on the vernal equinox as precisely determined by astronomical observations from Tehran or the 52.5°E meridian, which also defines IRST (Iran Standard Time). This exact moment is called "Saal Tahvil."Amb. Bakharti also pointed out that Norouz this year had become "more meaningful as the United Nations had recognized the International Day of Nowruz in it's 2010 General Assembly, describing it as a spring festival of Persian origin which has been celebrated for more than 3000 years."
He also added "Nowruz was officially registered on the UNESCO list of 'Intangible Heritage of Humanity' in September, 2009." Nine other countries officially celebrate Nowruz, these include Afghanistan, Azerbaijan, Kazakhstan, Kyrgyzstan, Pakistan, Tajikistan, Turkey, Turkmenistan, and Uzbekistan. The Ambassador is certain that now the festival which is celebrated by nearly 300 million people from Central Asia to the Balkans, will gain more importance than ever with international recognition. After his address the Ambassador gave out gifts of money in brand new Korean bank notes, to each person in the hall, personally. A major part of the Norouz New Year rituals is setting the "Haft Seen" with seven specific items. In ancient times each of the items corresponded to one of the seven creations and the seven holy immortals protecting them. A large projection of a film called "The Seven Faces of Civilisation" highlighted the ancient and historical treasures of Iran and created a magnificent back drop to the celebration.On behalf of the Seoul Times, "Sad Saal be in Saal-ha" (Wishing 100 more Happy New Years) to everyone.