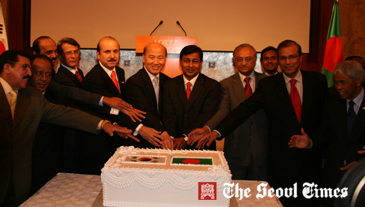 Bangladeshi Ambassador to Seoul Shahidul Islam (7th from left) pose with other top foreign enovys while cutting the cake at the reception at Lotte Hotel in Seoul on March 26, 2010 held on the occasion of its national day.
The key note of Ambassador Shahidul Islam's speech focused the priority to sustain the economic growth of Bangladesh and the vital role that Korean companies were contributing to further its development. Praising the support that Korea had committed to Bangladesh through companies such as Hyundai, POSCO, Samsung, Daewoo, GS-Caltex, Luxton Global, KEPCO and the Youngoe Corporation and with over a hundred Korean companies presently operating in Bangladesh, the ambassador added, "we welcome more companies to come forward to establish power plants, explore oil and gas, invest in renewable energy sources and construct roads and highways."Economic growth between the two nations have been strengthening over the years accumulating bi-lateral trade volumes currently reaching $1.3 billion, with Korea's overall investment in Bangladesh reaching $1billion last year.Like many other nations around the world, Bangladesh has a deep respect and admiration for Korea, viewing it as a positive role model of just what one motivated developing nation can achieve within the time span of a single generation. "Korea has always occupied a special place in our mind" said Ambassador Islam, "Rabindranth Tagore, the Nobel Laureate Bengali poet, termed Korea as the 'Lamp of the East' some 100 years ago. We admire the Korean people for their success in transforming Korea into a developed nation. Korea's success inspires Bangladesh today."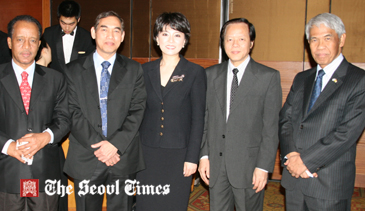 Prof. Kho Mi-Hyun of Seongshin Women's University Music School (center) poses with Brunei Amb. Dato Haji Harun Ismail (right) and other ambassadors at Bangladesh National Day reception.
Other important points that were noted for special mention in the ambassador's address included the continuing commitment for the countries to maintain working together to promote international peace and stability. "As a major participant in the UN peacekeeping operations, Bangladesh notes with appreciation Korea's increased role in peacekeeping." We hope to benefit from Korean green technology to fight the challenges of global warming." And on issues of climate change and President Lee Myung-bak's Green growth strategy the ambassador added "We hope to benefit from Korean green technology to fight the challenges of global warming."Ambassador Islam rounded off his speech by congratulating Korea for hosting the next G20 Summit and welcomed Korea's intention to play the role of a "bridge" between developed and developing nations.Environment Minister Lee Man-Hee, noted in his speech the increase bi-lateral "people to people exchanges", with a large number of "quality" Bangladeshi workers joining industries in Korea. He also called to develop environmental co-operation further to better cope with climate and environmental pollution problems.
The Struggle for Independence
The Peoples Republic of Bangladesh declared its independence in an armed struggle known as the Bangladesh Liberation War on March 26th 1971. Formerly a territorial area of East Pakistan, Bangladesh retaliated against a military operation by Pakistan, at what was seen as a direct and personal attack on Bengali civilians, intellectuals, students, workers and military personnel who demanded separation from Pakistan.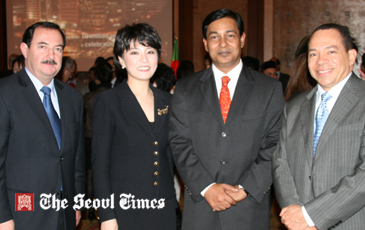 Bangladeshi Ambassador to Seoul Shahidul Islam (2nd from right) poses with Prof. Kho Mi-Hyun of Seongshin Women's University Music School, and other ambassadors.
The people banded together and formed a militia called the 'Mukti Bahini'. Under resourced and heavily outnumbered, the Mukti Bahini resorted to using guerrilla warfare tactics, to hinder and obstruct Pakistani forces. India came to Bangladesh's aid and by December 17th 1971 they achieved victory with Pakistan surrendering and completely withdrawing from the territory.The first initial years of Bangladesh's independence however, were wrought with sad and tragic misfortune. Prior to its break away from Pakistan a cyclone killed nearly half a million people in 1970. As a newly formed state Bangladesh would often be the victim of natural disasters from floods, droughts, famine and widespread poverty. Political coups and corruption also seem to follow, as one government failed after another to address the people's problems. The light to most Bengladesh's problems came and by 1991, democracy seemed to have settled and Bangladesh made its first inch on the long road of change in the right direction towards stability. And although things did not dramatically change overnight, the progress had been slow, but steadily constant in an uphill battle. Today, Bangladesh is a very promising country with future as bright as the beautiful colors the people wear in their traditional attire and costumes. There is always a rush of excitement when one dreams of a developing country, as the anticipation is as joyful as the product. This challenging outlook of how it is embracing new technology and admiring the wonderful new creations in architecture, is as empowering as the end result. A developing country is a busy country, and a happier one at that.However in its haste, it should not overlook, the beauty and wonder of the landscape and glorious heritage that it already possesses for that is truly a marvel in itself. This makes Bangladesh just ripe for cultural and eco tourism. In addition, with many untapped natural and renewable energy sources and a wealth of educated and skilled young people already on their doorstep, there is absolutely nothing to stop Bangladesh becoming the next hottest property in the Asian market.