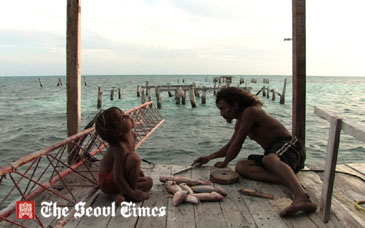 Father and son united, in their journey of discovery in Pedro Gonzalez-Rubio's award winning "Alamar (To The Sea)" Mexico/2009. Also the closing film for this years 11th Jeonju International Film Festival (JIFF).
"To The Sea (Alamar)" is the second feature for Belgian born cinematographer/director, Pedro Gonzalez-Rubio. The film has received quite a few accolades so far, as well as winning the "Tiger Award" at The Rotterdam International Film Festival. Gonzalez-Rubio's debut feature film "Black Bull (Torro Negro)" (Mexico/2005) a documentary, co directed with fellow London Film School graduate, Carlos Armella, about the life of a working class Mexican bull-fighter, also received great critical acclaim, including best film and documentary awards at festivals in Havana-Cuba, San Sebastian-Spain, Nantes-France and Morelia-Mexico.Sandwiched in between Park Jinoh's "Should've Kissed" and Pedro Gonzalez-Rubio's "To the sea", is a full 9 day film festival, that serves to promote the spirit of independence and experimentalism in both domestic and international cinema, with a hand-picked selection of 209 films from 49 different countries, in a variety of categories, across 14 local venues. Among this figure are 131 feature films, of which 10 are world premieres, 23 are Asian premieres and 1 an international premiere. In addition, out of the 78 shorts on exhibition 31 pieces are also being screened for the first time in Asia (12), internationally (3) or even in the world (16).
Eat My Shorts
Although, short films are shorter in running time and often budget constraint, they are absolutely of no lesser importance at the JIFF, as a matter of fact, these short consumables, have been the backbone of the festival since it's initial inception in 2000. The Jeonju "Digital Shorts Project" has been one such highly successful component. The annual program selects and challenges three experimental directors, devoted to discovering the possibilities of digital filmmaking, to make three individual 30 minute short productions on a selected theme, for screening each year, initially for the JIFF, and then festivals around the world thereafter. In 2007, the 'Digital Shorts Project: Memories' won the Special Jury Award at the Locarno International Film Festival, the first time an omnibus film ever won the prestigious prize.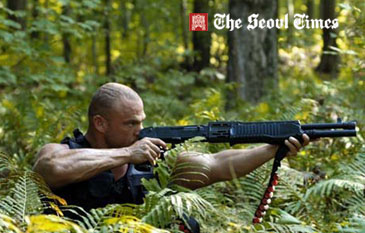 Jeonju Digital Project 2010: "The Enemy Lines" by Denis Côté.
This years JIFF, 'Digital Shorts Project' commissions the work of three world renowned continental American film-artists. These include US avant-garde filmmaker James Benning's "Pig Iron", Canadian Denis Cote's "The Enemy Lines" and "Rosalind" by Matias Pineiro of Argentina. In addition to screening their new works made especially for the Jeonju Digital Shorts Project, the three specially selected directors, have also been invited to recommend a choice of films for the public in a new festival section titled "Carte Blanche".This year's popular, "Short! Short! Short! an omnibus of three local Korean independent filmmakers from the domestic industry, commissioned by JIFF, KT&G Sangsangmadang and Indistory Inc, will highlight the work of Lee, Kyu-maan, "The famished", Han Jihyeh, "The Loneliness of Butcher Boy" and Kim Tae-gon, "Ten Million".
Awards and Prizes
A total of 9 films from individual countries diverse as Chile, Singapore and Georgia will compete in the international film competition for the Woosuk Award plus $10'000 for the best film and the JBbank Award and 7 million KRW for most outstanding work. A total of 8 Korean feature filmmakers will bid their entries for the JJ Star Award along with 10 million KRW. An audience evaluation team will determine the Audience Critic's Award winner who will also receive a cash prize of 2 million KRW, as well as a nationwide 2 week promotional theatrical release in CGV outlets. The Korean Short Film Competition, billed as a section of "short films with abundant wit and imagination" will also host winners from 3 different categories out of the 12 selected entries. The top cash award for the Korean short film section is the Eastar Jet Award which accompanies a prize of 5 million KRW followed by the Best Director Award (3 million KRW) and the Special Jury Prize (2 million KRW).Other main regular categories in the JIFF, include; "Cinemascape", which hosts recent trends in contemporary cinema; "Stranger than Cinema," which honors the work of the avant-garde cinema; "Cinemafest" which introduces fascinating art and independent films to the general public with late night and outdoor screenings; and "Focus On", a series of masterclasses, talks, retrospectives and special classic screenings.
"Focus On" Retrospectives: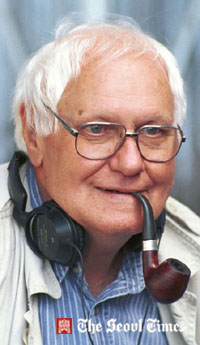 Hungarian Veteran Filmmaker: Miklos Jansco
This years "Focus On", will also include retrospective sections examining the compete works of Portuguese director Pedro Costa and pay special homage to Hungarian Miklos Jancso, who's 1960's style of revolutionary poetics and his film "Red Psalm"(1971) earned him the award of "Best Director" at Cannes in 1972. "Red Psalm", and Jansco's "The Red and the White" (1967) are also listed in Steven Jay Schneider's cinephile anthology "1001 Movies to See Before You Die".Closer to home in this years retrospective section is a selection of 18 films by Korean documentary filmmaker, Kim Dong-won, four of which were only recently discovered and restored by the Korean Film Archive. Heralded as a pioneer of the Korean documentary film movement, this retrospective looks closely at his feature and short work between 1987 and 2008. The festival opens April 30th and runs until May 7th 2010. For more information on films, dates, times, bookings and events, please visit the festival website:http://eng.jiff.or.kr