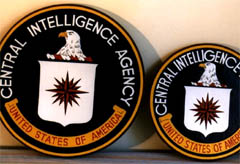 MANAMA, Bahrain — For a moment, I feel like a young man of 18 again. Some vivid images in childhood which I have long consigned to the attic of my memory suddenly flash back to my mind. Ah, the ease, peace and comfort of family!The nostalgic feeling of happiness of those great memories and the picturesque ancestral home scene still live on in my mind, just as real and vivid as they were many years ago.Church life, too, then was fun for me as I earned every ribbon there was, except one: for good behavior. And to be candidly honest about it, at church camp, I heard my first dirty jokes!Forgive me, please, I should not have revealed this if only for the sake of secrecy and the code of total silence, or for the veil of privacy. Oh, yes, that sacred thing we call personal privacy. Tell me, do we still have it today?Like Francesca Johnson in Robert James Waller's heart-tugging love story entitled "The Bridges of Madison County," I must confess that I could not also live a lie for so many years.A deep sense of sadness and emptiness fills me, with thoughts of days that are gone when the best of times was just peeping over the horizon.I must admit there's a part of me that says it's an ugly world out there today, fellas. I know that these are the worst of times — the days when our global security is under serious threat from a common international enemy: terrorism.Indeed, times have changed, and the threat of terrorism is more real this time, and can be more devastating than anything we have seen in the past. The monstrous September 11th terrorist attacks on the United States have quite literally ripped the very fabric of our society right down the middle and have changed our world dramatically — and, yes, my life forever.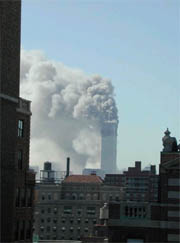 September 11th terrorist attacks on New York
The horrifying pictures of survivors, bloodied and in a state of shock, being taken away from the collapsed Twin Towers, and lifeless bodies pulled out of the rubble continue to haunt me — so reminiscent of my childhood days when ghostly howling and screaming of unseen animals would always set my nerves on edge. Instantly, I remember my family and our future — and my own desire to help change the world for the best — but this time, with a trace of fear.We are now hearing that the freedom-loving people of the world must give up some of their precious freedoms for the sake of security, or will be forced to accept a lessening of personal freedoms for the sake of a safer tomorrow.For some time, we have gladly, willingly and freely given up some of our personal freedoms and privacy. At the airport, for instance, we would promptly notice how things have changed.The freedom to get to the airport at the last moment and rush through check-in and security seems to be a thing of the past.Instead of having to be at the airport one hour prior to departure time, we are now required to be there two to three hours prior to departure time.All of our personal and private items are looked at and handled ? with an atmosphere of suspicions and doubts.Airport staff thoroughly inspects our luggage up to the last tiny belongings, while our checked-in baggage is gone through completely.If we are willing to give up some of our liberties, have we given serious thought to what that means? Surely, it goes beyond high-alert security measures such as strict baggage checks, longer check-in times and inconveniences at airports.Metal detectors and searches are now routine in federal buildings and many schools. The same gantlet is run before entering a shopping mall, football stadium, or concert hall.More police or military personnel are standing guard at our local airports toting automatic weapons. Is that a sight we would be comfortable with?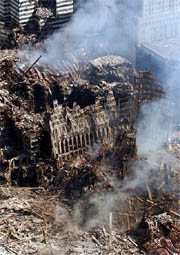 Remnants of World Trade Center buildings (Twin Towers) after September 11 terrorist attacks.
Soldiers in fatigue uniforms with automatic weapons, not to mention civilian secret police, are parked on street corners and ostensibly protecting government buildings, as well as a standing combat air patrol above our major cities and airports. In the immediate aftermath of the September 11th attacks, their deployment might be justified. But does it really make the city any safer? And do we want this to be routine?Traffic is everywhere due to road blocks for police ID checks and interrogations, as well as road closings.The sight of armed troops and flack-jacketed police in our cities, and on our roads, has become commonplace, and in some minds, desirable.This might be justified as an immediate, short-term response to the attacks. But is that what we really mean when we say that we are willing to give up some of our liberties in exchange for increased security? Would the obvious loss of privacy outweigh the potential gain in security?I say it again because it is so crucial. Giving up some of our liberties for the sake of security goes beyond visible and hidden surveillance cameras in public spaces, metal-detector devices, cosmetic security checks, and flight-school background checks.In the wake of the September 11th attacks, many Americans, in particular, have expressed support for more intrusive online security and surveillance activities, and a large number seems willing to sacrifice a good measure of long-cherished civil liberties. It may mean, too, that we, in the free world, will also have to re-examine our concept of our own personal privacy and recalibrate the existing balance between national security and individual liberties. It is, indeed, a necessary process.We may not know this but in today's Electronic Age, e-mail, usenet, personal and private web pages, and instant messaging, as well as telephone conversations, may be, if not already, under the watchful eye and microscopic scrutiny by federal, state and local agencies for traces of terrorist activities and communications.In today's booming surveillance industry, they spy on whom they wish, when they wish, protected by barriers of secrecy and based on the assumption that increased monitoring and increased technology will do the job.It is, of course, not a new idea that intelligence organizations tap phones and intrude into e-mail messages or files and other public telecommunications networks. Actually, massive electronic eavesdropping by the intelligence agencies on telephone and telex communications is reported as having been practiced now for 35 years, particularly during the Cold War.While the US does not confirm the existence of what experts believe to be the world's top-secret spy network known as Echelon, the French government, European Union and other world governments have already raised international angst over the possibility that everyday people are being spied upon for US intelligence gathering.Echelon is capable of intercepting and processing many types of transmissions — literally all the business, government and personal messages — throughout the globe. In fact, it may routinely intercept as many as three billion communications everyday, including phone calls, e-mail messages, telexes, faxes, Internet downloads, satellite transmissions, and so on.Interestingly, the spy network has allegedly installed numerous "sniffer" devices on the Internet. These "sniffers" collect information from data packets as they traverse the Internet via several key junctions. It also uses search software to scan for web sites that may be of interest.Most notable of these "sniffers" is Carnivore which consists of specialized eavesdropping hardware installed directly in commercial systems that link consumers to the Internet, offering the ability to scan any e-mail correspondence that travels over the network.The issue of online privacy, whether it concerns the posting of privacy policies, the freedom of consumers to limit use of their personal data, or the secure handling of all information given voluntarily or through the use of "cookies," is crucial to the development of the e-commerce industry.Given the Internet's borderless nature, numerous surveys throughout the world, however, have already found widespread privacy concerns on the Internet, particularly in the past decade.For example, Westin (1998) found that 81 percent of Internet users express apprehension about entering personal data online.Moreover, a recent survey by the Federal Trade Commission revealed that only approximately 20 percent of major e-commerce sites had met FTC standards for protecting consumer privacy.But with today's threat of terrorism so dangerously real, safeguarding e-commerce is no longer entirely the bone of contention on the issue of online privacy. It's significantly more important than that: it's global security.In the workplace, employees are particularly at risk, being at the forefront of e-mail surveillance. According to a study by the Privacy Foundation, over 25 percent of the global online workforce, or 27 million employees, have their Internet or e-mail use monitored by their employers.Worldwide sales of staff-monitoring software are projected to be $140 million, or about $5.25 per monitored employee per year. The low cost of such software is one reason why its use is becoming more prevalent.So somebody must be listening, reading our e-mail, or watching our every move — and they don't give a damn about personal privacy or commercial confidence. Any sound that we make, above the level of a very low whisper, could be picked up by a spy network. And they've got it taped!There is, of course, no way of knowing whether we were or are being watched at any given moment. To be honest, I am appalled by these new surveillance technologies that go far beyond anything I could imagine. Rapid technological advances are promoting a seamless web of surveillance from cradle to grave, from bankbook to bedroom. Voila! The "spooks" have the world covered, and consider themselves free to hear anyone's telephone conversation and read anyone's e-mail that they wish to.Should this be allowed to continue? Maybe it can't be stopped. I am sure it will go forward.Maybe we'll just have to live from habit that becomes instinct in the assumption that every sound we make is overheard and, except in darkness, every movement scrutinized. Or, maybe, the appropriate counter-measure is to adhere to the dictum that if we are not doing anything wrong, there is nothing to fear and hide.This sort of thinking, I say, and those who support this belief fall into one or all of the following categories: acting rationally more than emotionally in regards to fighting back against terrorism; spoiling the terrorists'objectives of acting out of fear and confusion; and have consciously decided that people have to sacrifice a chunk of the right to personal privacy for the sake of security.Again, I ask myself: Is someone watching us today? Were they yesterday? Tomorrow? Oh, boy, if anyone had seen me during this very moment, they would have seen what looked like an old man, not like a young man of 18 anymore.Someone who had aged a lifetime in just a couple of minutes. Someone glued to his Mac computer, bent over on his bed with elbows on his knees, his hands cupping his rubicund face, and swept up in an emotional tide of fear and confusion thinking about the technology-driven, often-painful future.This is what I feel must be said: e-mails and Net traffic are not secure anymore — and I do not mind (I am, by the way, a self-confessed Internet maniac) if spying on e-mail and such goes on.If giving up my right to not have my e-mail read could have only saved the September 11th tragedy from happening, and if it would mean avoiding yet another catastrophe, then I say wholeheartedly, "World, read my e-mail, and follow my every move on the Net!"