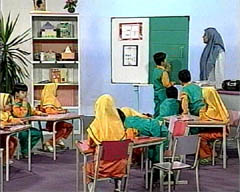 A Farsi class in Iran
In 2003, only 22 of the 1.8 million American college graduates received degrees in Arabic. Since this language has become vital in the fight against terrorism, one would think the government would be doing something to encourage more students to study it as well as some other ones which would be essential tools to make us more secure.Some things are being done and they involve very modest financial incentives. In the long run, however, we need to change the monolingual climate that pervades the U.S.Congress has introduced legislation that would provide grants to colleges willing to establish programs in languages of critical importance to the nation's interests. These languages include Pashto and Dari, spoken in Afghanistan, Farsi (Iran), Korean, and Arabic.The new bill, sponsored by U. S. Rep. Rush D. Holt (D-N.J.), would allot $12 million in grants. To qualify for these grants, institutes of higher education would be required to set up language study programs in other countries for American students. The idea is that in order to reach reasonable fluency students would have to spend time abroad.Jim Kapis, Holt's director of communications, stated that although any college or university could apply for the grants, those with a track record in foreign language education would have a better chance of being funded.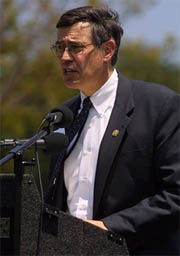 Rep. Rush D. Holt (D-N.J.)
Holt's bill would also offer up to $10,000 to repay students' loans to those individuals who obtained degrees in a language considered of critical national security. These graduates would need to work for the government or as teachers to qualify for the loan repayment. Holt's bill will help when it's enacted, but from the students' point of view, $10,000.00 is a drop in the bucket.That figure would cover the cost of one semester at a state college or university. It's unlikely to entice anyone to major in Arabic or Farsi. Attracting students to study critical languages to our national security will require much more funding.Even if the amount is increased, Holt's bill will not solve the country's linguistic problems. In the long run, we need to create positive images about what some people call English Plus.English Plus focuses on the importance of English for the U.S. but at the same time recognizes that one language alone is not just bad policy but it's also dangerous as well.Current President George Bush made some headway with this idea when he used his limited Spanish to woo Latino voters in the 2000 presidential election. Although his use of Spanish was primarily political, it also sent a message that bilingualism is not to be feared but rather to be embraced.Unfortunately, Bush and the GOP did not apply the same standard to French. Because of France's refusal to support the Iraqi war, much has been made about the French and their language. Although Bush has used his very weak Spanish to great political advantage, in the case of English-French bilingualism, the GOP has taken a different stand.The negative feelings against the French and their language reached pettiness when the GOP pushed for changing the names of French fries and French toast to Freedom fries and Freedom toast. It sounds like being French and knowing the French language translates into lack of patriotism.
Bush in Spanish speaking country
US President Goerge W. Bush speaks at Special Summit of the Americas held at Monterrey, Mexico, Jan. 12, 2004.

Whether a country supports a US government policy or not should not have any bearing on our value of its language.During the cold war, Russian was a very important language to know. You want to be able to understand your enemies. By knowing your enemies' language and culture, you may be able to convince them to change policies or at the very least you'll be in a better position to fight them.Therefore, although Osama Bin Laden is our enemy, it does not mean we should not have people in our government who understand Arabic. Denigrating another language and its speakers is not very smart at all regardless of the relationship.Knowing languages entails an appreciation and respect for its speakers regardless of political positions. Knowing Arabic does not mean one agrees with Osama Bin Laden. It means understanding this man better and most importantly opening the door to establish a partnership with the millions who speak Arabic and muster their support in dealing with terrorism.The linguistic knowledge of our friends and our enemies will help to make us safe. It will also reveal the humanity we share regardless of what language people speak.