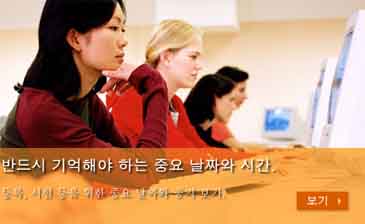 Free TOEFL® Go Anywhere Website for Korean students
Princeton, N.J. (April 22, 2010) — Educational Testing Service (ETS) has launched a new version of the TOEFL® Go Anywhere website to specifically serve Korean students in preparing for the TOEFL ® test, the most widely accepted English-language assessment worldwide. Written in Korean, the newly released website, available at www.toeflgoanywhere.org/kr, presents an informative overview of the TOEFL test and valuable test preparation tips and best practices. Created specifically for Korean students, the interactive portal serves as an effective planning tool and comprehensive resource to address frequently asked questions regarding the TOEFL test. Through the site's multimedia platforms, students also have the opportunity to learn best practices and study tips from English-language teachers. The newly launched website offers:A wide array of sample test questions A comprehensive timeline outlining critical steps for Korean students Dynamic "Study Group" videos featuring helpful study tips
An at-a-glance overview of the testing experience
Video vignettes highlighting best practices in reading, writing, listening, speaking, and general test-taking skills from English-language teachers A searchable database of the more than 7,300 colleges and universities worldwide accepting TOEFL test scores
Direct access to registration at the more than 200 testing sites located in Korea, which include three new sites in Seoul since October.
"The Korean-language version of the TOEFL Go Anywhere website is a free and user-friendly resource that provides students a road map to successfully prepare for the TOEFL test," commented Paul Lee, Korean Country Manager, ETS Global BV. "We are pleased to provide an additional tool to assist Korean students in meeting success with the TOEFL test and mastering the English language."
About the TOEFL Test
For more than 45 years, the TOEFL test has been the most widely accepted English-language proficiency assessment worldwide. Currently, more than 7,300 colleges and universities accept the TOEFL test in 130 countries. Globally, the TOEFL test is available at more than 4,500 testing centers in 165 countries.
ABOUT ETS AND ETS GLOBAL SUBSIDIARIES
At nonprofit ETS, we advance quality and equity in education for people worldwide by creating assessments based on rigorous research. ETS serves individuals, educational institutions and government agencies by providing customized solutions for teacher certification, English-language learning, and elementary, secondary and post-secondary education, as well as conducting education research, analysis and policy studies.Founded in 1947, ETS develops, administers and scores more than 50 million tests annually — including the TOEFL® and TOEIC® tests, the GRE® test and The Praxis Series™ assessments — in more than 180 countries worldwide. www.ets.orgETS and its related ETS Global subsidiaries have offices around the world to meet the needs of non–U.S.-based entities in Asia, Canada, Europe, Latin America, the Middle East and Africa.In serving individuals, businesses, educational institutions, government agencies and membership organizations worldwide, ETS offers valid and reliable assessments, research and related services such as customized solutions, workforce products and services, and research-based teaching and learning tools.