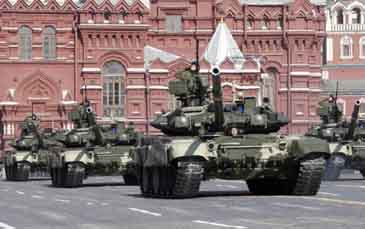 Huge military parades got underway in Moscow in May 2005 in celebration of the Victory of World War II or the Great Patriotic War.
Sixty five years after Germany's Nazi government
surrendered unconditionally to the former Soviet Union, top envoys from the ex-Soviet block countries will gather in a hotel reception in Seoul to celebrate the capitulation of the once horrible German fascist regime and it's military forces, resulting in the destruction of Hitler's Third Reich.The ambassadors from Uzbekistan, Belarus, Azerbaijan, Kazakhstan, Kyrgyzstan, Ukraine, as well as Russia, will meet at a Seoul hotel on May 7, 2010 on the occasion of the 65th anniversary of Russia's Great Victory Day of May 9.In attendance for this important significant comemorative day will be:Russian Ambassador Konstantin V. Vnukov
Ukrainean Ambassador Volodymyr Belashov
Belarus Ambassador Aleksandr E. Guryanov
Uzbekistan Ambassador Vitali V. Fen
Azerbaijan Ambassador Rovshan Jamshidov
Kazakhstan Ambassador Darkhan A. Berdaliyev
Kyrgyzstan Ambassador Tuigunaaly Abdraimov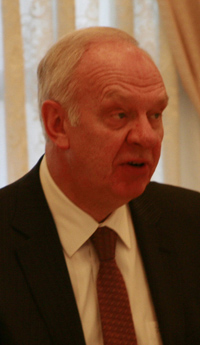 Russian Ambassador to Seoul Konstantin V. Vnukov
The dinner reception will be held at Millennium Hilton Hotel's Grand Ballroom in Seoul at 6:30 p.m. on May 7 (Friday), 2010.A group of journalists from the local news media will also be invited to the reception.In era of the Soviet Union May 9 was traditionally celebrated as an official holiday throughout the USSR and in the Eastern Bloc countries.Even in the wake of the fall of the communism in Central and Eastern Europe, most countries of the former Soviet Union still observe May 9th, as a national holiday.Ceremonies and events including military parades are still held on this day in Red Square in Moscow and throughout other parts of Russia in observance of the Great Victory Day.This meaningful day is also observed in many other countries around the world, in memory of the allied defeat over German axis forces. Public gatherings and military parades and other events are held in a number of Russian communities in the US, Canada, Estonia, Latvia, and Lithuania.To mark the occasion of this year's Great Victory Day on May 9, a massive military parade will be held in Moscow for the 65th anniversary of the Great Patriotic War."The Moscow Victory Parade of 2010" will be the largest parade to have ever been held in Moscow during the post-Soviet years. An incredible 130 military helicopters, numerous aircrafts and some 10,000 personnel, along with the latest mobilized mobile ICBM missiles, including the Topol-M, will also be part of the parade.This years special 65th anniversary parade in Moscow, will also host for the first time ever, foreign troops from WWII allies the US, France, and the United Kingdom. Parades are also planned in other parts of Russia including its 18 major cities.Russia and her neighouring nations, from the former Soviet Union combined, played a pivotal role in World War II, especially along what was known as The Eastern Front, which lasted from June 22 1941 to May 9 1945.This would proove to be the most decisive component of the war. It was the largest theatre of war in human history, notorious for its unprecedented ferocity and immense loss of life, eventually serving as the main reason for Germany's defeat. An estimated 15 million solidiers lost their lives from both Axis and Soviet forces combined, with the Soviets suffering more than 9 million of this figure, a further 15 million civilians also lost their lives within The Eastern Front of World War II, and it remains as the single most loss of human life, through conflict ever recorded in history.
For details or inquries contact the Embassy of Russia in Seoul at 754-0460.