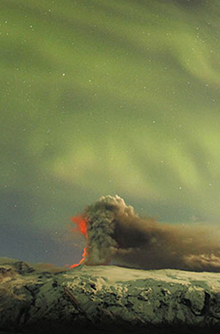 Icelandic Volcano Eruption — Possible Causes and Consequences

The Icelandic volcano eruption caused already billions of dollars of damage. There is a lot of gossip about its causes and consequences. Here are some of them.The ash cloud from the Icelandic volcano, brought to halt, most of the air traffic in Europe and together with it significant amount of air traffic to and from the other parts of the world.Its damage to the airline and tourism industry as well as to the import-export industry reached billions of dollars in a week. Such a natural catastrophe brought with it also much gossip about the causes and consequences of the eruption, though only time can prove if any of these is or will be real. Some of the interesting possible causes of this eruption are:
- Explosions in the sun. If the explosions increase, volcanic eruptions can also be expected to increase. Year 2012 seems a critical year. - Seismic weapon experiments might have triggered the eruption. - UFO s was seen around the Icelandic volcano in March 2010. UFO s are usually seen, according to some sources, around volcano's, prior to their eruption. They probably come to investigate the activity in the volcanos. - Maya Calendar ends in the year 2012. Will the earth civilisation come to its end at this date, if Marduk crashes with the earth? - Nostradamus writes about a poisonous cloud wiping out 1/3 of the population in Europe. Is this volcanic eruption the start of a series of eruptions which can produce such a poisonous cloud?
- 215 million years ago, a giant volcano eruption wiped out 90% of all life on earth. Are we to expect something similar? The present volcano is near a much bigger one. Can it trigger an eruption in its neighbour?
As for the consequences, interesting observations have been made: - Although the air traffic stop in most of Europe and to and from the other parts of the world was news in all media, import of fresh fruits and vegetables and flowers from Africa and Asia to Europe also came to a halt causing much economic damage. - The ash cloud also stopped many sports events, artistic events, congresses. - Norwegian PM was stuck in New York and ran his country with orders from his iPod.
Apple used this to its advantage, making ads which read "With iPod, you can run the world!" - The radar picture of the ash cloud seems exactly like the face of the person in the Munch painting "The Scream". Actually, Munch was inspired by the eruption of the Krakota volcano in 1883 , when he made this painting. - The European Union which is already in hardships as to how to subvention the fiscal deficiencies of Greece, Spain, Portugal, now can be required to bail out many airlines out of the acute financial disaster they landed in, as a result of the ash cloud.