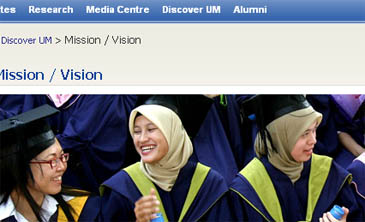 University of Malaya (UM) website
During a recent visit to Malaysia, I had the opportunity to visit the University of Malaya (UM).Located in Kuala Lumpur, UM is the highest ranking and oldest university in Malaysia. According to the Times Higher Education-QS World University Rankings 2009, it's ranked as the 180th best university in the world.Dr. Mahzan Arshad, associate professor of education, and Dr. Moses Samuel, professor of education, at UM met with me to discuss innovation in Malaysia.Dr. Samuel explained why the Malaysian education system is focused on innovation: "As societies begin to move from an agricultural base to an industrial base to a knowledge economy, which Malaysia is moving toward, then innovation becomes critical."The Ministry of Higher Education certainly thinks innovation is critical.It has specified seven soft skills—or interpersonal skills—that all graduates of higher education institutes in Malaysia must master. Two of the skills relate to innovation: critical thinking and problem solving skills, and entrepreneurial skills. The other five skills are as follows:
communication skills, teamwork skills, lifelong learning and information management, professional ethics and morality, and leadership skills.Creative thinking and problem solving skills are broken down by the ministry into seven levels: 1) the ability to identify and analyze problems in complex and uncertain situations, and make justified evaluations; 2) the ability to develop and improve thinking skills such as clarifying, analyzing, and evaluating discussions; 3) the ability to seek ideas and alternative solutions; 4) the ability to think out of the box;
5) the ability to make decisions based on solid evidence; 6) the ability to persevere and give full attention to responsibilities given; and 7) the ability to understand and adapt to the new work culture and new environment.Entrepreneurial skills are broken down by the ministry into four levels: 1) the ability to identify business opportunities; 2) the ability to develop business plans; 3) the ability to build, explore, and grab business and employment opportunities; and 4) the ability to work independently.Here's how the current edition of UM's "Handbook Undergraduate Programmes" describes the importance of the seven soft skills: "In this era of globalization, high academic achievement alone is not enough for graduates to be accepted in the job market. Employers have high expectancy of graduates and given the ever increasing challenges in employment, graduates not only need academic qualifications but capabilities and skills that give value-added and can attract employers. From this aspect, 'soft skills' are seen as critical contributors in generating holistic human capital besides increasing global competitiveness."The education department at UM goes a step beyond the ministry's guidelines for developing soft skills related to innovation. "We offer a core course for education students called 'Communications and Creative Thinking,'" explained Dr. Arshad.It's not just Malaysian students who are learning how to become more innovative at UM. "As international students find it harder to get visas to go to the U.S., many of them are coming to countries like Malaysia," said Dr. Samuel.After interviewing the two professors, Dr. Arshad drove me to the Methodist Boys' Secondary School Kuala Lumpur where we observed high school boys improving their creative skills while learning English. The general objective of the English lesson taught by Ms. Gladys Francis Joseph was for the students to "express themselves creatively and imaginatively by composing simple poems, stories, and dialogues." The level of creativity I observed in the classroom was impressive.As Malaysia moves toward a knowledge-based economy, it is wisely paving the way to move up the value chain even further to an innovation-based economy.