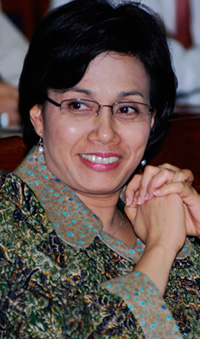 Indonesia's Finance Minister
Sri Mulyani
Indonesia's current administration appears fixated on enriching capital coffers and further developing the country by the continued wooing of foreign investment. Nothing new here, as it is an old formula that the Suharto regime put into full effect some forty years ago. Most of the economic eggs are flowing into that same basket. Short term economic benefits appear certain, but the long term view is a gamble. This is especially true as regards human resource development, which outside of the food production sector is virtually untapped. The country's short term economic plans and rationale seems clear enough: blaze a quick path to economic enrichment by exploiting abundant natural resources with the help of any country or multi-national corporation willing to put up the initial cash for development. With those riches, the country's creaky infrastructure can be rapidly improved and will eventually benefit the Indonesian people. But the formula of selling off the country's natural riches has real limits, and eventually commodities such as raw lumber will simply vanish in the mad rush to sell all that is available. One half of all Indonesia's forest has disappeared in the last forty years. What will Indonesia have to show for ruination of its natural environment once natural resource depletion takes grip? Will the country be able to shift economic gears and shape a new economic model which can employ its large and ever fast-increasing population? Strong economies are diversified economies, and Indonesia's over-reliance on its raw commodity sector leaves it vulnerable for the long term. Indonesia's current economic policy is buoyed by the GDP figures of fast paced economic growth that only countries like China, India, and Brazil can share in sheer percentage. In fact, Indonesia would love to become a charter member and join in closer economic partnership with BRIC, which along with the three countries already mentioned includes Russia. Indonesia appears more committed to rapid ascent in the ranks of international economic status than to balanced, secure growth that necessarily includes commensurate human resource development. This economic policy's self-justification comes easy in light of comparing Indonesia's economic progress to most of the developed world which continues to suffer in the ongoing banking and financial crisis quagmire. Indonesia's economic performance, at least on the macro scale, has been a stand out. And many international observers claim that Indonesia's democratic reform have a lot to do with such economic success. But economic stability and growth was just as pronounced under Suharto's authoritarian regime. In fact, many Indonesians are sentimental for the good old days under the strong man as they fervently contend that things were a lot more save and stable. Do free markets and an economic policy favoring foreign investment as the primary tool for economic growth really have anything to do with having a democratic form of government? In Indonesia, it hasn't played out that way. Not yet, anyway. With the recent ascendency of free marketeers finance minister Sri Mulyani and former Bank of Indonesia president and now Vice President Boediono into the higher echelons of government power, Indonesia has signaled a full commitment to a free market approach. This year's enactment of the ASEAN-China Free Trade Agreement (ACFTA) between Indonesia and China is most emblematic of the policy in action. China offered the Indonesia government some two billion dollars in trade credits along with some other perks in order to gain near tariff-free access to Indonesia's markets. Indonesia's government claimed this would open trade opportunities for Indonesian companies to sell their goods to the world's largest group of consumers. Early reports from those directly subjected to the mean streets are already in: China is beginning to flood Indonesian markets with very cheaply produced manufactured items, such as textiles, and Indonesian companies can't compete. Small businesses are especially being hurt. Indonesia's manufacturing base has never been a strong one, and is beginning to flounder even more in a sea of Chinese imports. Indonesia's capitalist elite- its bankers, import-export brokers, richest domestic companies and controlling government agencies- have always benefited from foreign investment deals, and at little upfront cost. Commodity brokers and the government agents who manage and authorize sales of lumber, rubber, agricultural products, and fish can make out handsomely with very little cost and relative business ease other than making sure goods get to market. For raw resource extraction activities, what is too often left behind is ravaged, clear cut land and overfished waters. It's cut and run economic pillaging. The leasing out of gas and oil tracts as well as land for mining copper, nickel, and gold to foreign companies requires little advance technical or infrastructure development on the part of the Indonesian government. America's Freeport mining company as active in West Papua, for instance, has had to develop its Grasberg mine's system of roads and utilities with its own corps of engineers and company-owned equipment. Because of this responsibility, the huge profits the company makes are disproportionately returned into Freeport's pockets. Still, the Indonesian government reaps substantial royalty sums itself, and has only to use its already well-organized police and military forces to serve as security for the mine. What the government receives in return for small infrastructural responsibility is enough to perpetuate the contractual status quo. The motivation to preserve that status quo is nearly unimpeachable as the Grasberg mine is the world's largest producer of copper and gold combined. A quick inventory of recent high profile foreign investments deals, both secured and otherwise proposed, highlight Indonesia's continued dependence on foreign cash and expertise as needed to develop the country: On March 25th, 2010, China Railway Group Ltd. won a $4.8 billion order from PT Bukit Asam, Indonesia's state-owned coal producer, for a coal transport project on Sumatra island. Both South Korea and China had bid on building an industrial railway needed to ship coal from Bukit Asam's Sumatran coal fields to port for national distribution as well as export. Indonesia's only complete railway system exists in Java, and was built by the Dutch during the colonial era. To this day, the country has never been able to develop its own railroads, which is 19th century technology. The coal deal will help PT Bukit Asam, Indonesia's largest coal producer, become more successful, and provide China with a contractual quota of thermal coal as well as a secure investment return. Both countries larger financial interests benefit, but it is difficult to measure just how much the Indonesian people will directly benefit in terms of long term job creation. And especially in terms of human resource potential for infrastructure-oriented job categories, has Indonesia brokered this railway deal with China in such a way that will instrumentally involve the participation of Indonesian engineering firms as well as giving young Indonesian students of engineering a chance at on-the-job training? Manila Water Co. out of the Philippines has targeted Indonesia as a priority country in its future expansion plans. The company is banking on the trend towards privatization of water utilities in many Asian cities. The MWO was recently visited by Jakarta's municipal water company PDAM Jaya, a private utility. Jakarta's water supply is currently privatized. This is one more indicator that Indonesia lacks the will and expertise to critical operation and development of critical infrastructure, including that most basic of needs, water. For sixth months in 2007, parts of north Jakarta loss access to piped water due to inadequate maintenance of an electrical system. This caused an outbreak of diarrhea which killed several infants and hospitalized hundreds. PDAM obviously needs some help from outside the country that the city of Jakarta can't or isn't willing to provide. In general terms, Jakarta appears to be a doomed city. Like Venice, Italy, it is sinking into the swampy brine. The government has spent considerable time and energy over a long number of years on plans for building a new capital as Brazil did in the 1960's. Is Indonesia capable of engineering such a daring scheme? Given the present economic environment, foreign investors must be lining up in anticipatory droves. And if such a displacement comes to pass, what will happen to the uneducated masses of Jakarta, millions of whom live in abject poverty and have crowded into the city over the past twenty-five years with the hopes of finding a better life than their prior subsistence agricultural livelihoods provided? Indonesia is fortunate to be blessed with not only vast oil and gas reserves, but also has the largest untapped potential for geothermal energy in the world. The problem is, after sixty-five years of its own state sponsored energy development, the independent republic of Indonesia has yet to develop any of these energy resources on their own. The government leases out oil and gas tracts to foreign companies, and lacking any oil refineries, must buy oil products back from some of those same foreign companies after having shipped them out on tankers. The state must sell low and buy back value added products at a net loss. With geothermal, the controlling Indonesian agency involved is PT Perusahaan Listrik Negara (PLN). PLN is close to signing a financing deal with an international energy consortium which will have thirty months to complete the first phase of a geothermal development project with a capacity of 110 to 120 megawatts. Companies involved include those based in Japan and Israel. Geothermal development is crucial to Indonesia's long term solution to its energy needs, and electricity shortage in particular afflicts large areas of the country. Contracting out development of geothermal may be necessary in these early days of that technology's development, but it is not clear that the government is providing for the domestic technical ability to accomplish the engineering on its own in the future. Lastly, the food plantations proposed for development on a massive scale in Papua puts Indonesia on track for becoming the greatest food supplier in all of Asia. Aside from the questions of environmental impact and land tenure rights of the native peoples, there is also the question of whether development costs and a large percentage of the profits should, again, be earmarked to foreign investors. Again, how will the Indonesian people benefit aside from a supply of low waged agricultural jobs? The developed world and its investment community are salivating over the potential in Indonesia, especially since the country's turn to democracy and willingness to fight corruption. The following quote from a well known money market publication sums up the prospects: "Indonesia is a country that is blessed with incredible mineral riches, including some of the largest copper and gold mines in the world - not to mention plenty of rubber plantations and food," says Money Morning Contributing Writer Jon D. Markman. "Literacy rates are high, the middle class is large and growing, and there is a ton of potential in the domestic economy. Think of Indonesia as a South Seas version of Brazil, but without Mardi Gras."
In short, the world is getting Indonesia's precious natural resources on the cheap. And while the Indonesian government continues to milk that cow, the human development of the country's people lags far behind. Literacy rates may be high, but in reality only five percent of the population either bothers to read the newspaper let alone find it affordable. Books are astronomically expensive and libraries very few in number and hard to access. Much of the middle class finds itself closer to hugging the poverty line that it is to truly being upwardly mobile. The poverty line is not a credible number, and it is exceedingly difficult to believe that the government reported poverty rate in Indonesia is roughly equivalent to that of the United States. Educational degrees in Indonesia don't insure higher wages. Many graduates are unable to find jobs commensurate to their skills because those jobs simply don't exist. Too often jobs are given to those who have the money to pay for them, and those who are awarded the few jobs available are under-qualified and don't merit their job placement. The over-dependence on foreign investors to supply technical expertise and manufactured goods undercuts economic opportunities for the high education sector, leaving it in a near vacuum state. The quickest way to appraise this lacking is to be found in Indonesia's primary and secondary school system. Granted it remains a young institution in that it didn't even exist until after the 1945 creation of the republic. But its inception was less than munificent. Its rapid development during Suharto's reign served one primary purpose: that of teaching all Indonesian's how to be Indonesian. The overarching government policy of unifikasi was instituted throughout Indonesia, and specifically in public schools a priority was placed on promoting the universal use of Bahasa Indonesia as the country's official language while socializing the young according to a curriculum whose teachings in history, social responsibility, and religion were tightly scripted along nationalistic lines. Educational policy was formulated to primarily create a conformist populace, not a truly educated one. Forty years after its introduction and twelve years since the fall of Suharto, many of unifikasi's initial policy objectives have been met. Economic and social conditions today demand a new phase of educational reform that will help Indonesia develop a homegrown ability to develop its own infrastructure. As per infrastructural economics, there is little question that the current school system is not capable of training a skilled work force , facilitate a budding entrepreneurial spirit, and produce a capable pool of young leadership the country so badly needs to become reasonably independent of foreign aid. In the long term, Indonesia will continue to rely on foreign investment for the country's development unless it cultivates the educational potential of its people. The only thing Indonesia's public schools have managed to create in recent years is a standardized testing system that is woefully out of sync with what is being taught and what is being learned by Indonesia's underserved, beleaguered student populace who live in fear of not graduating from high school due to failing the required end-of-year exams. This dark border that outlines the silver cloud of Indonesia's high rate of economic growth suggests a gathering storm. The nature of Indonesia's current growth presents the following social quandary: Can Indonesia continue to sell itself out for quick cash while selling its human resources short? This question is not new, and echoes the old warning put forth by the rector of Sultan Agung Islamic university (Unissula) in Semarang, Rofiq Anwar, who three years ago pronounced that Indonesia "will become a nation of coolies, i.e. a source of cheap labor for the rest of the world, if people do not become self-directed and independent." Back in the 1980's when companies such as Nike set up shop in Indonesia and produced designer athletic shoes for sale in America, there was copious ink spilled in the world's papers about not only America's growing economic trend to outsource manufacturing jobs, but also how "victim states" such as Indonesia were having their work force subjected to the exploitation of maintaining an undeveloped economy based on low level jobs which paid third world wages all for the benefit of offshore companies. This is not a trend that the Indonesian government has publically shown the will to reform. One reason for this is that it is a difficult problem requiring hard work on the part of everyone in the nation. To be both fair and realistic, the government cannot accomplish anything alone. Educational reforms and developing a skilled work force that can deal with twenty-first century global economics is a hundred year plan that requires huge investment and smart implementation, not to speak of consistent support and a committed political will across many generations of administration. The people of Indonesia, too, must rise to the challenge. Sadly, Indonesia's government remains committed to exploiting its vast natural resource base while neglecting it need to foster human resource development. As for its people, it is a much harder call. Too many citizens are disenfranchised from the greater national process, are unaware of the problems involved, and live in informational isolation. Many never finish school nor see education as a road to greater opportunity. At least half the population is rural and lives very much according to past generations. The degree to which most Indonesians live in neglect and geographical isolation in this island nation is hard to over estimate. Whether a vast group of people living after a 19th century style of subsistence agriculture can be brought into the 21st century is questionable. Whether it is even desirable, according to some, is worthy of debate as well. It doesn't appear Indonesia's Jakarta-centered power elite really cares one way or the other if their reaping a profit isn't at stake.