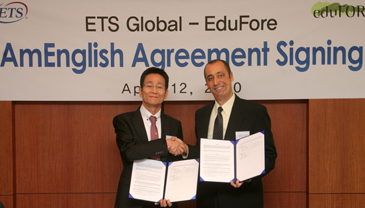 Dr. Zoubir Yazid from ETS global (right) and JungRyul Lee, CEO of EduFore are shaking hands.
ETS Global, a subsidiary of Educational Testing Service (ETS), recently signed an agreement with EduFore Inc. to offer the English Skills Series, a user-friendly suite of English-learning products, in Korea. Developed to assist non-native speakers strengthen their English-language skills, the English Skills Series provides learning strategies in three critical areas: Pronunciation in English, Writing in English and Idioms in English. The products, available online, help students develop and build the core skills needed to master the English-language. The new agreement names EduFore Inc., a Korean-based organization specializing in the delivery of online educational content, as a distributor for the English Skills Series in Korea. "The English Skills Series provides a strong foundation for English-language learning in the areas of pronunciation, writing and idioms," commented Dr. Zoubir Yazid, Managing Director of ETS Global. "The innovative techniques and learning strategies incorporated in the series should be of great help to Korean students as they strengthen their abilities to communicate effectively in English." Available now, and powered by AmEnglish.com, the new suite includes: Pronunciation in English: A module containing lessons assisting students in identifying and using the most important elements of pronunciation: stress, intonation and rhythm
Writing in English: A module offering lessons designed to help individuals write more clearly and concisely in English
Idioms in English: A module defining key idioms or phrases (such as "think outside the box" ) commonly used in the English-language and that helps with listening comprehension, vocabulary and speech
"EduFore is very pleased to have the opportunity to work with ETS and offer this groundbreaking line of English-language learning products," stated Jung Ryul Lee, EduFore's CEO. "We are confident that individuals who are trying to improve their English skills in Korea will benefit greatly from the English Skills Series."
About ETS and ETS Global Subsidiaries
At nonprofit ETS, we advance quality and equity in education for people worldwide by creating assessments based on rigorous research. ETS serves individuals, educational institutions and government agencies by providing customized solutions for teacher certification, English-language learning, and elementary, secondary and post-secondary education, as well as conducting education research, analysis and policy studies. Founded in 1947, ETS develops, administers and scores more than 50 million tests annually — including the TOEFL® and TOEIC® tests, the GRE® test and The Praxis Series™ assessments — in more than 180 countries worldwide. www.ets.orgETS and its related ETS Global subsidiaries have offices around the world to meet the needs of non–U.S.-based entities in Asia, Canada, Europe, Latin America, the Middle East and Africa. In serving individuals, businesses, educational institutions, government agencies and membership organizations worldwide, ETS offers valid and reliable assessments, research and related services such as customized solutions, workforce products and services, and research-based teaching and learning tools.
About EduFore, Inc.
EduFore Inc. was established by J&J Edu-media Corporation based on their extensive experience managing Jungjin Institute (EduKorea Institute) who also launched Korea's first online lectures. EduFore currently operates EduFore International Language School collaborated with the University of Philippines. EduFore plans to firmly solidify its strong position as a leader in the Korean online education market through the AmEnglish product lines.
Contact:
Mr. HyeKyung Lee , Communications Korea
82 11 518 1796 kylie@commkorea.com