Asia-Pacific
Prime Minister Sheikh Hasina Left on a Six-Day Visit to Seoul
By Ataur Rahman
Bangladesh Correspondent

The Prime Minister of Bangladesh Sheikh Hasina has left on a six-day visit to South Korea and Malaysia. She is expected to arrive at the South Korean capital Seoul early morning on Sunday 6.30 AM. Prime Minister Sheikh Hasina will attend the 66th conference of the United Nations Economic and Social Commission for Asia and the Pacific (ESCAP) on May 17 and is scheduled to address the inauguration session. On May 18, she will hold talks with the South Korean president Lee Myung-Bak on bilateral issues and will attend a banquet hosted by the president. Sheikh Hasina is likely to sign few memorandums of understanding on infrastructure development and economic cooperation after the meeting with the South Korean president. Korean environment minister and knowledge economy minister will also meet her. Sheikh Hasina is set to attend a lunch hosted by the Korean Chamber of Commerce and Industries (KCCI) on May 17 and a dinner hosted by the Korean unification committee chairman. During her visit, Hasina is scheduled to visit the Hanging Project of the Seoul Metropolitan Government on the Han river and meet the South Korean national assembly. She will pay homage to the South Korean national memorial tower on May 18. Sheikh Hasina will leave Seoul for Malaysian capital Kuala Lumpur on May 18. The next day she is expected to speak at the inaugural ceremony of the 6th Economic Forum and hold bilateral talks with the Malaysian prime minister Najib Bin Razak. Chairman of Islamic Economic Forum will also meet with her on the same day. She will attend lunch and dinners hosted by the Malaysian prime minister. The Bangladeshi head of government will also sit with the Malaysian investors and the Bangladeshi community in that country in separate meetings. She will leave Kuala Lumpur on May 20 and arrive at Dhaka on May 21. Prime Minister Sheikh Hasina left on Thai Airways flight from Dhaka at 2.45pm on Saturday.

Related Articles
Nation of Bangladesh Celebrates Eid-ul-Fitr, ...
Two Killed on 3rd Day Blockade
All-party Gov't Formed for General Election
152 to Die, 160 Get Life-Terms in BDR Carnage ...
Bangladesh PM Sheikh Hasina Talks with UN Sec. ...
Grateful Nation Pays Deep Homage to ...
Bangladesh President Zillur Rahman Buried by ...
S. Korean Ambassador to Bangladesh Lee ...
At Least 46 People Killed in Bangladesh after ...
South Korean Volunteers Arrive in Bangladesh
Didn't See '71, But This Is Our War, ...
Nation of Bangladesh Stood in Silence for 3 ...
Cyclone Kills 27, Injures 100 in Bangladesh
Bangladesh Celebrates Pahela Baishakh, 1st Day ...
Ship with 300 Passengers Sinks in Bangladesh
Execution of CHT Peace Treaty Priority for ...
Bangladesh Becomes World Leader in Disaster ...
UN Chief Ban Ki-Moon Arrives in Bangladesh
Muslims of Bangladesh Celebrating Their ...
44 Schoolboys Were Killed in Bangladesh
New Executive Committee of Bangladesh Federal ...
YoungOne Resumes Operation in Bangladesh
S. Korea-Based Company Young One Corp. Closes ...
15 People Killed, 200 Injured in Train ...
A Private Bangladeshi Ship Was Hijacked by ...
Seoul to Ease Visa Process for Bangladeshi, ...
117 people were killed in a massive fire ...
1st Bangladeshi Journalist in World to ...
Bangladesh PM Sheikh Hasina Returned Home
Prime Minister Sheikh Hasina visit to Seoul ...
1st Day Bengali Month Celebrated
Govt Constitutes Tribunal to Try Heinous Crimes
"Ratification of Rome Statute of International ...
Bangladesh President Urges South Korea to ...
International Mother Language Day Observed ...
Korea-Bangladesh Chamber of Commerce and ...
Bangladesh Executes 5 Killers of Bangabandhu, ...
Toll Rises to 78 in Bangladesh Boat Mishap
Apex Court Upholds Death Penalties of Ex-Army ...
After Month-Long Fasting The Muslim World ...
Ban Ki-Moon Assures Hasina of Continued UN ...
One Swine Flu Patient Dies in Bangladesh
Sheikh Hasina Ranks 78 among Forbes "Top 100" ...
34th Anniversary of Bangabandhu Sheikh Mujibur ...
Demand for Constitutional Recognition of the ...
"Move Away from Export-led Growth"
Bangladesh Seeks International Help on More ...
Migration Opportunities Can Cut Poverty
Int'l Environmental Conference Begins in Dhaka
Rains in Bangladesh Broke Half-Century Record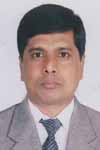 Mr. Ataur Rahman serves as Bangladesh Correspondent for The Seoul Times. He eanred his Master of Commerce degree from Dhaka University in 1985. Mr. Rahman has vast journalistic rexperience including his stints at "The Daily Janata" and "The Dainik Bangla."