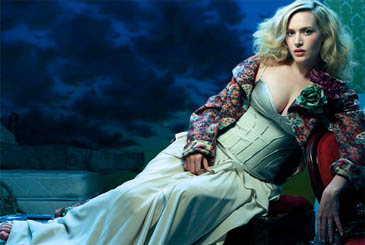 Yohji Yamamoto coat, $4,860. At Yohji Yamamoto, 103 Grand Street. Narciso Rodriguez dress, $4,895. At Bagutta, 402 West Broadway. Tinsel Trading Company flower. Jimmy Choo sandals. stylist: Tiina Laakkonen.
Raymond Meier for The New York Times
Despite having starred in "Titanic," the most successful movie of all time, and having been nominated for three Academy Awards, Kate Winslet still had to mount a campaign to land her role in "Finding Neverland." Johnny Depp had already been cast as J.M. Barrie, the author of "Peter Pan," and the studio, Miramax, was hoping for a more marketable name to star opposite him, like Gwyneth Paltrow, perhaps, or Nicole Kidman. The film, directed by Marc Forster, weaves together a tragic family story and the creation of Barrie's greatest artistic triumph. Out in theaters in October, "Neverland" is eloquently sentimental, a movie that beautifully depicts the link between art and life, where influences overlap and inspire. "I loved the script," Winslet recalled, "but I'm not sure Johnny even knew my work." She laughed at the memory. Winslet was calling from her car, which was parked outside her house in London. "This is the only place I can get any privacy," she explained. Just outside the car, her husband, the director Sam Mendes ("American Beauty"), entertained their 6-month-old son, Joe, while Winslet's 3-year-old daughter, Mia, played inside the house. Winslet resists the usual battalion of nannies and housekeepers and managers and assistants ("I couldn't cope with lots of people"), and she projects a mood of happy chaos — things always seem to be in a half jumble.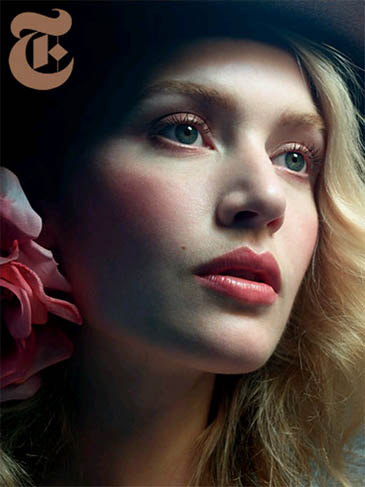 But even with the hubbub, there's a stunning directness, a kind of passionate belief in life's possibilities, that sets Winslet apart. She has not only consistently voiced her values, as so many other actors know how to do, but she has also lived them: sacrificing a cushy box-office career for art-house films; working in England to support the British film industry; giving up plum parts to be with her family; not becoming twig thin, even for nude scenes, although members of the press have attacked her weight; and fighting for parts that were offered to actresses who have more closely looked after their bankability. "I've never really had a plan," Winslet said, "other than to do interesting work. Passion is a tremendously important thing to me, and I will, frankly, beg for something if I really believe in it. That happened with 'Neverland.' I don't believe in holding back." Winslet tracked down Forster and invited him to lunch at a restaurant near her home. "The food was wonderful," he recalled. "Kate had gone through the script line by line. The woman in the movie has four boys, and although Kate is only 28, she has her own kids, and you believe her as a mother. When she went through the script, I could tell that she studied details. Miramax may have wanted Nicole, but Nicole would not have had that mix of gorgeous and maternal."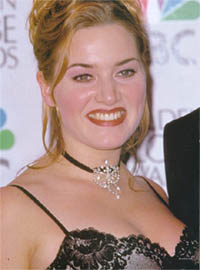 Kate Winslet
Winslet said she had no desire to do another period piece. Throughout her career, Winslet has almost never been cast as a modern girl. From her first movie, "Heavenly Creatures," which was directed by Peter Jackson, to "Titanic" and on to "Iris," in which she played a young Iris Murdoch, around 1950, and for which she was nominated for an Academy Award, she has consistently been seen, like many English actresses, as a throwback."Oh — it's the accent," Winslet explained. "The studios definitely think I'm period, and that only makes it more difficult to get parts. But I don't go and watch a lot of period movies. I'm more a Charlie Kaufman — "American Splendor" kind of girl. I'm there opening day for those films. That's why 'Eternal Sunshine of the Spotless Mind' was so thrilling to me. It's boring to keep saying this, but I fought for that movie also." Winslet's performance as Clementine Kruczynski in the Kaufman-scripted "Spotless Mind" is, so far, the most original and thrilling acting in an American film this year. The movie spins back and forth in time and memory, and Winslet's character provides the focus. Unlike every other madcap but lovable heroine in films today, her Clementine is charismatic and maddening, fascinating and completely irritating. "Clementine is such a complex mixture of positives and negatives. I did not want her to be obvious. I didn't want her to be a nail-biting neurotic with a twitch, but at the same time, I didn't want her to be all hearts and chocolates. I didn't want their love affair to be some blissful daydream. They had lots of highs and lows. And I loved her hair colors. She went from blue to orange to pink and back. I had so much fun with those wigs. That was my fake nose." Winslet laughed at her reference to Kidman's Oscar-winning proboscis.
Donna Karan Collection dress, $10,110. At Donna Karan New York stores. Michael Kors by Patricia Underwood hat. Missoni flower.
Raymond Meier for NYT
"I took up kickboxing for Clementine," she continued. "I'd done so many period things, and this was such a mental departure. I had just had the baby, and I wanted to feel lighter on my feet. I thought, Forget yoga, forget Pilates, bring on the kickboxing. But I had to stop. I was dreadful at it. I had too many bruises." She paused. "I guess that ruins my chances for a big action film." Before leaving for England, Winslet finished work on a "crazy, fantastic musical comedy" called "Romance and Cigarettes," directed by John Turturro. Having perfected an American accent, she switches to a northern-English patois to play Tula, who is having an affair with James Gandolfini. While filming in New York, where she and Mendes have just purchased a loft, Winslet received a call from Woody Allen's casting agent."I had slipped, and I had a cast on my ankle," she said. "I was such a frump, and I thought the audition went horribly, but he cast me in the movie, which will be set in London. It's the first time he's shot in London, and I'm so excited — it's a dream come true. I walk around boasting, 'I'm about to work with Woody Allen.' Sam is dying to read the script, but I'm sworn to secrecy. It's quite a nice feeling to say: 'No. You can't see it.'"
The evening muse: Zac Posen gown, $3,500. At Barneys New York. Missoni corsage. Calvin Klein bra.
Raymond Meier for NYT
As if on cue, there is a tap on the car window. It is Mendes with Joe in his arms. "He has come to remind me of my other life," Winslet said. A few days later, that "other life" would cause her to drop out of the Woody Allen film. The balancing act of family and career was too precarious and overwhelming. Mendes is about to direct his new movie, "Jarhead," in Los Angeles, and Winslet needs to see about finding them someplace to live while he works; there's "Neverland" to promote and no time left over, even for long-held dreams. "I am really lucky," she said. "I have never worked out a career strategy. But I do try and have some courage and a lot of persistence." Mendes was tapping again. "But I find that passion seems to be at a premium," she said, about to hang up. "I have bad moments where my confidence just goes, but I try and never lose track of what really matters. I aim to do films I'd like to see. I'd like to think that everyone approaches their work that way. Or else, why bother?"
The above article is from The New York Times.