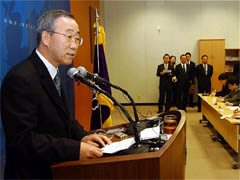 S. Korean Foreign Minister Ban Ki-Moon speaking to reporters
Civilians will be able to apply officially for high-profile diplomatic positions including ambassadors and consular-generals in a new recruiting system soon to be in effect.Many of the 129 major diplomatic posts including ambassadors and consular-generals will be filled with not by career diplomats but by civilians as South Korean government goes ahead with its new plan for recruiting higher-level diplomats.According to the new plan, about 30 percent of all high-profile diplomatic posts for overseas service will be allocated for civilians in the form of open-hiring system. The new plan was recently agreed between a government reform committee and the Ministry of Foreign Affairs and Trade.The new scheme will be officially reported to President Roh Moo-Hyun for an approval. Once the government reform committee considered a plan to recruit all 129 posts through the open-hiring system, according to a government source.All the specifics on the new recruiting system for the top diplomat positions will be decided later.Another government source said that the posts for large diplomatic missions instead of smaller ones will be recruited by the new system. Competitions will be unavoidable between career diplomats and civilians for the posts.All the high level defence positions within Defence Department will also be replaced with civilians by 2006, according to a new plan recently released by Defence Department.
New defence chief
New Defence Minister Yoon Gwang-woong is saluting in his inauguration ceremony held on July 29, 2004 ath Defence Department building in Yongsan. Yoon went through the same high school with President Roh Moo-hyun who appointed Yoon as the new defence chief.
Particularly, top military posts higher than major generals will all be filled with civilian experts on military affairs.The new "revolutionary" military personnel plan to replace career high brasses with civilian experts is facing strong opposition from parts of the military circle.The newly appointed Defence Minister Yoon Gwang-woong expressed his firm belief that the military should be under civilian control on July 30, 2004, the day of his inauguration as the top defence official.The defence personnel reform plan is aimed at reforming the "old practices" in which each of Army, Navy, and Air Force adheres to their "inalienable" share of military budget.