Asia-Pacific
117 people were killed in a massive fire crowded old Dhaka in Bangladesh
By Ataur Rahman
Bangladesh Correspondent

At least 117 people were killed in a massive fire that razed a crowded old Dhaka in Bangladesh neighborhoods with the recovery of three more bodies from the debris and death of a burn patient at Dhaka Medical College Hospital, official sources said .The fire broke out in a chemical factory at Nabab Katra in the old Dhaka city following explosion of two electric transformers last Thursday night. The fire soon spread to four-five buildings in the crammed residential area in old Dhaka .The Bangladesh government has announced national mourning day Saturday to commemorate the tragic deaths in the fire as well as the building collapse in central Dhaka in which 25 people died on last Tuesday. Dhaka Deputy Commissioner Muhibul Haque told Journalists that the rescue operation ended this afternoon as ''we are sure there is no more body under the debris''.He said 14 people with serious burns were shifted from Dhaka Medical College Hospital (DMCH) to Dhaka Combined Military Hospital.Police said 45 charred bodies were kept at Mitford Hospital morgue and 27 at Dhaka Medical College Hospital (DMCH) morgue. Besides, 14 bodies were handed over to their relatives from the spot while 23 bodies from DMCH burn unit.More than 40 people were admitted to DMCH with burn injuries. Of them, the condition of 10 was stated to be critical . Doctors of the Burn unit said none of the injured is out of risk.A three-member inquiry committee, headed by additional secretary of Home Ministry Iqbal Khan Chowdhury, was formed on Friday to investigate the incident. The committee was asked to submit its report within seven days.Bangladesh Prime Minister Sheikh Hasina visited the injured admitted to DMCH wards and cancelled all her programmes scheduled for today. She said the government will bear all treatment expenses of the injured and the victims will be rehabilitated. Political leaders . Ministers . Parliament Members were visited the spot and Hospital.Special prayers were offered at mosques, temples and churches seeking blessings for the departed souls on Friday.

The fire broke out on Thursday night at about 9pm after an electrical transformer at Nawab Katra in Nimtali in Dhaka City Corporation's ward 69 burst into flames that raced through several apartment complexes, feeding on flammable chemicals and plastic goods in a string of small shops lining the street beneath, fire officials said. The blaze started around 9pm on Thursday when an electrical transformer burst into flames from an electric short-circuit soon after a rainstorm swept the city, The explosion set light a shop storing flammable chemicals. The flames spread fast to six apartment buildings and about 15 stores in Najirabazar, feeding on flammable chemicals and plastic goods in a string of small shops lining the street beneath, fire officials said. The carnage began when the blast set alight a three-storey apartment building in the Najirabazar, firefighters said. Locals said the firefighters were late to arrive at the scene and that there was acute water crisis, factors that prevented the blaze from being doused. This is the second deadly disaster to strike the capital in 72 hours after a five-storey building toppled completely off its base onto several shanties in Tejgaon's Begunbari on Tuesday night, claiming 25 lives.

Related Articles
Nation of Bangladesh Celebrates Eid-ul-Fitr, ...
Two Killed on 3rd Day Blockade
All-party Gov't Formed for General Election
152 to Die, 160 Get Life-Terms in BDR Carnage ...
Bangladesh PM Sheikh Hasina Talks with UN Sec. ...
Grateful Nation Pays Deep Homage to ...
Bangladesh President Zillur Rahman Buried by ...
S. Korean Ambassador to Bangladesh Lee ...
At Least 46 People Killed in Bangladesh after ...
South Korean Volunteers Arrive in Bangladesh
Didn't See '71, But This Is Our War, ...
Nation of Bangladesh Stood in Silence for 3 ...
Cyclone Kills 27, Injures 100 in Bangladesh
Bangladesh Celebrates Pahela Baishakh, 1st Day ...
Ship with 300 Passengers Sinks in Bangladesh
Execution of CHT Peace Treaty Priority for ...
Bangladesh Becomes World Leader in Disaster ...
UN Chief Ban Ki-Moon Arrives in Bangladesh
Muslims of Bangladesh Celebrating Their ...
44 Schoolboys Were Killed in Bangladesh
New Executive Committee of Bangladesh Federal ...
YoungOne Resumes Operation in Bangladesh
S. Korea-Based Company Young One Corp. Closes ...
15 People Killed, 200 Injured in Train ...
A Private Bangladeshi Ship Was Hijacked by ...
Seoul to Ease Visa Process for Bangladeshi, ...
1st Bangladeshi Journalist in World to ...
Bangladesh PM Sheikh Hasina Returned Home
Prime Minister Sheikh Hasina Left on a Six-Day ...
Prime Minister Sheikh Hasina visit to Seoul ...
1st Day Bengali Month Celebrated
Govt Constitutes Tribunal to Try Heinous Crimes
"Ratification of Rome Statute of International ...
Bangladesh President Urges South Korea to ...
International Mother Language Day Observed ...
Korea-Bangladesh Chamber of Commerce and ...
Bangladesh Executes 5 Killers of Bangabandhu, ...
Toll Rises to 78 in Bangladesh Boat Mishap
Apex Court Upholds Death Penalties of Ex-Army ...
After Month-Long Fasting The Muslim World ...
Ban Ki-Moon Assures Hasina of Continued UN ...
One Swine Flu Patient Dies in Bangladesh
Sheikh Hasina Ranks 78 among Forbes "Top 100" ...
34th Anniversary of Bangabandhu Sheikh Mujibur ...
Demand for Constitutional Recognition of the ...
"Move Away from Export-led Growth"
Bangladesh Seeks International Help on More ...
Migration Opportunities Can Cut Poverty
Int'l Environmental Conference Begins in Dhaka
Rains in Bangladesh Broke Half-Century Record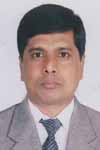 Mr. Ataur Rahman serves as Bangladesh Correspondent for The Seoul Times. He eanred his Master of Commerce degree from Dhaka University in 1985. Mr. Rahman has vast journalistic rexperience including his stints at "The Daily Janata" and "The Dainik Bangla."