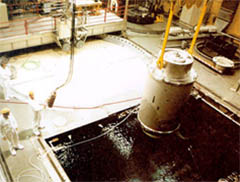 The South Korean government has admitted to the International Atomic Energy Agency that a group of the country's scientists secretly produced a small amount of near-weapons grade uranium, raising suspicions that South Korea may have attempted a secret program to counter North Korea's nuclear arsenal.The revelation, made 11 days ago and disclosed by the agency yesterday, could greatly complicate the confrontation with North Korea over its own nuclear weapons program. President Bush regularly calls for a "nuclear-free Korean peninsula," and those calls have been endorsed by South Korea, one of Washington's closest Asian allies.In a statement, the South Korean government said the highly enriched uranium was produced by a group of rogue scientists in 2000, without the knowledge of the government. But many details of the effort, which was an apparent violation of the Nuclear Nonproliferation Treaty, remain murky, and the method the scientists used was so expensive that it is normally associated with government-directed weapons programs. Richard A. Boucher, the State Department spokesman, said yesterday that it "is important that all such activity be investigated," adding that after the I.A.E.A. completed a review the United States "will be able to draw the appropriate conclusions."According to international diplomats with knowledge of the South Korean disclosure, the government admitted to the experiment only after energy agency inspectors began asking pointed questions about a piece of equipment in a building in Taejon, a South Korean scientific center, that they had been barred from visiting.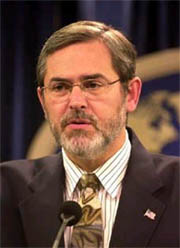 Richard A. Boucher
It was unclear how they had learned of the existence of the equipment. "It became clear to the South Koreans that there would be environmental samples taken, and the truth would be discovered," one of the diplomats said. "So they decided they better disclose it first, themselves." That disclosure took place on Aug. 23. The South Korean government has not yet explained how it learned of the work of the scientists. While the amount of uranium that South Korea has admitted to enriching was very small, about two-tenths of a gram, it was enriched to nearly 80 percent — a level so high that experts said it was difficult to imagine that it would be useful for anything other than making nuclear weapons. It would take several kilograms to make even a crude nuclear weapon. When it was disclosed last year that Iran used a similar method to try to enrich uranium — though with significantly larger quantities — the Bush administration said that effort was clear evidence that Tehran was seeking to build a nuclear weapon.Mr. Boucher declined to draw that conclusion on Thursday about South Korea, noting that it had disclosed its own violation. But a team from the International Atomic Energy Agency was rushed to the country last week, and is now conducting tests to determine if the country has fully disclosed what it produced. South Korea recently agreed to a set of more intensive inspections by the agency, and the inspectors were in the country to perform them. It was unclear whether the scientists who were involved in what South Korea called a "laboratory experiment" were government employees or workers for the country's civilian nuclear industry. A South Korean government statement said the experiment was intended for research on civilian fuel production, but outside experts said that seemed improbable.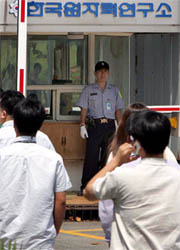 Korea Atomic Energy Research Institute
There was no response yet from North Korea, and Mr. Boucher said it was not clear that the discovery would hinder the diplomatic effort to pressure the North to disarm. But several other administration officials disagreed, saying the disclosure would probably have significant propaganda value for the North, which withdrew from the nonproliferation treaty 18 months ago. It can now claim that the South had also introduced weapons-grade material to the Korean peninsula. North Korea is estimated to have enough plutonium to produce two to eight nuclear weapons, and Washington has accused it of having a second, secret uranium enrichment program of its own. North Korea denies it has such a program.At the time of the South Korea experiment in the year 2000 — which Seoul insists was never repeated — the country was led by President Kim Dae Jung. Mr. Kim was known for his "sunshine policy" of seeking increased engagement with the North, and traveled to North Korea the same year that the enrichment experimentation reportedly took place. "I would doubt it is anything that Kim Dae Jung condoned," said Donald P. Gregg, a former American ambassador to South Korea. "But that doesn't mean it hadn't been condoned by some previous government" or parts of the military.The method chosen by South Korean scientists to enrich uranium, through the use of lasers, is considered easy to hide. Though pioneered by the United States and pursued for decades around the globe, laser enrichment appears to have remained a laboratory curiosity. "None of the big players use lasers," said Thomas B. Cochran, a senior scientist at the Natural Resources Defense Council in Washington, a private group that tracks nuclear arms. "They all use centrifuges, " referring to the devices that concentrate uranium by spinning it at high speed. Low levels of enrichment are necessary for electricity production; high levels can be used for weapons.To date, the laser technique has been so expensive that experts assume its only usefulness would be for a military program where costs are no obstacle. It uses different colors of laser light to separate different forms of the same element, like uranium 238 from uranium 235, which in atomic reactions easily splits in two in bursts of energy."Given its lack of commercial application, the only conclusion you can reach is that any nation pursuing this technology is doing it for military uses," said Paul Leventhal, president of the Nuclear Control Institute, a private group in Washington that has campaigned against nuclear facilities whose waste could be used for weapons. Last year, the International Atomic Energy Agency revealed that Iran had worked in secret for 12 years to develop lasers for purifying uranium. In a report, it said Iran established a pilot plant for laser enrichment in 2000 and used it from October 2002 to January 2003 to conduct experiments. The Iranian authorities said they disassembled the plant in May 2003.Mr. Leventhal of the Nuclear Control Institute said the laser technology was so costly and difficult that only governments had the means to try to exploit it, undermining South Korea's disavowals about unsupervised scientists doing the experiments on their own.
The above article is from The New York Times.