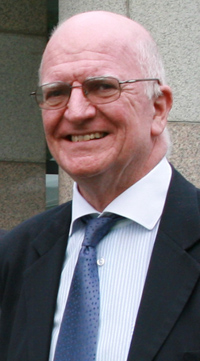 EU Ambassador to Seoul
Brian McDonald
The European Union Chamber of Commerce in Korea (EUCCK) will host a human resources (HR) conference "New Paradigm in the Labor Market" at Grand Hyatt Hotel, on June 29, 2010 under the auspices of the South Korean Ministry of Labor.Labor Minister Yim Tae-Hee will take part in the luncheon session of the whole day conference to be held at the hotel's Namsan Room III. Minister Yim will make a keynote speech.Opening remarks will be made by EUCCK President Jean-Marie Hurtiger while welcoming remark will be delivered by EU Ambassador to Seoul Brian McDonald, head of EU delegation.A variety of current labor market issues will be discussed by labor experts from such organizations as Korea's Labor Ministry, Korean Confederation of Trade Unions (KCTU), Federation of Korean Trade Unions (FKTU), and other human resources (HR) executives from local companies.The conference will be dealt with from a range of perspectives including the newly introduced time-off system.
In addition, various academic views will be provided by many analysts from Samsung Economic Research Institute (SERI), Korea Labor and Society Institute (KLSI), HR consulting companies, and law firms.The conference will be devided into three sessions: Morning Session: Korean employment market overview and strategy of global companies (Speakers; MOL, SK Telecom, BAT Korea, P&G Korea, SERI, Towers Watson)Luncheon Session: Keynote speech from Labor Minister Yim Tae-HeeAfternoon Session: Labour union issues (Speakers; MOL, KCTU, FKTU, KLSI & Yulchon)
The morning session includes an overview from MOL and SERI on the Korean employee market and its trends. A presentation will also be given by HR executives from SK Telecom, BAT Korea and P&G Korea on hiring and talent development strategies. This morning session will be closed by a presentation done by HR consulting company that should provide participants with an overview of all the possibilities when hiring after the crisis. The afternoon session aims to provide a platform for discussion from the government, two major unions' representatives (KCTU-Korean Confederation of Trade Unions and FKTU- Federation of Korean Trade Unions) to exchange opinions on new labor union's regulations. The afternoon session will be closed by the presentation done by a legal advisor who will provide participants with a short overview of obligations and restrictions that will arise when the labor union regulations are enforced from the management side as well as side of the labor union leaders. Close to 300 participants from all sectors are expected to attend this event. For registration or further details contact Ms. Sohjeong Yoon,
EUCCK by 25th June. (02-6328-5009, euyoon@eucck.org)
Date: 29th June 2010, Tuesday (registration starts at 8:30am)
Venue: Namsan III (2ndFl), Grand Hyatt Hotel, Namsan, Seoul (Conference)Regency Room (Lobby), Grand Hyatt Hotel, Namsan, Seoul (Luncheon)
2010 "New Paradigm in the Labour Market" Conference
Program for morning conference
0830-0900 Registration
0900-0905 Opening Remarks Jean-Marie Hurtiger, President, EUCCK
0905-0910 Welcoming Remarks H. E. Brian McDonald, Ambassador / Head
The Delegation of the EU
0910-0930 Presentation 1 Global Talent Management at SK Telecom Dr. Stephen Frawley, SVP Global HR
SK Telecom
0930-0950 Presentation 2 Recent trend in the Korean Labor Market SOHN Min Jung, Research Fellow
SERI
0950-1010 Presentation 3 BAT Talent Development Strategies in Korea Anna Dolgikh, Executive Director
BAT Korea HR
1010-1030 Presentation 4 The Prospect of Korean Employment Market and Its Measures NA, Yeong Don, Director
MOL Labour Market Policy Division
1030-1050 Presentation 5 Global Talent Acquisition – Benefits and Challenges for Korea Mahboob Alam, Associate Director
P&G Korea HR
1050-1110 Presentation 6 Strategic Talent Acquisition Hyuna Choi, Human Capital Group
TowersWatson
1110-1115 Closing Remarks Moderator: Jonathan Holmes, EUCCK HR Committee Chairman
Special Luncheon
With H.E. Yim Tae Hee, Minister of Labour 1100-1120 Registration
1120-1125 Welcoming Remarks by Jean-Marie Hurtiger, President, EUCCK
1125-1145 "The trend of Korea's labour market management relations and the prospects for Korea's labour market"– H.E. YIM Tae Hee, Minister of Labour
1145-1200 Q&A
1200-1240 Luncheon
1240 Closing Remarks : Jean-Marie Hurtiger, President, EUCCK
Program for afternoon conference
1230-1300 Registration
1300-1305 Opening Remarks Jean-Marie Hurtiger
President, EUCCK
1305-1320 Keynote Speech Industrial relations of Foreign invested companies and Korean companies KIM Young Hoon, President
KCTU
1320-1340 Presentation1 Multiple unions system and the stance of KCTU KIM Tae Hyun, Executive Director
KCTU Policy Planning Div.
1340-1400 Presentation 2 Time-off system & Wage for Full-time Union Workers CHEONG Moon Ju, Bureau Director
FKTU Policy Planning Dpt.
1400-1420 Presentation 3 Prognosis & assessment of Industrial Relations in 2010 ROH Kwang Pyo, Vice President
KLSI (Korea Labour & Society Institute)
1420-1440 Presentation 4 Legal implications of the 2010 amendment of Trade Union and Labor Relations Adjustment Act KANG Hee-Chul, Partner
Yulchon Attorneys at Law
1440-1500 Presentation 5 The Current Condition of Industrial Relations in Korea and Its Measures KIM Wang, Director
MOL Labour Management Cooperation Div.
1500-1530 Panel discussion
1530 Closing Remarks Moderator : Parth Sharma, EUCCK HR Committee Co-Chairman