| | |
| --- | --- |
| | A government official of Ministry of Science and Technology is speaking to a group of journalists on Sept. 3, 2004. |
Officials in South Korea continued Friday to try to assure the world that the nation had no nuclear arms program, with its top nuclear researcher saying government scientists had enriched a speck of uranium "smaller than a sesame seed" merely "to satisfy their curiosity.""Some misunderstood this experiment as a step to build nuclear weapons, but atomic energy experts would probably laugh at such claims," Chang In Soon, director of the Korea Atomic Energy Research Institute, the government laboratory where the experiment took place, told the Seoul newspaper JoongAng Ilbo.Acknowledging that his institute was not authorized to enrich uranium, he said the scientists performed the work using equipment that had been assembled for a different experiment.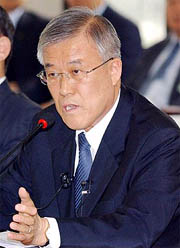 Chang In Soon, director of the Korea Atomic Energy Research Institute
Two weeks ago South Korea informed the International Atomic Energy Agency that government scientists at a government laboratory had performed two months of tests in early 2000 that enriched tiny amounts of uranium far above levels for known civilian uses. On Friday, officials repeatedly emphasized that the country did not have a nuclear weapons program.Oh Joon, the Foreign Ministry's director general for international groups, insisted that the tests were a one-time event, adding, "South Korea has never had, and does not have, enrichment or nuclear reprocessing programs, let alone a weaponization program."In announcing the tests publicly on Thursday, the government said they had been conducted by a group of "rogue" scientists working without government support or knowledge.Through early next week, inspectors from the atomic agency, a unit of the United Nations, are to conduct tests at the laboratory, in Taejon, about 100 miles south of here. The inspectors' report is to go before the agency's Board of Governors on Sept. 13. If South Korea is determined to have violated the Nuclear Nonproliferation Treaty, the board could then inform the United Nations Security Council. But even then the agency may not ask for penalties, because, unlike North Korea, the South has no stated intention of building bombs.While many South Korean newspapers and analysts here complained that the outside world was overreacting to a four-year-old experiment, there was a consensus that full disclosure about the tests would be needed to avoid undermining the regional effort to dismantle North Korea's nuclear weapons program."This is nothing to fret over," read an editorial in JoongAng Ilbo. But it added, "North Korea also should not use this as a way to abort six-party talks."North Korea has yet to react.But there was skepticism in Japan, the only nation to have suffered attacks by nuclear weapons.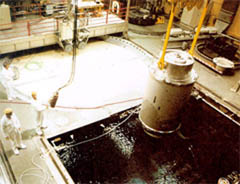 "What? In South Korea?" read the headline of an editorial in Asahi Shimbun on Friday. Fearing domestic repercussions, the newspaper warned: "There are claims in some parts of Japan that it should own nuclear arms. We are worried Korean actions could stimulate these camps."Japan's chief cabinet secretary, Hiroyuki Hosoda, called the experiments regrettable."We don't think it was a government policy to develop nuclear arms," he told reporters on Friday. "But this suggests that what should have been under tight control of the I.A.E.A. was actually not."With South Korean officials declining to allow interviews with the scientists, outside critics called Friday for total transparency about the tests. "The I.A.E.A. needs to be firm with inspections," said Kuniko Inoguchi, a political science professor who served until April as Japan's ambassador to the Geneva-based Conference on Disarmament, speaking by telephone from Tokyo.South Korea imports all of its oil, and it relies on nuclear power plants for about 40 percent of its electricity, one of the highest ratios in the world.The country signed the Nuclear Nonproliferation Treaty, and in February it signed the atomic agency's Additional Protocol, giving inspectors the right to conduct more intrusive, short-notice visits to nuclear sites than the main treaty permits. It appears to have been fear of just such an inspection that caused the South Koreans to volunteer information about the experiment, which brought uranium close to weapons grade by using lasers, an uncommon and highly expensive means of enrichment. Starting in the 1970's, two other countries with large nuclear power industries, the United States and France, invested in laser technology for nuclear fuel enrichment, but they later abandoned the process as too costly for commercial uses.Without offering a press tour of the nuclear site, Mr. Oh said the laboratory equipment used in the laser experiments had been destroyed because of radioactive contamination. "Since this is a one-time isolated scientific experiment, not part of any enrichment or weaponization program," he said, "we think this should not, and will not, have any impact on the ongoing six-nation nuclear talks."South Korea's experiment in laser enrichment appears to violate a North-South declaration that included a mutual pledge not to reprocess nuclear fuel or enrich uranium.So far, North Korea has not commented directly on the revelations."This will infuriate Pyongyang's leadership," C. Kenneth Quinones, a former American diplomat who spent several days in Pyongyang last month. "It is certain to greatly complicate, if not undermine, the six-party talks process."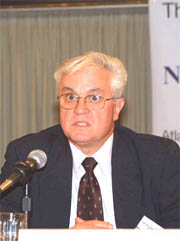 C. Kenneth Quinones
Next Thursday, high-ranking diplomats of Japan, South Korea and the United States are to meet in Tokyo to hammer out common positions for the next round of regional talks with North Korea about its nuclear weapons program. The three allies, plus China and Russia, have agreed that the fourth round of talks should start on Sept. 22 in Beijing. The North has yet to agree to another round, much less a date. China has repeatedly called for a nuclear-free Korean Peninsula, fearing that a nuclear North or South Korea could prompt a regional arms race. On Friday, China's Foreign Ministry responded to the South Korean disclosure by calling for more international safeguards. "This incident also clearly shows that the I.A.E.A.'s guarantee and supervision and the international nonproliferation system need to be further strengthened," a ministry statement said. Many analysts drew parallels with the early 1970's, when South Korea secretly worked on making an atomic bomb. The weapons program was fueled by worries over the United States defense commitment to the South, insecurities that started with the American defeat in Vietnam and increased with President Carter's decision to remove American troops from South Korea.Kazuhisa Ogawa, a military analyst in Tokyo, said the timing of Seoul's announcement now might have some relation to the Bush administration's decision in the spring to withdraw one-third of the 36,000 American troops from South Korea without demanding reciprocal security concessions from North Korea. "I think this was an attempt to shake up the U.S. after it had announced the withdrawal of its troops from South Korea," he said. Members of the South Korean team that worked on the bomb program in the 1970's have given interviews to historians and reporters over the past quarter-century. It is not known if there is any connection between that team and the experiment that took place in early 2000.Recent public opinion polls indicate that many South Koreans do not fear North Korea's nuclear weapons program, believing that Koreans would not use such a terrible weapon on fellow Koreans. Popular culture cherishes the theme of outsiders, usually Americans or Japanese, thwarting Korea's ambition to become a nuclear power.In "The Rose of Sharon Has Blossomed," a three-volume epic novel, a South Korean nuclear scientist in the United States tries to help his country build an atomic bomb but dies a mysterious death, possibly at the hands of C.I.A. In the end, North and South Korea jointly develop nuclear weapons to repel an invasion from Japan. A lasting best seller since it was first published here a decade ago, the trilogy has sold more than three million copies.
The above article is from The New York Times.