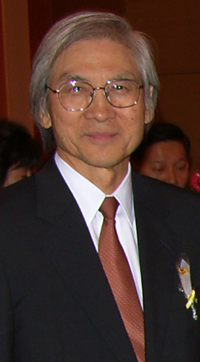 Japanese Ambassador to Seoul Toshinori Shigeie (ñìÊ«ñÕÛô)
Japanese Ambassador to Seoul Toshinori Shigeie (ñìÊ«ñÕÛô) was attacked by a "patriotic" Korean man on July 7, 2010 while he was lecturing in a seminar in downtown Seoul, the host of the seminar "Korea-Japan Future Forum" sources said on the day.They said that the Japanese envoy was not injured in the attack.The Japanese ambassador quickly lowered his body when a Korean attacker threw a chunk of cement block toward him.The cement block is about half the size of adult man's palm. But the envoy's interpreter, Horie Mayumi (ÏÜË°Ø«éÒÞÓ), third secretary of the Japanese Embassay in Seoul, was hurt in her hand with the brick. She was being treated at a Seoul hospital.The forum sources said that the Korean man, one of the audience, approached to the podium where the Japanese envoy was giving a special lecture at the Korea Press Foundation building under the title of "New Era of Japan and South Korea: Toward the Co-Prosperity."Then the attacker, identified as Kim Ki-Jong, charged the envoy , throwing the brick during the question and answer session.Kim was immediately arrested on the scene by the police and being questioned by the police.Before the arrest, Kim told the audience that he tried to deliver to the Japanese envoy his letters complaining about the Japanese move to overtake Dokdo.Kim was known as the leader of a patriotic group called "Keepers of Dokdo."
Kim was known to shout "Japan is responsible for devision of the Korean Peninsula" before the charge.He also complained that Japan is distorting its history, hurting the pride of Korean people, according to police investigators. There has been intense tension between peoples of Korea and Japan over the disputed islet of Dokdo situated in seas between Japan and Korea.Korea calls it Dokdo whereas Japanese call it Takeshima.Japan occupied the Korean Peninsula in 1910 and ruled it as its colony until it was nuked by the US at the end of the Pacific War.During the colonial era, Japan took Dokdo as part of its territory.For details or inquiries please contact the Japanese Embassy in Seoul at 2170-5200.