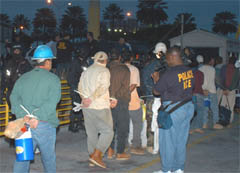 Mexican immigrants are taken into custody.
In 2004, 1.1 million undocumented workers were apprehended at the US-Mexico border, according to researchers at UC Davis. This year the number is likely to be at least the same or possibly even higher. Once apprehended, migrants are deported to Mexico, typically near the border.In an effort to discourage these people from crossing again, the US and Mexican governments recently began a new program which repatriates apprehended migrants deep into Mexican territory, near the towns where they came from.Those apprehended and wishing to participate in the new program are given a one-way plane ticket to a major Mexican city and a bus voucher to their hometown. The idea is to ease their repatriation and also to drive up the cost of getting back to the border and re-attempting the crossing. The program is the latest of the efforts to control illegal immigration. It's strictly voluntary because Mexican law guarantees its citizens freedom of movement within its borders. Will it work? Probably not.Hector Dimas, one of the 138 migrants deported to Mexico City recently, said he'd go back "in 15 days" because he needs to work and jobs in Mexico "don't pay anything."How much does it cost to get back to the border? About 100 dollars. Mexican bus tickets are very cheap.Mexican officials don't like the program but are encouraging people to use it because they hope it will save lives. The same goes for the US government.Last year, for example, 422 people died as they tried to cross the border, according to Mexican officials.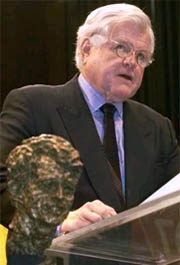 Sen. Edward Kennedy
The most dangerous area to cross is the 350-mile border between Arizona and Mexico. The deadliest aspect is having to walk about fifty miles of desert before seeing the nearest US road. To make the fifty-mile journey, people need ten gallons of water, which weighs 8 pounds a gallon. Carrying 80 pounds of extra weight in temperatures that often reach 100 degrees is virtually impossible.It's a risky journey but most of the people who attempt it eventually make it "thanks" to smugglers who charge anywhere from one to two thousand dollars. Ultimately, they get to their "promised land," a job that pays little above minimum wages, but significantly higher than the 5 or 6 dollars a day they could make in Mexico.Why do undocumented workers risk their lives? One word says it all: jobs. Once in the U.S., they get hired to do back-breaking work which many native-born Americans reject. Other factors encouraging more people to cross have to do with politics. President Bush's proposal in January of 2004 to legalize some undocumented foreigners already in the U.S. is certainly having an impact. Another proposal that would do some of same things was introduced by Sen. Edward Kennedy (D-MA) in May of 2004, and is co-sponsored by Sen. Larry E. Craig (R-Idaho). In addition, the economic situation in Mexico, which is always in bad shape, leaves people few options. The drought and the continued displacement of farmers due to the very small profits made in agriculture also push people to look north for opportunities.Although controlling illegal immigration is important, economics pushes some people in the U. S. to turn a blind eye. Companies hire workers at low wages and know that few complaints will emerge if working conditions are not very good.At times the work is also dangerous. Eager workers will accept it and then pay a heavy price for it.A recent study by the Associated Press found that Mexican workers in the U.S. are four times more likely to die on the job than US-born ones.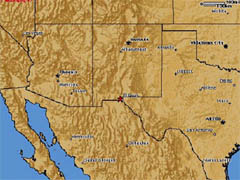 US-Mexico border
Since companies pay low wages and in general provide no health insurance to undocumented workers, taxpayers often end up picking up the tab when these people end up in emergency rooms.Of course, the expanded availability of workers depresses wages for everyone in the U.S., particularly for those at the bottom of the economic ladder.A rich country bordering on a poor one will inevitably attract workers. To end illegal immigration, the U.S. might consider massive investments in Mexico. It will raise Mexican wages to the point where Hector Dimas and others like him will not make a journey north. It will also mean that Mexicans could become customers for American products. Everyone would gain under that scenario.