Asia-Pacific
Should Tuberculosis (TB)-Preventive Therapy (IPT) Be Given to All?
By Bobby Ramakant
Asia Correspondent

A raging issue on the first day of XVIII International AIDS Conference was whether Isoniazid (INH) Preventive Therapy (IPT) be given to all –regardless whether people have TB or not? A full-course of IPT can prevent latent tuberculosis (TB) infection from becoming active TB disease. It is very crucial and often life-saving for people living with HIV (PLHIV) who are co-infected with tuberculosis (TB) as TB continues to be the biggest killer of PLHIV.The World Health Organisation (WHO) guidelines recommend that IPT should be given only to those people who are confirmed to have latent TB (and NOT active TB disease).Dr Jonathan E Golub, Assistant Professor at John Hopkins' Centre for Tuberculosis Research said that IPT has been recommended for PLHIV for over 10 years, but the uptake is so poor.Dr Golub suggested that putting all patients, without waiting for confirmatory tuberculin skin test (TST) for TB, should be put on IPT. He said, the concerns if we do this are:- it may potentially make people who have active TB disease, resistant to one of the most powerful anti-TB drug – isoniazid/ INH (instead of preventing TB disease) – Dr Jonathan remarked that most studies have shown that resistance to INH is low so if we see the benefits of putting all PLHIV on IPT and preventing active TB disease in a large number of them, then these benefits might outweigh the concerns of low resistance to INH reported by few- Toxicity to isoniazid (INH): A delegate raised this concern that patients with active TB disease will suffer toxicity to INH without any benefit, rather may develop resistance Dr Jonathan responded that in most studies he is aware of, toxicity to INH is low- Overtreatment of those who have neither – latent or active TB disease! Dr Jonathan said this outweighs the benefits of protecting a significant number of PLHIV in high burden countries from getting active TB diseaseDr Jonathan said that benefits of putting all PLHIV on IPT, outweighs these concerns. Meantime the doctors can wait for TST results that take a long time to come, and meantime many PLHIV reported to have contracted active TB disease already! So preventing active TB infections, for PLHIV, is so crucial, and a big outcome of this option – to put all people on IPT regardless of their TB status.The funding for the research Dr Jonathan conducted in Brazil came from the Bill & Melinda Gates Foundation, Fogarty International Centre and the NIAID.Preventing active-TB disease is undoubtedly an under-invested intervention with 1/3rd global population estimated to have latent TB. Such therapy can protect these people from developing active TB disease, due to compromised immunity or any such reason. (CNS)

Related Articles
WHO Award Shines Spotlight on Thailand's ...
When People with HIV Can Live Normal Lives ...
UK's Decision to Consider Vaccinated Indians ...
Step Up Pace Globally If Universal Vaccination ...
Will Inclusion and Accountability Take ...
Were People the Missing Link in Covid Response?
World Localization Day: Peasants Rise Up to ...
Save Lakshadweep: Stop 'Reform' Which Is Not ...
Tobacco-Caused Diseases Are a Bane to the ...
Do It Right the First Time, Every Time!
Keeping Workforce Healthy Is Also a Smart ...
Should Asia Pacific Lead World with Robust ...
Will Post-2015 Development Agenda Integrate ...
Nepal Leading Tobacco Control in S. Asia: Will ...
Regular HIV Prevention Counselling Reduces ...
Strong Tobacco Taxation Policy Adopted despite ...
Biggest Killer of Kids Under 5 Is Pneumonia
Scaling Up Natural Fertility Awareness Methods ...
Should Asthma Control Us or We Control Asthma?
Coordinated Approach Needed to Overcome ...
Lung Health Needs Attention
Responding to TB, HIV, COPD and Tobacco ...
"Good Health Is India's Basic Need": Easier ...
Int'l Day Against Drug Abuse, Illicit ...
World Now in Early Days of 2009 Influenza ...
One-Third Preventable Deaths Can Be Averted by ...
Politics: Allocation of Resources
If G20 Agrees, Health Financing Might Come ...
Neglect of Tuberculosis Control among ...
Is It Ethical to Provide TB Treatment without ...
Youth against Cross-border Tobacco Advertising ...
Vitamin A Supplements Reduces Child Mortality ...
Mayawati Ji, Why Did We Get Bulldozers Instead ...
How Will the World Begin to See TB Care as a ...
Will recession impede TB care and control?
Kala Azar Patients Lack Adequate Diagnosis and ...
Further Dilution of Pictorial Tobacco Warnings ...
Village Community Radio Will Give Voice to ...
Citizens of India-Pakistan Stand Up for Peace
Another Blow to Enforcement of Tobacco Control ...
Addressing HIV and IDU Issues Vital for TB ...
Effective Tobacco Control Policies in Nepal ...
Countries Unite against Tobacco Industry Abuse
India Agrees That Tobacco Industry Puts ...
National Partnership for TB Care and Control ...
Need to Refrain from Communal Politics in India
India Embraces Smoke-free Policies on ...
3rd Global Tobacco Treaty Action Guide 2008 ...
Uphold Public Health over Corporate Interests
Bringing Diabetes to Light
Andhra Pradesh Should Gear Up to Enforce ...
Pictorial Warnings on Tobacco Products in ...
HDN and the International HIV/AIDS Alliance ...
'We Reject Indo-US Nuclear Deal' Campaign ...
Help Aamir Khan to Keep Promises and Quit ...
Indian Court Serves Notice to Amitabh Bachchan ...
NAPM Opposes the Indo-US Nuclear Deal
Overcoming State Suppression, Prof. Agarwal ...
10-Day Fast in Support of Dr. Binayak Sen ...
Will South Korea Reaffirm Commitment to TB/HIV ...
Activists to Fast for 10 Days Demanding ...
Enforce Existing Tobacco Control Legislations ...
Scaling Up of MPOWER Tobacco Control ...
Kanpur Land-Sharks Intimidate RTI Activist by ...
'You Can Control Your Asthma': Dr. Nils Billo
Will Indian Government Arrest Those Who ...
Asthma Control Is Appalling in Most Countries
After 1.5 Years, Right-to-Information Act ...
Democracy Weeps in Nandigram: NHRC and NCW ...
Enforcement of Tobacco Ban in Prisons Uphill ...
Displaced People in India Announce a Massive ...
Climate Change Has Implications on Public ...
Who Will Pay US$ 80 Billion to Halve the No. ...
Can South Korea Stop Drug-resistant TB Too?
Rising Tobacco Use among Women
Japan's Obstructionist Position on Illicit ...
Smoking in Indian Movies Gets Challenged
'The Padyatra' Linking the Land-rights, ...
Journalist Reporting on Under-represented ...
Diabetes Wake-up Call after Years of Neglect ...
Stop Dow Recruitment in IIT Chennai
Round-the-clock Burma Vigil in Parliament ...
Burma Unifies People's Voices in North-East ...
Mounting Public Pessure against Dams in ...
Will Independent Commission Increase Judicial ...
India Ranks 72 in 180 Nations on Corruption ...
Strengthen Health Systems to Control Dengue: ...
Young Professionals in US Bring Agri-issues ...
Mayawati Government to Expedite Justice in ...
Court Reprimands MP Government for Arresting ...
News of Three Deaths at IIT Kanpur Confirmed
Anti-AFSPA Protestors Demand "Free Burma and ...
Fate of 25,000 Families Hinge on Sept. 20 NCA ...
IHP Launched to Strengthen Health Systems
India's Under-nutrition Levels among Highest
After 20 Years, RTI Is Another Blow to ...
Public Pressure Mounts against Arrest of ...
Dhaka Univ. Faculty, Students Beaten Up, ...
Tobacco Industry Succeeds in Diluting Indian ...
Activists Oppose the Indo-US Nuclear Deal
Women Farmers Fast against Reliance ...
Pepsi to Print 'Public Water Source' on Labels
Youth Appeal to UN to Prioritise Health
UN Mid-Point Progress Report on Development ...
148 Nations Meet as Parties to Global Tobacco ...
Alert to Protect Global Tobacco Treaty before ...
Patil in for President's Race Not Only because ...
Hashimpura Survivors Find Hope in RTI Act
Hyderabad Blast: Wake Up Call for Secular India
Health Ministry Alert on Iron-Deficiency ...
Medical Students Need to Quit Tobacco First
Integrate Tobacco Cessation in Healthcare ...
1st Time Indians Get 2007 Human Rights Prize
Responding to Diverse HIV Healthcare Needs
Why Should S. Korea Enforce Tobacco Treaty?
34 Cases of Avian Influenza Found in Egypt
With Inadequate Cessation Services, What Will ...
Another Death of Pregnant Woman with HIV Is ...
Don't Forget The Rise in Violence Against ...
A Ray of Hope for Medical University Teaching
Alarm Bells Sound in Nandigram for Indian ...
Activists Challenge Corporate Control of Water ...
Vietnam's TB Programs Face New Challenges
Neglect of Hepatitis C Leaves People with HIV ...
Tobacco Industries Disregard Nepal's ...
Link between Tobacco Use and Films
Integration of TB and HIV Services Urgently ...
More of the Same Will Brew Drug Resistance
Is a Priority, Says Indian President Kalam
Head Injuries Soar Unabatedly: Prof. Rama Kant
Groundwater Belongs to People, Not to Firms
Tobacco Shown in Movies Influences Children
Water Is a Fundamental Human Right
Global Tobacco Treaty Should Be Implemented
Founder of Surgical Oncology in India Dies
HIV Prevention Must Address Women' Needs
Staying Alive with HIV


Other Articles by Bobby Ramakant
WHO Award Shines Spotlight on Thailand's ...
When People with HIV Can Live Normal Lives ...
UK's Decision to Consider Vaccinated Indians ...
Step Up Pace Globally If Universal ...
Will Inclusion and Accountability Take ...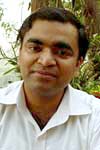 Bobby Ramakant, who serves as The Seoul Times' Asia correspondent, is a member of NATT, Network for Accountability of Tobacco Transnationals, and edits Weekly MONiTOR series, reporting violations of tobacco control policies as a senior public health and development journalist. He writes for newspapers in 11 countries. He is the recepient of World Health Organization (WHO)'s Award for the year 2008. He can be reached at bobbyramakant@yahoo.com)