National
Yet Another Apology, Eh?
By Abhishek Joshi
Associate Editor

Just before the 100th anniversary of the Korea's 1910 colonization, Naoto Kan, the Prime Minister of Japan, issued an apology last week that has been shrugged off by Koreans as yet another "meaningless statement" by Japanese leaders The highlights of the statement were the words "As demonstrated by strong resistance such as the Samil independence movement, the Korean people of that time was (sic) deprived of their country and culture, and their ethnic pride was deeply scarred by the colonial rule which was imposed against their will under the political and military circumstances" and "To the tremendous damage and suffering that this colonial rule caused, I express here once again my feelings of deep remorse and my heartfelt apology". Many Koreans say this statement is same as those issued by Prime Ministers Tomiichi Murayama and Junichiro Koizumi and lacks sincerity. Japan has yet to formally apologize to a few remaining comfort women that hold demonstrations in front of Japanese embassy in Seoul every week. South Koreans have not forgotten yet. The importance of this apology can be sensed when one reads the complete statement carefully. Unlike past apologies, this was entirely directed towards the Republic of Korea, the official name of South Korea. Japan did not try to apologize for the inflictions brought up on much of East Asia during its colonial rule. The Lee administration in Seoul was quick to accept the apology. Though there are certain historical issues that plague Tokyo-Seoul relationship, President Lee wants to move forward to tackle myriad common threats that Tokyo and Seoul face. The growing influence of China and the bold activities in past few months by North Korea threaten Japan and South Korea alike. Japan realizes this fact and it is eager to forge a close bond with South Korea. This apology, though seen as shallow by some Koreans, should not be neglected. In fact, both Japan and South Korea should act up on this apology and take necessary steps to create a favorable environment for further strengthening of the relationship for the greater good. The handling of Cheonan fiasco in UN has shown South Korea that China's blessings will always protect North Korea, even when North Korea violates international laws. Washington and Seoul insiders know that North Korea has the backing of a strong and powerful China, thus North Korea dares to act whimsical. With two unfriendly neighbors, the only now-neutral neighbor that South Korea is left with is Japan. Though the United States claims to act for and with South Korea in case of a danger, the tens of thousands of troops, commanded by a leader thousands of miles away, cannot provide a psychological support that a friendly neighbor can provide. The indifferent attitude to this apology by Koreans may deter the Kan administration and the Japanese public to further act up on resolving the existing qualms of Koreans. The Democratic Party of Japan (DPJ), unlike the conservative Liberal Democratic Party (LDP), wants to act on and accept the atrocities committed by Japan in the past. What Japan needs from Korea is an appreciation of the fact that over the years the tone of the apology has been changing. At least, this Prime Minister won't make a quick visit to Yasukuni Shrine after apologizing for Japan's past crimes. Many may claim that Japan has never acted on its apologies in the past, but Japan never had DPJ in power, did it? It is difficult to forget the tumultuous and an unjust past but a positive reaction by Koreans, now, may make the Kan administration take up the annexation treaty and the comfort women issues defying the conservatives in Japan. May be, the few remaining comfort women will get what they have always wanted from Tokyo. It is imperative that Koreans act and Japan follow that with yet another bold step. President Lee has started taking the necessary steps and hopefully many Koreans will join him. A lasting peace in East Asia, a no-arm race region and a denuclearized Korean peninsula can not be achieved until South Korea and Japan resolve their differences.

Related Articles
Crimea Crisis
Left Moves to Far-Left, Right Moves to ...
Sarkozy's Financial Transaction Tax, ...
NRI's Dandi 2.0
Blame the Pitches, Mate!!
"S. Korea Can Learn from Australian Experience ...
Midterm -- Democrats' Curse for Obama's 2012?
Liberal Democrats Should Support Conservatives
Is it the End of European Dream?
Can Park Stall Chung and Lee's Sejong City?
What Effect Will Dalai Lama Have on Chimerica?
"President Should Not Confuse People for ...
"Pakistan Also Hub to Middle East, Central ...
Model Six-Party Talks
Yukio Hatoyama: 100 Days, East Asia and U.S.
Pakistani Envoy Talks with Local Journalists
Whom to Blame: Law or Men?
A Different Korea Sparkling
Is Corruption Cool and Acceptable?
Who Else Has the Right to Vote?
Indian Embassy Celebrates the Republic Day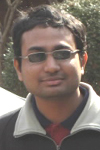 Mr. Abhishek Joshi serves as associate editor of The Seoul Times. He graduated from the School of Electrical Engineering of Seoul National University. He was also a member of SNU Quill, first English magazine from Seoul National University, as a writer.