America
Midterm — Democrats' Curse for Obama's 2012?
By Abhishek Joshi
Associate Editor

November of 2006 energized the Democrats like never before, November of 2008 emboldened the Democrats like never before. Care to see what happens to Democrats in November of 2010? Nothing seems to be working for either the Democrats or the White House. November of 2008 brought a new hope, a desire to see a change that has never been witnessed before. The official unemployment rate, which has exacerbated in past two years, is high at 9.5%. The first time claim for jobless benefits saw a rise by two thousand, when in fact the analysts had expected a drop. This came after the Federal Reserve downgraded its assessment of the economy's health and said it would take all necessary steps to alleviate the fragile economic recovery. Raising the time limit for jobless benefits has become a contentious issue and both the parties yelp that each party's stance will benefit the economy in the long run. The Congress has replaced the Wall Street in the unpopularity contest though Americans seem to trust the President more than the clamoring House of Representatives and the Senate. The recent Rasmussen daily Presidential Tracking Poll shows that while 26% of voters strongly approve of President Obama, around 42% strongly disapprove. The recent WSJ/NBC poll put President Obama's job performance at 47% approval and 48% disapproval. Majority disapprove of his policies on economy. Around 60%, including 83% of independents, doubt whether President Obama's policies will take the economy in a right direction. Though Obama, Pelosi and Reid led Congress was able to achieve landmark and momentous legislative success stories such as Health Care Reform and Financial System Reform, the Americans believe the Congress' performance has been one of the worst. Correct, they are. Both the legislative pieces were hardly bipartisan. Well, why worry about bipartisanship when we almost have the numbers, right Madam Speaker? Though Democrats have much to boast about, theoretically that is, a record debt will always overshadow their boisterous claims. Legend has it that people vote through their pockets. No matter what difference the Health Care Reform makes in the lives of millions of previously-uninsured, an additional trillion dollar debt just doesn't seem right to many Americans. It just so happens that Democrats achieved the landmark legislatures when country was facing the financial crisis. Even the euphoria over Obama's ascendancy to Presidency could not overshadow the mess created by financial crash or "terrible Bush policies", as claimed by Democrats. This midterm is very much like November of 1982, when Republicans lost many house seats. Even the Reagan-mania could not stop Republicans from losing many of the house seats that they won in 1980. Obama is no Reagan, at least not yet. A few may opine that it is not uncommon for the President's party to loose some seats in every mid-term. After all, President Clinton turned out just fine even after "Contract with America" seized the House of Representatives. Well, the economy was not in a bad shape under President Clinton, was it? Didn't President Reagan win a landslide in 1984 even though country was reeling under deep recession in 1982 and Republicans lost many seats in 1982? There you go! There is a still a hope for 2012 campaign. But, Obama is no Reagan, at least not yet. The White House's ambitious "Recovery Summer" that highlights jobs created by the stimulus seems dud. The recent WSJ/NBC poll shows nearly 66% of Americans believe the economy has yet to hit the bottom. The "Recovery Summer" campaign takes the President and his officials around the country explaining the "new jobs" that have been created. What will President explain in California, Michigan and Nevada with their very high unemployment rates? The states, with double digit unemployment rates, such as Indiana, Rhode Island and Michigan that were almost Democratic two years ago are tilting towards Republicans. The latest polls, if anything, spells gloom not only for Democrats but also for Obama's 2012 campaign. His election raised the hope that things will improve in due course of time. Instead of the status quo, the conditions have worsened. It's hard to tell whether President Obama is responsible for Democrats' debacle but there is no doubt that Democrats' tenure in House and Senate in last two years will hit President Obama very hard. Will GOP led Congress be a reality? Will President Obama be able to overhaul the immigration system after the midterm? Whatever the outcome of this midterm may be, President Obama has some serious thinking do before he officially begins his 2012 Presidential campaign. After all, we don't want the first African-American President to have just one term in office, now do we?

Related Articles
Crimea Crisis
Left Moves to Far-Left, Right Moves to ...
Sarkozy's Financial Transaction Tax, ...
NRI's Dandi 2.0
Blame the Pitches, Mate!!
"S. Korea Can Learn from Australian Experience ...
Yet Another Apology, Eh?
Liberal Democrats Should Support Conservatives
Is it the End of European Dream?
Can Park Stall Chung and Lee's Sejong City?
What Effect Will Dalai Lama Have on Chimerica?
"President Should Not Confuse People for ...
"Pakistan Also Hub to Middle East, Central ...
Model Six-Party Talks
Yukio Hatoyama: 100 Days, East Asia and U.S.
Pakistani Envoy Talks with Local Journalists
Whom to Blame: Law or Men?
A Different Korea Sparkling
Is Corruption Cool and Acceptable?
Who Else Has the Right to Vote?
Indian Embassy Celebrates the Republic Day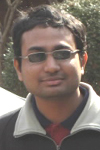 Mr. Abhishek Joshi serves as associate editor of The Seoul Times. He graduated from the School of Electrical Engineering of Seoul National University. He was also a member of SNU Quill, first English magazine from Seoul National University, as a writer.