Asia-Pacific
South Asia Monitor
Shame and Scandal Plague Commonwealth Games
By Gautaman Bhaskaran
South Asia Editor

India's Commonwealth Games set to roll in New Delhi from October 3 has turned out to be the nation's biggest shame. To cost USD 7530 million (or Rs 35000 crores), and this does not include the city's improvements and additions in infrastructure This will be the most expensive Commonwealth Games ever. But the cost – all coming from Indian taxpayers sky rocketed because of terrible mismanagement and hugely inflated bills. Overnight, men in charge of the Games have become stinking rich, and the event has helped to convert common wealth into personal wealth. The scandalous reports of financial corruption, nepotism and incompetence have already tarnished India's image to a degree that appears beyond redemption. The sports stadia are not yet ready, and where they are, there are growing fears of substandard materials having been used. The roof of the weightlifting stadium, part of the main venue, began leaking hours after its inauguration. The ceiling of the SP Mukherjee Swimming Complex also came crashing down and a swimmer was injured. Earlier, a roof at the Yamuna Sports Complex collapsed. The games village is not ready, nor are the living quarters for the hundreds of players who would descend on New Delhi. The blame for all these rests squarely on the shoulders of Suresh Kalmadi, head of the Organizing Committee of the Commonwealth Games. He also happens to be a Congress Member of Parliament, the party that heads India's coalition government.Mihir Bose, a former BBC sports editor and a London-based writer and broadcaster, has been quoted as having said: "I do not understand how Kalmadi has come to acquire this position of influence in the Indian Commonwealth Games. He has no sporting credentials and he makes no international impression. The question is who is Kalmadi? Had it not been for the Commonwealth Games, would we have ever heard of him?" The moot point is, why are Indians obsessed with politicians, and have men like Kalmadi governing Indian sports. The answer is easy. It has to do with class bias. To quote Bose again, "In India, players tend to come from the lower classes, with the possible exception of cricket. They are not considered intelligent enough to run sports, never put in a position of power and always exploited by the babus and politicians. The politicians ride on the back of the athletes and use their success to acquire power and run sports in India".The Congress feels that Kalmadi must be seen as the head of the Games and not as a party representative. Worried about the stigma to the brand, the chief of the Commonwealth Games Federation, Mike Fennel, has asked for an inquiry into the allegations. What is even more condemnable is the abdication of responsibility by Kalmadi and the government. Both have begun passing the buck: for now, it stops at a British firm that got the Queen of England furious, and a couple of Australian firms. Last year, the Committee hired a British firm for a games related service at a hugely inflated sum of money. Kalmadi claimed that the firm was hired on the explicit advice of the Indian High Commissioner in London. It now appears that the email shown as proof of such advice may have been forged. The Queen will not attend the sporting event, though for reasons other than corruption, and this will be the first time in the history of the Games that she, the symbolic head of the Commonwealth, would be absent. Also, some star sportsmen will not participate. Included in this scam of scams is vulgar spending. Over 200 USD was spent on every single roll of toilet paper bought for the Games. Approximately, USD 13000 was used to hire each thread-mill for two months, while seven or eight of the gadgets could have been purchased outright with this amount. Over USD 130 was spent to hire an umbrella for the duration. An official explained this by saying that it was of a special kind that can withstand winds of very high velocity. But New Delhi is not on the pacific coast. Nor is it in a region frequented by cyclones. Where then are the winds blowing from? And, all this spending in a country where 76 per cent of the population of the 1.3 billion people lives in abject poverty, with less than USD 40 cents a day to spend. Does the nation need the Commonwealth Games at all in the first place?

Related Articles
Tiger Man Mike Pandey
Egypt's First Edition of El Gouna Film ...
El Gouna Film Festival Opens with Sheikh ...
New Egypt's El Gouna Film Festival to Add ...
India Stands Shamed after Racial Attacks near ...
The Dashing Pedro Almodovar to Chair Cannes ...
Korean Cinema Comes to Chennai in India
The Horror of Custodial Death
Modi Is the Man We Need in India
Mumbai's Child King
The Cocktail at Cannes
Cannes Film Fest Begins on a Hollywood Note
Mumbai Terrorized Again
Venice Lines Up Impressive Jury
Cannes Film Fest Begins on a Delightful Note
No Indian Movie at the Festival
Meaningless Film Censorship
This Bloody Life!
Mumbai and Pusan Film Fest Establish Ties
On Road, in Rage
India Picks Wrong Films for Oscars
Robert De Niro to Head Cannes Film Fest Jury
Someone Killed Jessica, But of Course!
Middle Eastern Cinema Hits Hard
Dubai Film Fest Opener
Dubai Film Fest to Unravel Diverse Selection
Indian Police Cut Corners to Tackle Crime
Goa Festival Not God's Own
"West Is West" Sets IFFI Sailing
Fine Cinema at the Coming Dubai Film Festival
"The King's Speech" to Set the Fest Rolling
Abu Dhabi Film Festival a Fantastic Mix of ...
"Adoor Gopalakrishnan: A Life in Cinema" ...
The Venetian Storm
Frieda's Venice
Jafar Panahi's Music Soothes Souls
"Black Swan" Opens Venice Festival
Festival to Bounce with Youthful Energy
Child Needs Compassion, Not Cane
A Beast Called Beauty
Adoor Gopalakrishnan: A Life in Cinema
Bhopal Gas Tragedy: A Crime Called Bhopal
Honour Killings Are India's Shame
Cannes Film Festival And Poetry
Cannes More Art Than Glamour This Time
An Indian Pilgrimage to Cannes
Maoist Rebellion in India
Asians to Carry the Torch at Cannes
Cannes Film Festival and Probables
"Robin Hood" to Open Cannes Film Festival
Persecution of Artists
The Only Two Real Races This Year
Curry Bashing in Australia
US Director Tim Burton to Lead Cannes Jury
India's Car Boom Creates Its Own Chaos
Making Idiots Out of Men
Indian Girls Find Paris Hilton's Shoes Too Hot
Mexican Film Wins Top Prize at Marrakech
Ben Kingsley Hopes to Be an Envoy for Cinema
Movie Director Hopes Obama Would Solve the ...
Nandita Das on Marrakech Jury
A Decaying Film Festival
Marrakech Festival a Boon for Local Cinema
Panorama Selection Questionable
IFFI to Open on a Note of Visual Lyricism
South Korea to Be Focus at the Film Fest
Dalai Lama's Tawang Visit Vexes Beijing
Why Mumbai Film Fest Scores over Goa
Mumbai's Young Movie Critics Ready to Tear ...
India Is Still Hungry for Food
Honor Killing through Lens at Mumbai Festival
11th Mumbai Film Festival to Open with Matt ...
Film Festival to Showcase Some Gems
Can India Host 2010 Commonwealth Games?
A New Irritant in India-China Ties
The Venetian Sorrow
The Tiger War
Israeli War Film Wins Venice's Top Golden Lion
Politicians Livid over Festival Movie
"Bad Lieutenant" Creates Bad Blood between Two ...
Clooney and Damon Star Attractions at Venice
Muslim Bashing Must End
Mumbai Film Festival Prizes to Be among the ...
An Indian Juror in De Sica Land
India's Gays Can Now Love without Fear
Moore's "Capitalism," 70 Other Films to ...
An Indian Summer at the Lagoon City
Festival May Be Strong on European Fare
A Tamil Film with a Difference
Harry Potter and the Half-Blood Prince: But ...
India Is Racist Too
Hollywood Bungles in Bollywood
The Tragic Tale of the Indian Tiger
Cannes Jury Honors Chilling Tales
Lars Von Trier's Sex and Horror
Gems and the Cannes Film Festival
Market and the Cannes Film Festival
Keats Poetry, Campion's Reading
Lou Ye's Controversial Disaster
Clash of Titans on the Croisette
Sexy Sirens and Political Propagandists
Is Sharmila Tagore the Right Choice for Cannes ...
The Stars in Cannes' Dark Skies
Cannes Courts Controversy
Indian Elections: A Circus of Villains
Festival Unveils Lineup of Masters
Beyond Bollywood's Melodramatic Mishmash
India's Infrastructure at Breaking Point
Guessing the Festival Goodies
Kate Winslet the New Face of Brilliance
Tarantino's 'Basterds' to Spit Fire at Fest
Animated Film, Up, to Open Festival
Smoking Screen
Oscar-Rich Penelope Set to Master English
Cannes Honours Clint Eastwood
Renowned French Star to Chair Cannes Jury
Fable of Mr Benjamin Button: Riveting Cinema
The Mangalore Molest
Aamir Khan Film Is a Bad Copy
It May Well Be the End of Agony in Sri Lanka
Woody Allen's "Vicky Cristina Barcelona"
International Film Festival of India
Mumbai Terror
Marrakech Int'l Film Festival Has Grown
Marrakech Int'l Film Festival
Marrakech International Film Festival
Shambled Secularism
Benegal's Sajjanpur
Birdwatchers
Venice Festival Blues
Venice under the Hollywood Spell ?
A Riveting Movie on Islam's Crisis
Venice Festival a Haven for World Premieres
Pakistani Films Come to India, at Last!
Tamil Super Hero Rises Again
The Comic Fantasy
The Smoking Screen!
Bollywood and Beyond at Stuttgart
New Film May Spell Hope for Bollywood
Indian Cinema Feeds Deceit
An Indian Film on an American Power Plant
India Not At Cannes
Cannes Line-Up
Writer Taslima Nasreen Forced Out of India
India Inspires World Fashion
Mills & Boon
"Jodhaa Akbar" Creates Controversy in India
Sania Mirza Subject to Ridicule in Native India
Sarkozy and Bruni Love Causes Moral Outrage
India and the Oscars
Marrakech International Film Festival Reviewed
Paranoid Park
Cannes 2007: Killings
The Spy Case
The Good and the Not So Good
Bollywood Superman
First Kashmiri Film in 20 Years
Chinese Influence Seems Unstoppable
Cannes Film Festival 2006: Minimalism, Too
Cannes Fest Prizes
Cannes Film Festival 2006: Great Delights
The Da Vinci Code
Missing Tigers
The Despair of Tibetans
Trilateral Stratagem To Slow China's Growth
Sri Lanka Crisis
Hollywood Movies Doing Well In India
Peace Pipe
Mangal Pandey: The Rising
Honda Clash
Bush-Manmohan Singh Pact
Satyajit Ray, Still India's Most Noted Movie ...
Ban on Cigarettes in India
"Match Point" Excoriated by Britons
Crisis In India's Hindu Nationalist Party
Manmohan Singh's One Year
58th Cannes International Film Festival Begins
Indo-Pakistan Cricket Diplomacy
U.S. Visa Refusal
The 7th Deauville Asian Film Festival Closes
Seedy Film Journalism
Indian Tigers Butchered in Broad Daylight
No Oscar for Scorsese, Yet Again
Nepal in Turmoil As King Sacks PM Deuba
History Repeats in Struggle for Free Press
India Could Have Prevented Tsunami Deaths
Argue over Freedom on Internet
"City of Gold" Dubai Stands like Oasis in ...
Towards a Solution to the Kashmir Problem
India & China Rising
Bush Victory and India
Indian Robinhood
After 9/11, World Links Muslim with Violence
India's Great Heritage Taj Mahal in Danger
"Kashmir": A Never Ending Thorny Issue
The Village -- A Silly Joke
Jakarta Bombing Aimed at Aussie ...
Millions of Indians Go to Bed Hungry
Sri Lanka's Ethnic War Knows No End
Over 600 Tibetan Monks, Nuns Should Be Freed
India's Schoolgirl Killer Hanged in Controversy
3 Kidnapped Indians Endure Agonizing Torture
Musharraf's Sets Deadline on Kashmir
Usefulness of Nepalese Monarchy in Question
Temple of Learning Turns into Grave of Death
AIDS Keeps Threatening the Poor in Asia, Africa
Fearful of Dowry Parents Kill Newborn Girls
Hot Discussion on Death Penalty in India
India's Flag of Democracy Kept Unfurled
Politics Dominates Cannes Int'l Film Festival
Intolerance Grows before India General Election
Fears of Strife Continue in Sri Lanka
Torture, Rape Occur in Indian Classroom
World Leaders Must Take Stand against Nukes
India's Cities Prosper as Country Folk Starve
India, Pakistan Form Friendly Ties
Cell Phones Bring Joy, Sorrow World Over


Other Articles by Gautaman Bhaskaran
Tiger Man Mike Pandey
Egypt's First Edition of El Gouna Film ...
El Gouna Film Festival Opens with Sheikh ...
New Egypt's El Gouna Film Festival to Add ...
India Stands Shamed after Racial Attacks ...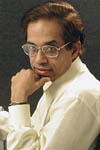 Gautaman Bhaskaran is a veteran film critic and writer who has covered Cannes and other major international festivals, like Venice, Berlin, Montreal, Melbourne, and Fukuoka over the past two decades. He has been to Cannes alone for 15 years. He has worked in two of India's leading English newspapers, The Hindu and The Statesman, and is now completing an authorized biography of India's auteur-director, Adoor Gopalakrishnan. Penguin International will publish the book, whose research was funded by Ford Foundation.