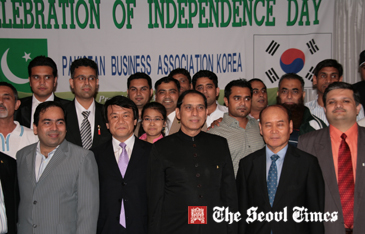 Pakistani Ambassador to Seoul Shaukat Ali Mukadam (3rd from right in front row) poses with his embassy staff and guests.
Pakistani Ambassador to Seoul Shaukat Ali Mukadam hosted a reception at Hamilton Hotel in Seoul on August 14 (Saturday), 2010 on the occasion of the 63rd Independence Day of Pakistan.The dinner reception, arranged by the Pakistani Business Association in Seoul, was held in humble way in consideration of the latest flood that hit Pakistan in early August.A number of Pakistani residents in South Korea and local Koreans were invited to the dinner reception.In a speech Amb. Shaukat Ali Mukadam expressed his concerns and worries about the flood in his country.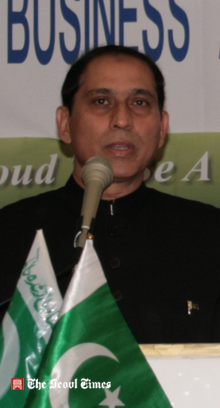 Pakistani Ambassador to Seoul Shaukat Ali Mukadam
The gathering served as an occasion for consolidation of friendships and exchanges between Pakistani residents in Korea and the local Korean people as well as boosting bilateral ties between Pakistan and South Korea. World leaders also congratulated Pakistan on the 63rd Independence Day of Pakistan.US Secretary of State Hillary Clinton congratulated Pakistan on the 63rd anniversary of its independence ion 1947."On behalf of President Barack Obama and the people of the United States of America,
I am delighted to send best wishes and congratulations to the people of Pakistan as you mark 63 years of independence" she said in a statement.Back in Pakistan, the 63rd Independence Day of Pakistan was observed on the day with sobriety and solemnity due to the worst flood the country has seen in decades.The colorful ceremony with hefty fireworks was cancelled in Islamabad and was replaced with rather simple ceremony that included wreath laying at the mausoleum of Pakistan's founder, Quaid e Azam, Mohammad Ali Jinnah in Karachi, according to the reports.In his Independence Day speech, Prime Minister Yusouf Raza Gilani compared the flood disaster to challenge of the 1947 partition of the Indian subcontinent."I want to assure the nation that we, your democratic government, will leave no stone unturned in the way of recovery of the people affected by floods from the disaster," he said.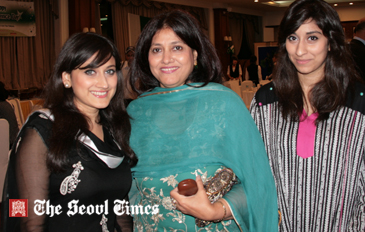 Madam Kauser Shaukat Ali Mukadam (center), wife of Pakistani Ambassador to Seoul Shaukat Ali Mukadam, poses with her older daughter Sara Kishwar Mukadam (left), and her younger daughter Noor Mukadam.
World leaders were also supportive of the Pakistani flood disaster.The UN Secretary General Bak Ki-Moon promised 460 million dollars for Pakistan flood victims.US President Barack Obama also promised the strong American support for Pakistan in its time of need."We will remain committed to helping Pakistan and will work side by side with you and the international community toward a recovery that brings back the dynamic vitality of your nation," Obama said in a statementOver 1,500 Pakistani people were dead in the nation's worst flood that hit the nation in early August, 2010.Also 4 million of its people were left without home and 8 million Pakistanis are dependent upon aid for survival.World's leaders and international relief agencies are calling for the help for the Pakistani flood victims.For details or inquiries please contact the Pakistani Embassy in Seoul at 796-8252.