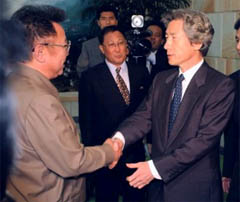 Kim Jong-Il (left) meets with Koizumi
By virtue of Prime Minister Koizumi's two summits with Kim Jong-Il, Japan has established itself as a player on the North Korea issue. Koizumi's advice to President Bush at the G-8 Summit in Sea Island this past summer that he believed Kim "was ready" for serious conversations on nuclear disarmament led the United States to present its proposal at the third round of six-party talks.Henceforth, actions Tokyo takes on normalization dialogue with Pyongyang have consequence for US concerns on security issues and vice versa. This new equation only heightens the importance of US-Japan policy coordination.One issue down the road of policy coordination will be the nature of a Japanese normalization package with North Korea. Admittedly, we are still far from a successful conclusion let alone, re-starting of these talks. But there is one issue worth flagging as a topic of future discussion — the financial aspect of a potential normalization settlement.The template for such a settlement, as stated by Japanese officials, has been that a Japan-DPRK (Democratic People's Republic of Korea) pact would follow the same formula as the 1965 Japan-ROK (Republic of Korea) pact.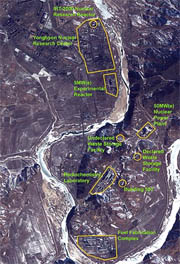 North Korean nuclear sites
This would entail a combination of grants and low-interest loans that would total somewhere around $10 billion in today's currency. Virtually everyone has accepted this as the working formula for the settlement, the primary argument being that this represents Japanese equitable treatment of the two Koreas. One could legitimately question whether 1965 is the right template for Japan to be using in normalization discussions with the North. Though equitable in a bureaucratic sense, the situation surrounding Japan-ROK normalization and Japan-DPRK normalization is anything but similar. Normalization between Seoul and Tokyo took place under very unique and uncomparable terms.The pact was considered at the time a critical link between two allies of the United States who subtly but strongly supported normalization in Northeast Asia at the height of the Cold War. Japan provided inordinately large sums of economic assistance as part of a comprehensive security strategy to shore up a rickety and relatively weak ROK economy as a bulwark against communism on the peninsula.The specific formula of grants and loans that accompanied the treaty was only possible because of secret negotiations and close personal relationships between Ohira Masayoshi and Kim Jong-Pil.Though historical animosity existed and there were occasional confrontations at sea over the unilaterally declared Rhee line against Japanese fisherman, South Korea neither kidnapped Japanese nationals, nor posed a direct military threat to Japan.
| | |
| --- | --- |
| | |
| Kim Jong-Pil | Ohira Masayoshi |
The Japan-DPRK pact would take place under wholly different circumstances. The DPRK poses a direct military threat to Japan with WMD (weapons of mass destruction) programs and Nodong missile deployments. Any logical extrapolation of DPRK strategic doctrine suggests these missiles are aimed at Japan as a deterrent to U.S. flowing reinforcements onto the peninsula.North Korea has test-fired at least two of these missiles at Japan (the Nodong in 1993 and Taepodong in 1998). They have kidnaped Japanese citizens against their will had allowed them to die while in captivity. North Korea remains in default on loans from Japan — the first defaults were in the late-1970s — to a tune of $11 billion.In short, the funds that accompanied the Japan-ROK 1965 treaty settlement were critically tied to a larger geostrategic Cold War context in Asia between two key American allies. A pact today with North Korea would be one consummated not with an ally, but a country that directly threatens Japan's homeland security, violates its sovereignty, and already owes it billions of dollars. How are these two situations comparable enough to warrant a similar template? Japanese officials might justify the need to use the 1965 treaty as the empirical referent for North Korea because Tokyo feels obligated to offer atonement for the colonial period to both Koreas in equal fashion. If that is the rationale though, then the correct dollar amount to give North Korea should not be today's equivalent of $500 million i. e., $10 billion or the 1965 package of $200 million in ODA and $300 million in commercial loans.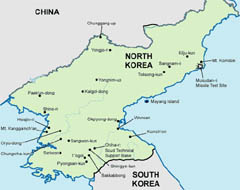 North Korean missile bases
Instead, it should be today's equivalent of $45 million. In a little known component of the 1965 treaty, this is the amount that Tokyo agreed to provide South Korea in colonial property claims over a 10-year disbursement period in addition to the basic package of loans and grants — there was an additional $300 million as a grant in aid consisting of Japanese products and labor for ROK economic development. The circumstances surrounding Japan-ROK and Japan-DPRK are sui generis. They should be treated as such by Japan. To do otherwise, while bureaucratically convenient, does a disservice to the Japanese national interest and obligates Tokyo to pay the North a lot more money than they need to. A little out-of-the-box thinking by the bureaucrats and prime minister Koizumi might be in order